Livvi's Place are incredible all-inclusive playgrounds that were created after a Sydney family lost their baby to a rare disease. You'll find one of these playgrounds in Ryde, Five Dock, Jordan Springs and other locations in NSW.
---
In 2006, John and Justine Perkins, lost their baby daughter, Olivia, at just 8 months old, to a rare disease. In the darkest grief parents could experience, the Perkins felt compelled to transform their tragedy into a positive for others and create a lasting legacy in their daughter's memory. Six weeks later, Touched by Olivia Foundation was created. Now you can visit Livvi's Place Playgrounds near you.
What is a Livvi's Place playground?
In the darkest grief an adult might experience, two inspiring parents decided that their daughter's death would not be in vain. Touched by Olivia was formed in Australia in 2006 by the Perkins Family, following the loss of Olivia, their baby daughter, to a rare disease. During Olivia's sickness, the Perkins realised the blunt reality that many children, including children with disabilities, are not afforded a basic human right—the opportunity to play. It was clear to the Perkins that the perfect environment to fulfil their dream and be true to Olivia's memory, was through the creation of inclusive playspaces, called Livvi's Places.
Why do we need inclusive playspaces?
A Livvi's Place provides a unique environment for children of all ages and all abilities to play side by side. Extensive research and community consultation have gone into the development of these Playspaces to make them truly world class facilities. In 2012, Touched by Olivia joined with leading academics, practitioners, not for profit and NGO's and developed a best practice guideline to assist decision makers, advocates and designers looking to create an inclusive playspace. The 6 principles of inclusive play are:
Everyone can play
Access to nature
Total experience
A connection to community
Play independence
Friendship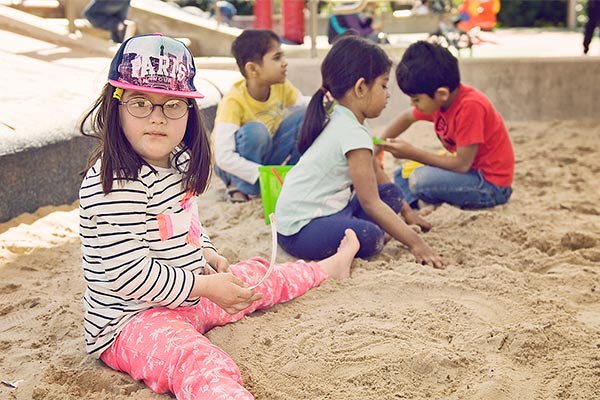 Features at Livvi's Place

Equal Access – each playspace includes some soft fall rubber flooring, visual and audio stimulation and are configured to maximise creative, physical, social and cognitive play
Security and safety – totally fenced so parents have peace of mind as to the location of their children. Shaded for protection from the elements.
Facilities for older children and family get togethers – ideally, the playspace adjoins or incorporate facilities:
For the enjoyment of older children, such as swimming facilities, skate parks, bike tracks and playing ovals
To enable family BBQs and get togethers like tables and benches and toilet facilities.
Providing ample and accessible parking
That overall, create a family friendly environment where people choose to meet and socialise as children play
Replicable design – the playspaces have features which can be replicated in any community.
Essential Details: Livvi's Place
Locations:

Yamble Reseve, 194 Quarry Road, Ryde

19 Henley Marine Dr, Five Dock 

37A Glebe St, Parramatta 

375-383 Windsor Rd, Baulkham Hills
---
More park & playground reviews