Want to take your kids to cool off at a water playground? If you're looking for Sydney's best water playgrounds, then we have you sorted. Whilst there are none in the North Shore, plenty of our neighbouring councils have invested in water playgrounds, to provide an alternative to the beach or local pool on those hot summer days! Expect to find lots of fun water play features, like fountains, wading pools, taps and more.
---
If you're on the hunt for Sydney's best water playgrounds then let us steer you in the right direction. Use the quicklinks below to find some of the best options to splash about during the warmer months. These free water playgrounds will keep the whole tribe entertained.
Northern Sydney Water Parks
1. Taronga Zoo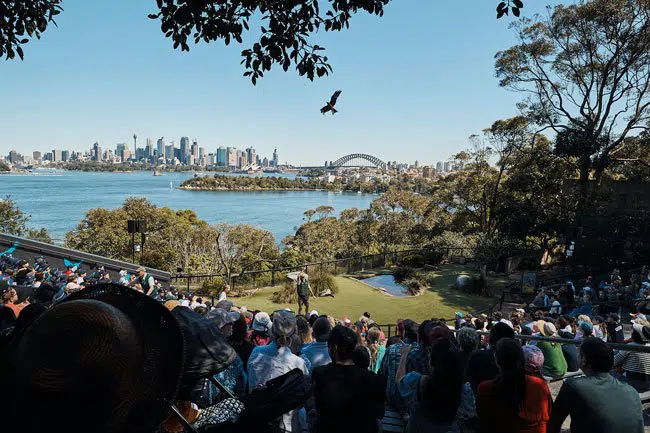 Not only can you check out all the amazing animals while you're there, but you can stop off and cool off at the awesome playground in Taronga Zoo. There's an entire water area for kids to splash about in, right next to the barnyard. Perfect day out for the entire family. It has one of the best water parks for everyone to enjoy.
Address: Bradleys Head Road, Mosman (34 min drive from Gordon, 22 min drive from Lane Cove)
More information: Taronga Zoo website
2. Putney Park
Right on the waterfront, this beautiful park is an expanse of lawn and natural areas. This is one of the best water play parks in Sydney and features a large playground with waterplay area with wading pool (and shade sail!), and a smaller playground for toddlers. It's a beautiful spot for a picnic or BBQ! There is free parking available next to the park. It's one of Sydney's best water playgrounds and will keep the troops entertained all day.
Address: 55 Pellisier Road, Putney (16 min drive from Gordon, 14 min drive from Lane Cove)
More information: Ryde Council website
Sydney City Water Playgrounds
3. Darling Harbour Playground
The Darling Harbour water playground is one of Sydney's best water playgrounds. The amazing water park is extensive – lots of little streams that are great for splashing, as well as some more technical water works play equipment. Make sure you pack swimmers and a towel (or at least a change of clothes!) for this cool water play area. It's one of the most popular water parks. Wilson Parking Darling Quarter has affordable parking at the weekend.
Address: Tumbalong Park, Darling Quarter, Darling Harbour (10 min drive from North Sydney)
More information: Darling Quarter website
4. Pirrama Park
Another city harbourside location! This modern playground, built on the former water police site, includes fun water play features as well as a big sandpit, climbing structures, slippery dips, swings and musical play equipment. The shallow water play area suits kids of all ages. There's a good quality kiosk right next door, as well as BBQs, picnic benches and clean loos. Parking is metred.
5. Mary O'Brien Reserve, Zetland
This park is perfect for children with 2 playgrounds and a water play area. It also has barbecue and picnic areas. In the middle playground, there is a slide, a corkscrew-style spinner, plenty of climbing and balancing features and monkey bars. Right in the middle, you'll also find water play area with six jets – perfect for kids to run in and out of!
Address: Corner Joynton Avenue and Tilford Street Zetland (25 min drive from Neutral Bay)
More information: City of Sydney website
Inner West Water Playgrounds
6. Steel Park
This Water Play Park is open from October – March (10am – 6pm). It was designed to encapsulate the total water cycle – water flows from the mountains, a 'rills' section represents water flowing in a river across plains, and an 'estuary' feature includes a collection of jets and sprays. There is lots to play with – interactive fountains, sprinklers and misty spray elements.
Northern Beaches Water Playgrounds
7. Walter Gors Park
The perfect place to cool off in the warm weather. Walter Gors Park is surrounded by plenty of green space, along with streaming jets that kids will love. There's also plenty of options when it comes to setting up a picnic with the family and enjoying a relaxing afternoon. This water play park has so much to keep the kids entertained.
Western Sydney Water Parks
8. Blaxland Riverside Park
A spectacular waterside location alongside the Parramatta River that features terraced grassy slopes, playgrounds, picnic areas and the contemporary Armory Wharf Cafe plus views. As well as a fabulous water play area, there's a brilliant playground that includes 12 different play areas and is designed for kids of all ages. Bring the bikes too, as there are paths to ride. You could easily spend a whole day out here!
9. Lizard Log
Lizard Log is a nature lover's wonderland in a bushland setting. It features a state of the art children's nature playground that has flying foxes (dual & single), climbing wall, slide water play areas, giant tyre swings and balancing beams. There are BBQs, toilets, new paths and lots of lovely areas to have a picnic. The wood-carved animals that decorate the playground were made using timber salvaged from the area. Loop paths run through the site – perfect for scooter and bike riders.
10. James Ruse Reserve Water Playground 
The water play area is covered by shade sails and there are areas suitable for both little and big kids. The water is turned on from 9am-7:30pm during summer, 10am-4pm during Spring & Autumn, and turned off completely during winter. There is a great playground too, and lots of green area to run around. It's completely free (though you have to pay for parking).
Address: 45 Hassall Street (corner Parkes Street), Parramatta (25 min drive from Gordon or Lane Cove)
Open: Spring, Summer & Autumn: 9:00am – 8:00pm | Closed in winter
More information: City of Parramatta website
11. Philip Ruddock Water Playground, Dundas Park
The water play area has a mixture of water fountains to entertain kids, as well as a misty tunnel. Although it's relatively small compared to others in the City of Parramatta Council area, it's still a great option. There's toilets, three covered picnic tables, a dual BBQ and a water re-fill station nearby too.
Address: Corner of Yates Ave and Quarry Rd, Dundas (24 mins from Gordon)
Open: Spring, Summer & Autumn: 9:00am – 8:00pm | Closed in winter
More information: City of Parramatta website
12. Ollie Webb Reserve
If you're looking for parks with water play, then this all-inclusive play space in Parramatta is a hit. Not only does it include the water park but there's a great walking track, sports fields, exercise stations and toilets and picnic facilities.
Address: 37A Glebe St, Parramatta (30 mins from Gordon)
Open: Spring, Summer & Autumn: 9:00am – 8:00pm | Closed in winter
More information: City of Parramatta website
13. Francis Park, Blacktown
Water Play is available during Summer, Autumn and Spring. It includes a sheltered area with varying sized water troughs, a hand wheel water pump, a concrete water maze and spurts and sprays coming from all over – just perfect for the kids (and adults) on a warm, sunny day. Plus, kids can head over to the junior playground featuring a junior activity unit, swings, a rotating ball, play tables, balance beams, rubber mushrooms and more, and a senior playground featuring a Flying Fox, balance cable and beams, climbing units, slides and more!
Address: 49 Richmond Rd, Blacktown (30 minutes from Gordon)
Open: Summer: 9am-6.30pm | Autumn & Spring: 10am-3.30pm | Winter: Closed
More information: Blacktown City Council website
14. Nurragingy Reserve Water Park
The Nurragingy Reserve is more than just a water park. Its claim to fame is more than 63 hectares of reserve in Doonside known for its family-friendly picnic spots. Of course, the water play area is a drawcard for the kids! You'll find large windmill, a water wall spray fountain, jets, cannons and bucket dumpers — all of them dispersing water – partially covered in a sail shade. It's open daily from 10am to 3.30pm during spring and autumn, while hours will be extended to 9am to 6.30pm in summer. The water park is closed in winter.
Hills Shire Water Play Parks
15. Livvi's Place, Kellyville
The Livvi's Place in the Hills has so much to offer. The water play area is a big open space in the middle, with lots of different holes spurting water out of the ground, along with three buckets ready to tip. Guaranteed fun. But that's not all, there's so much more at this all-inclusive playground, including tunnels, swings, slides, and more. There's also shade cloths scattered throughout. 
---
Want more summer fun in Sydney?