Hot summer days in Sydney call for fish and chips by the water! There's nothing better than planning a trip to one of the stunning beaches we have around us enjoying an afternoon of sandcastles, swimming and, of course, fish and chips. Whether you want to dine in or take away, we've compiled our favourite spots near Sydney's North Shore to feast on these ocean delicacies… 
---
Who doesn't love fish and chips? The kids can run wild (no restaurant rules on the beach!), while feasting on delicious food with a view. It's the perfect way to waste away a Summer afternoon, and we have the best spots to do it. Use the quicklinks below to find the best North Shore spots for fish and chips by the water.
Balmoral
The Boathouse
The Boathouse Balmoral Beach cafe is located on the Esplanade. The cafe offers a fantastic spot to sit enjoy fish and chips with its beachside setting, fresh modern Australian cuisine and fresh market flowers.
Bottom of the Harbour
Right on the beach front, Bottom of the Harbour is a great place to pop in, grab some take-away fish and chips and settle on the sand nearby. From grilled fish to salt and pepper squid and seafood chowder, they have something for everyone.
---
Dee Why
D.Y Seafoods
When you are looking for a fresh catch of the day to eat for lunch or dinner, this fresh seafood market will cook everything to order for you, just the way you like it. From halibut to jumbo shrimp and almost everything in between, there is plenty of variety.
Address: 9 Oakes Avenue, Dee Why
Phone:

9972 4449

Website: D.Y Seafoods
Seafood at the Beach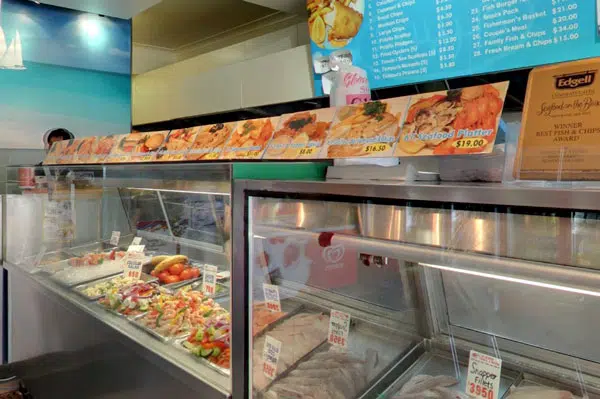 Seafood At The Beach offer some of the tastiest fish and chips on the Northern Beaches, as well as all your other chip shop favourites such as burgers, salads, and more! Their authentic food is freshly prepared with the finest ingredients and cooked to perfection by their skilled chefs.
---
Manly
Snack Shack
The Snack Shack offers fish and chips, seafood, burgers, soft tortilla tacos, milkshakes, fresh juices, smoothies and frappes only a short walk from the beach. The tradition of this shop lives on with generation after generation enjoying the old school menu and remembering a time when fish and chips came rolled up in newspaper. You can also order online so your order is ready to pick up when you get there!
Address: 148 Pittwater Road, Manly
Phone: 9977 7368
Website: The Snack Shack
Manly Fish Cafe
Manly Fish Cafe offers relaxed seafood restaurant dining close to Manly Beach. Sit down and enjoy the freshest of Manly seafood after your morning at the beach. It's the perfect spot on the North Shore for fish and chips.
Address: 2 & 3, 25-27 South Steyne, Manly
Phone: 9977 3030
Website: Manly Fish Cafe
Fishmongers Manly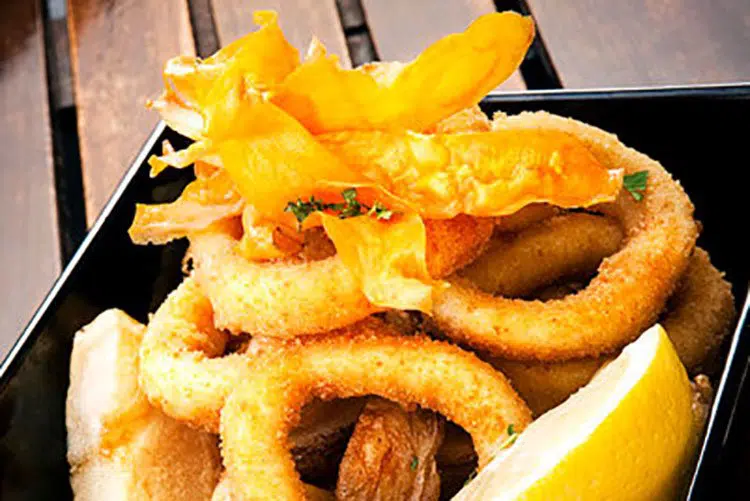 Ryan Mansell and his team know how to handle fish! Fishmongers Manly is located just one block back from beautiful Manly Beach, tucked away in Rialto Square. You'll love their signature deep fried kumera and house crumbed calamari.
Address: Shop 4, 11-27 Wentworth Street, Manly
Phone: 9977 1777
Website: Fishmongers Manly
The Bower Manly
The Bower Restaurant is located at Fairy Bower, between Manly Beach and Shelly Beach overlooking the sparkling blue waters of Cabbage Tree Bay. The indoor and outdoor dining features a view to the water from every seat making it a magical spot to grab some fish and chips. It's especially convenient if your favourite swimming spot is Shelly Beach.
---
Freshwater
Deep Seafood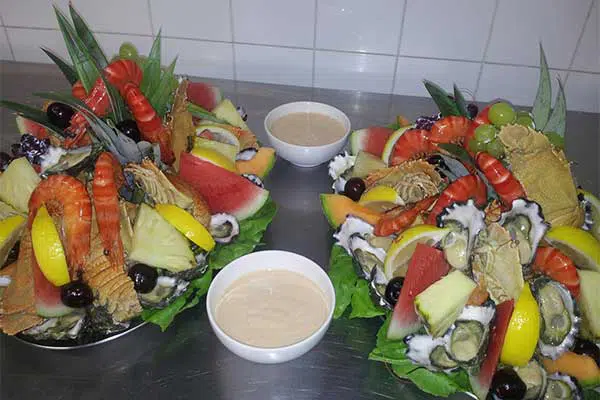 Located in the heart of Freshwater , a stroll to freshies' lovely beach .. Since opening under new management 2009 , " Deep Seafood" has established itself as a local's and visitors' favourite when it comes to Fresh seafood and the best ( Fish & Chips), through a focus on "good food hygiene standards", and offering only the freshest. Select your fresh seafood and have it cooked with the garnish of your choice.
Address: 16A Lawrence St, Freshwater
Phone:

(02) 9939 8777

Website: Deep Seafood
---
Palm Beach
The Greedy Goat
A modern cafe in Sydney's beautiful Palm Beach, The Greedy Goat provides a relaxing atmosphere to enjoy the fantastic food and excellent coffee. The food is fabulously fresh, with everything (except the breads) made daily on the premises.
Address: 1031 Barrenjoey Road, Palm Beach
Phone: 9974 2555
Website: The Greedy Goat
Palm Beach Fish & Chips
The perfect place for a pitstop on your beach afternoon, Palm Beach Fish & Chips specialises in quality seafood, burgers, coffee, ice creams. They are famous for their fish and chips!
The Boathouse
The Boathouse offers a beach-side setting, fresh modern Australian cuisine and rustic furnishings. There are many ways to enjoy your fish and chips at the original Barrenjoey Boathouse. Take a seat on one of the picnic tables on the wharf (which is suspended over Station Beach) or simply grab a spot on the front lawn. The water views are breathtaking from every direction.
---
Church Point
The Waterfront Cafe and General Store
Arrive to the spectacular view of the Pittwater as you enter The Waterfront Cafe and General Store. This Heritage listed cafe offers a menu based upon locally sourced and seasonably available products. Over in the general store there is also a full wine and beer selection. This beautiful waterfront location is the perfect spot in Church Point to enjoy a summer lunch with your family.
Address: 1860 Pittwater Road, Church Point
Phone: 9979 6633
---
Berowra
What The Fish! Cafe, Berowra Waters
Order from their Take Away menu and dine in the park or book a table and enjoy the sublime views of the Berowra Waters Marina. Watch the fish mill about the moorings, go for stroll along the promenade or take a quick trip on the 24/7 Ferry. There is lots to do, see and eat in this upbeat little nook of the Berowra Creek.
Address: 199 Bay Road, Berowra Waters (on the Arcadia side of the Ferry)
Phone: 9456 4665
Website: What The Fish! Cafe
---
Bobbin Head
Waterside Bistro
Waterside Bistro is located within the impressive yet welcoming Empire Marina Bobbin Head, and is a great spot on the North Shore for fish and chips with the kids. It also has a large range of hot and cold food and drinks, including snacks, full meals, all day breakfast, kids meals and a large selection of cakes and desserts. On weekends and holidays you can hire a paddle boat or enjoy a ferry cruise, exploring the Cowan waters of Broken Bay. Read our review of the new playground at Bobbin Head!
Address: Ku-ring-gai Chase Road, Bobbin Head
Phone: 9457 7170
Website: Waterside Bistro
---
Want more summer fun around Sydney's North Shore?