Melbourne Cup is just around the corner, Tuesday 2 November 2021. Got the little ones at home? Just because you're looking after the kids this Melbourne Cup Day, it doesn't mean you can't have a little bit of fun too! Celebrate in style with these Fun Melbourne Cup activities for kids…
---
It's "the race that stops a nation", but being a stay-at-home mum, a part-time working mum, or even a mum on a budget can mean missing out on the fun of a lavish lunch or even just comparing outfits with your girlfriends on Melbourne Cup Day.
But being at home shouldn't be the end of having an enjoyable time. Why not use the occasion to celebrate at home with these fun activities – with shopping for a new frock and fascinator optional!
Have a Horse & Hat Party with friends
Our mother's group started a Horse and Hat party tradition and the annual casual gatherings with friends has become a wonderful way to spend time together eating and chatting while the kids play. 
Don't be deterred by the term "party" – the truth is, we called it a "party" to create excitement for the kids. The reality is that it's just an excuse to have some friends over for a casual get together during the day.
Making a 'horse and hat' for kids is optional, but it does give a nod to the occasion and make the day feel special -plus the kids love having their own 'horse races' in the backyard.
Horse body – you can create the body of your kid's "horse" from household items, like a

broom, hockey stick or long cardboard roll from wrapping paper for the horse's body.

Horse mane – the mane is made of paper, string, wool or even toilet paper.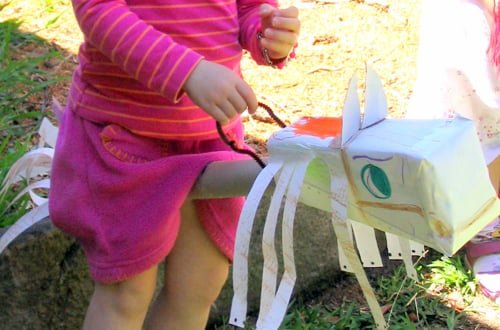 More fun Melbourne Cup activities:
Have a fashion parade!
Stage Fashions on the Field in your living room by stuffing an old suitcase full of clothes and shoes for the kids to play dress ups.
Eat like a horse
Spend some time with the kids researching foods that horses eat and then let them help you serve up a healthy 'horsey' lunch' of carrots sticks and apple… sugar cubes and hay optional!
Make newspaper party hats
Use sticky tape, feathers, glitter and wrapping paper to make your own fascinators or hats at home, or for a more budget-friendly and recyclable options, try decorating newspaper hats with natural materials like leaves, gum nuts and twigs.
Feedbag race!
Use pillow slips or hessian bags to have a traditional sack race, but call it a 'Feedbag Race' in keeping with the theme
Get grooming
Kids will love braiding each others 'manes' or practising their plaits on bunches of ribbon as 'tails'.
Easy colouring in and drawing
To keep busy hands occupied, download some Melbourne Cup colouring in worksheets like these. Older kids can also watch this video on How to Draw a Horse and create their own cardboard ponies, which they can cut out and race.
---
Want more fun activities to do at home with kids?