Buttermilk pancakes, homemade rosti with crispy bacon and fresh avocado bruschetta… breakfast truly is the most important meal of the day! After a busy week, everyone wants to relax when the weekend comes, and what better way to give yourself a break than have someone else cook a delicious brunch and then clean up once you're done? Take advantage of the weekend and step out and try one of these brunch spots on the North Shore.
---
1. The Penny Royal, Mosman
Penny Royal is small, so make sure you choose a good time (they open at 6am!) or a weekday, if you're bringing the whole family. But although it's a tight squeeze, the top-notch coffee make this place a surefire favorite, not to mention the  pear and ginger jam and ricotta on sourdough.
2. The Moody Chef, St Leonards
This bright, airy space at St Leonards sits 120 so there's plenty of room for the family at this brunch spot on the North Shore. The Saturday menu is a winner, with grilled chorizo and roasted mushroom bruschetta on offer plus a smashed avocado and bacon panni with tomato and lettuce- a supercharge version of the BLT.
3. The Incinerator Cafe, Willoughby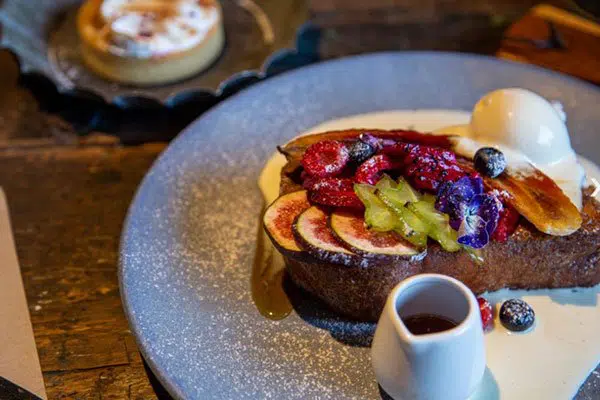 You'll find this gorgeous cafe downstairs at the Willoughby Incinerator, a 1930s building with a vaulted ceiling in the heart of Bicentennial Reserve. Inside, there's art for sale, so enjoy the exhibits while you eat or opt for takeaway and eat your meal in the surrounding parklands. Our picks from the menu are mainly the classics such as the seasonal fruit salad with roasted granola and sweetened yoghurt or the buttermilk pikelets, but the Incinerator smoked trout with a salad of grains, seeds, and a soft egg is delicious. The kids menu is a good one, including bacon sandwiches and kids banana pikelets.
4. The Alchemist Espresso, Cammeray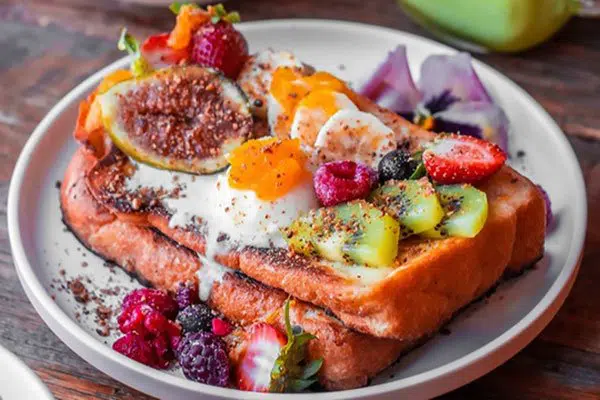 Established by a former Pharmacist (as the name suggests), this place is focused on serving the best coffee and food. And it delivers! There's a kid's corner to keep the kids entertained, beautiful floral decorations and a seasonal menu that is always changing. Their Oat Nourish Bowl is service with apricots and dates, with seasonal fruits and the presentation is stunning. If you're a bit more famished, check out the MAD Brekky Burger that comers with the lot!
5. Flower Child Cafe, Chatswood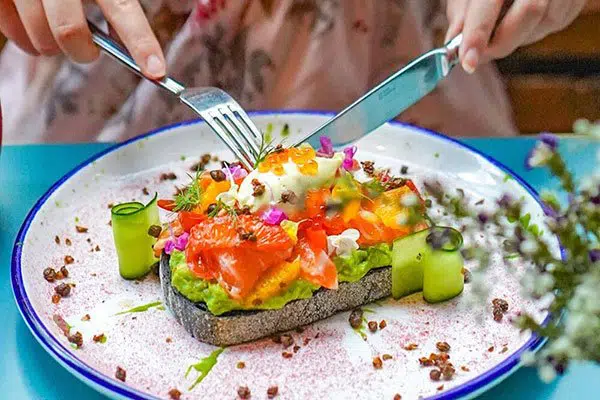 This pretty cafe is set inside a shopping centre but you'd never know from its gorgeous green interior. Even the simple fruit salad has an elegant twist, served with freeze-dried raspberries and compressed pineapple. The granola comes with a mango pana cotta and blueberry compote, only emphasising the fact that it's the extra details and tiny twists that really make these dishes sing.
Try the….Tiramisu waffles, whipped mascarpone, pistachio, pecan, chocolate crumb, raspberry, biscuit, cocoa powder with The Grounds house blend coffee maple syrup.
Where: Shop 391, Anderson St Westfield Chatswood
Website: Flower Child
6. The Sawmill, West Pymble

It's famous for its incredible, perfectly spiced pizzas, but The Sawmill at West Pymble delivers up a to-die-for breakfast too! There's a match for everybody's tastes, from Shakshouka baked eggs in tomato sauce, to an Avocado Smash or Big Breakfast with bacon, avocado, halloumi, mushrooms, chorizo, and eggs. They also have some delicious pancakes with salted caramel gelato for the sweet tooth!
Where: 7 Duneba Avenue West Pymble
Website: The Sawmill
7. Pottery Green Bakers, Turramurra

Pottery Green Bakers is a second generation local family business based in the North Shore of Sydney. They are dedicated to artisan baking and providing lovingly crafted products freshly prepared, daily. You can eat in or takeaway with this delicious menu. From the Avocado, Egg & Relish Roll to the Chia Pudding Cup or the delicious Breakfast Stack.
8. Butcher's Block, Wahroonga

If you're heading here on the weekend, be prepared for it to be busy! But, it's delicious and well worth it. It's one of the best brunch spots on the North Shore. They have a unique menu, where you can try out some new things. Choose from the Green Bowl with broccolini, snow peas, avocado, kale and a soft-boiled egg, or the delicious Crab Omelette with chilli caramel. For the sweeter tastes you can try the Chocolate Chip Pancakes which won't disappoint.
9. Blu Eatery, Hornsby 
If it's choice you're after then you'll get it with the extensive menu at Blu Eatery, which is a fabulous brunch spot on the North Shore. Their brunch menu has everything and more, from the Vegetarian Breakfast Burger to Tacos with chorizo, scrambled egg, avocado, hash browns, chilli scramble croissant, the vegan bowl… the list goes on. They have so much choice and it's all worth tasting!
Where: Shop B22 Florence St, Hornsby
Website: Blu Eatery
10. Dachshund Coffee, Hunters Hill

This cafe is for every member of the family, and as you might have guessed from the name, that means your furry babies too! Even the menu has canine-inspired dishes on it like the Spanish dog with chorizo, avocado, a poached egg and corn chips. Other good choices are the house-made, oozing jaffles, bacon and egg 'tradie' rolls or the turbocharged toast.
What's YOUR favourite spot for brunch on the North Shore?
---
Want more fun dining options around Sydney's North Shore?