Are you looking for the perfect venue for a night out with the girls? Let's face it, you can't go wrong with a bar that serves incredible cocktails! We're spoilt for choice when it comes to amazing cocktail bars around the North Shore. Here's a list of our 10 favourite cocktail bars around the city and on the North Shore, to enjoy a fancy beverage while catching up with friends.
---
1. The Botanist, Kirribilli
This local gem conveniently located in Kirribilli has so much to offer! Expect some beautifully decorated dishes using fresh, seasonal ingredients to create a splash of colour that pair with an amazing choice of drinks. Some of their signature cocktails include:
Twistin' My Melon:

Malfy Rose Gin, Aperol, lemon, watermelon, peach bitters, aquafaba

Diablo Verde:

Olmeca Altos Plata Tequila, jalapeno, lime, coriander

Jungle Dave:

Plantation Pineapple Rum, Davidson plum aperitivo, lime, pineapple

Botanist Lychee Martini:

Four Pillars Rare Dry, lemon myrtle verjus, Crème de Lychee
Address: 17 Willoughby St, Kirribilli NSW 2061
Phone: (02) 9954 4057
Website: The Botanist
2. Green Moustache Rooftop Bar, North Sydney
Who doesn't love a rooftop bar? The kitchen is run by former Chin Chin chef Pete Fitzsimmons, infusing Australian with International cuisine. While the  drinks list is graced by botanically inspired cocktails, which you won't be able to help but love! Some of their signature cocktails include:
The Green Moustache: Roku gin, Massenez Green Apple, cucumber, green apply syrup & a dash of Sprite
Mrs. Millers Tea: Avosh Vodka, lychee liqueur, watermelon, apple & lemon
Sugar + Spice: Chilli infused tequila, coconut syrup, lime
Rhubi Spirits: Rhubi rhubarb liqueur, prosecco & soda
Address: Rooftop, Level 10/100 Miller St, North Sydney NSW 2060
Phone: (02) 8904 9108
Website: Green Moustache Rooftop Bar
3. The Foxtrot Inn, Crows Nest
The boutique cocktail bar in Crows Nest offers a moody atmosphere, along with a moreish menu and a large variety of cocktails for you to sample. Some of their signature cocktails include:
Limoncello Sgroppino: Seasonal sorbetto, prosecco, limoncello, mint
Cumquat Cobbler: Cumquat, gin, dry sherry, citrus
The Monet: Vodka, elderflower, watermelon, cucumber oil
Lover's Orchard London dry gin, Regal Rogue rose vermouth, seasonal orchard fruit, citrus
Address: 28 Falcon St, Crows Nest NSW 2065
Phone: (02) 9437 9494
Website: The Foxtrot Inn
4. The Hunter Wine Bar, Mosman
Here at The Hunter Wine Bar, they offer a continually evolving selection of bespoke wines from around the world, finely crafted beer, unique cocktails and first class spirits, sensationally paired with exhilarating local delicacies. The cocktails you'll find on The Hunter cocktail menu are classic with a bespoke, creative and unique twist. They take the Margherita and add a little chilli and vanilla spice, or the Bloody Mary and swiftly turn it into the Bloody Manly. Here's some favourites:
All The Small Things: Packed full of flavour this cocktail consists of Spiced Rum, Peach Apple & Elderflower liquor with notes of citrus
The boys of summer: This summer Negroni will make you drool, with Rosé Vermouth, Barrel-aged Gin and Aperol with a smokey twist 24
Purple bliss: Lavender infused cocktails are the way to go when you add gin and violet liquor.
Sinner man: Read no further this is the cocktail is the one for you, Sailor jerry's spiced rum, Ginger liquor, cinnamon syrup, raspberry puree, notes of citrus finished off with a cinnamon sugar rim.
Address: 5 Myahgah Road Mosman NSW 2088
Phone: (02) 8540 5837
Website: The Hunter Wine Bar
5. Shorties, Lane Cove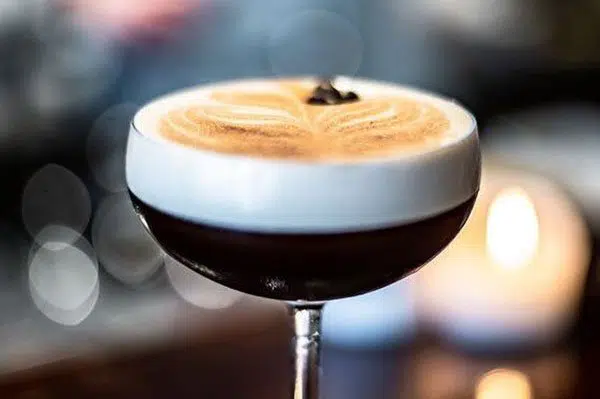 Warm and inviting, Shorties is an intimate restaurant and bar designed to feel like home. It was opened by good mates and Lower North Shore locals, Phil Jensen and Steve Jones, with a delicious and different cocktail menu to test your tastes. Some of their signature cocktails include:
Mercy Mercy: Sloe Gin, Apricot Brandy, Solerno, Lemon
Espresso Yourself: Vodka, Frangelico, Kahlua, Chocolate liqueur, Coffee
Tainted Love: Gin, Triple Sec, Lime, Lychee, Basil
Mon Amour: Vodka, Parfait Amor, Elderflower, Lemon
Address: 96 Longueville Rd, Lane Cove NSW 2066
Phone: (02) 9418 9780
Website: Shorties
6. The Governor Hotel, Macquarie Park
The Governor Hotel is a sleek and stylish venue that offers a gorgeous rooftop bar that is perfect for sunset drinks and afternoon knock-offs. Some of their signature cocktails include:
The Hills: Vodka, Mailbu, Lychee, Pineapple
Passionfruit Margarita: Tequila, Passionfruit & Lime
Watermelon Mojito: White Rum, Watermelon & Mint
Raspberry Tart: Gin, Raspberry, Lemonade & Sherbert
Address: 9 Waterloo Rd, Macquarie Park
Phone: (02) 9287 1418
Website: The Governor Hotel
7. The Winery, Surry Hills
Don't let the name of this place throw you off, it delivers some amazing cocktails. And be warned, with their amazing outdoor atmosphere under the fairy lights, you won't want to leave. Some of their signature cocktails include:
Spice Up Your Life: Habanero infused Jose Cuervo, Cointreau, Mango, Lime
Giggly Rose: Gordons Gin, Rose, Sparkling Wine, Mint, Lemon
Bubblegum Blitz: Smirnoff Vodka, Chambord, Coconut, Blackberry, Lemona
Silly Lilly Pily: Manly Spirit Co Lilly Pilly Gin, Aperol, Sweet Vermouth
Address: 285A Crown St, Surry Hills NSW 2010
Phone: (02) 8322 2007
Website: The Winery
8. Babylon Rooftop Bar
If you're after a good cocktail, Babylon Rooftop Bar has a small, yet delicious selection:
Coast of Izmir:

Pampero Anejo, white chocolate, blood orange, agave
Keyseri: Tanqueray, chamomile, lemon, almond, egg white
The Library of Celsus: Johnnie Walker, Fino Sherry, black tea
Antalya Spritz: Ketel One, Lillet Blanc, St Germain, raspberry, lime, Prosecco
While you're there, it's also worth grabbing a bite to eat! The menu at Babylon has been inspired through recipes from the owner's childhood, growing up in Turkey. People rave about it! 
Address: Level 7 Rooftop, Westfield Pitt Street Mall, 188 Pitt Street, CBD, Sydney
Phone: (02) 8014 5663
Website: Babylon Rooftop Bar
9. The Lodge Bar, Balmain
This intimate cocktail and wine bar is the perfect place to meet with a close group of friends. They not only have a great selection of drinks for you to choose from, but they also offer delicious share plates for everyone to enjoy. Some of their signature cocktails include:
Coco Loco:

Orilof vodka, Parasio, coconut water, honey

Chocolate Old Fashioned:

Havana 7, chocolate bitters , sugar

Jack Sparrow Sour:

Sailor Jerry, Amaretto, lemon, sugar, angostura bitters, egg white

Gin Ginger Spice:

Tanqueray, lemon, sugar, Home made syphon ginger beer
Address: 3/415 Darling St, Balmain NSW 2041
Phone: 0474 079 824
Website: The Lodge Bar
10. Maybe Sammy, The Rocks
This place is well-known for their cocktails. In face, you can even take some home with you! They have a range of ready-to-pour cocktails on hand so you can continue the party at home. Some of their signature cocktails include:
The Martini: choice of Classic, Dirty, Gibson & Australian
Once in a Lifetime: Ketel One Vodka, Rhubi Mistelle, Toasted Coconut, Coconut Water, Citrus, Bergamot Bubble
'Till You Hear the Bell: Don Julio Tequila, Bell Pepper, Lemon, Palo Santo, Dry Vermouth, Junipe
Together Again: Starward Two Fold Whisky, Acqua Bianca, Pedro Ximinez, Lemon Juice, Umeshu Soda
Address: 115 Harrington St, The Rocks NSW 2000
Phone: (02) 9241 4970
Website: Maybe Sammy
---
Want more Cafes, Restaurants and Bars on North Shore?