Looking for a shopping centre on Sydney's North Shore that has a free play area for the kids to have some fun? Luckily, most of them now have a play zone to allow kids to let off some steam, mid-shop! Yes, shopping with young children can be challenging, but if you choose a shopping centre with a play area, you have a better chance of getting them to cooperate after they've has a play for 15 minutes! Here are some Sydney shopping centres with play areas.
---
1. Big Bear, Neutral Bay
116 Military Road, Neutral Bay
The Big Bear Shopping Centre has a large Coles Supermarket and complimented by thirteen specialty convenience retailers. There's also a free soft play area, ideal for children aged 1-5 years. It's one of the best Sydney shopping centres with play areas.
2. HomeHQ, Artarmon
Corner of Frederick Street & Reserve Road, Artarmon
If you're buying up big for the home and need a bit of time out, there's a Pirate Ship themed soft play area called the HomeHQ Kids Area on the lower ground floor (near Dare Gallery and By Dezign). This includes a fabulous pirate ship climbing gym which is recommended for children aged 2-6 years. It's one of the best Sydney shopping centres with play areas.
3. Westfield Chatswood
Level 3 near EB Games, 1 Anderson Street, Chatswood
We're so excited that there's a brand new kids play area at Westfield Chatswood. It was officially unwrapped on 21 December 2019, and features lots of cute animals . structures to climb, cubby house and an impressive slide!
4. Chatswood Chase
Level 2, 345 Victoria Avenue, Chatswood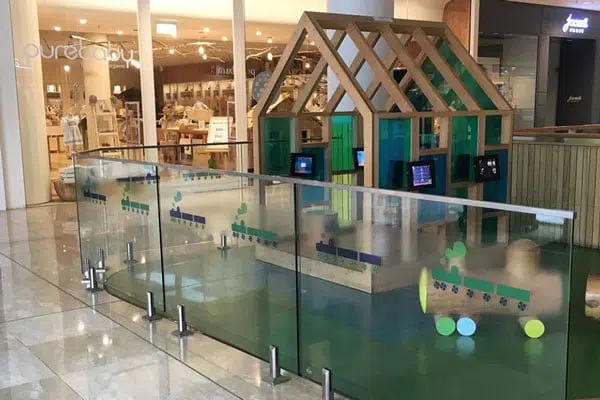 On the top floor at Chatswood Chase, there's a small play area for children. There's a cute wooden train to sit on, and a little cubby that has six iPads loaded with games. It looks very classy and in fitting with the environment, but probably won't amuse kids for more than ten minutes. However, it's conveniently located near a cafe and all the children's shops.
5. Westfield Hornsby
236 Pacific Highway, Hornsby
Westfield Hornsby now features two play areas for kids!
Triple-Level Play Centre (Level 2, near Aldi)
Hornsby Westfield has opened a brand new triple-level Play World outside Aldi in October 2019! Take a look at the amazing new play area, which is the largest in the Westfield portfolio with slides. It features:
Safety gate around the perimeter of the play area for peace of mind (the area near Aldi is close to the carpark)
Close by coffee! The adjacent café is Jimini's
Secure and safe: The area is also monitored under CCTV for additional security measures.
Age range: The area is suitable for kids up to 6 years of age.
Pram parking: Additional pram space is available at the carpark end of the zone for those visiting with younger bubs. This Playworld is also conveniently located down the travelator from dedicated parking with prams on level 2M Orange carpark and up one travelator from the Parents Room.
Other places to play at Westfield Hornsby: Four dedicated kids play zones already exist at Westfield Hornsby, the perfect place for parents visiting with kids and school holidays.
Play World (Level 3, near Food Courts)
The Play World at Westfield Hornsby was relocated from outside Aldi (Level 2) to outside Myer (Level 3) in June 2019. This seems to be a much better location for us, as there aren't as many trolleys zooming past, and it's not quite so close to the car park.
This area features a small climbing frame for children up to about the age of 4 years, interactive screens and other sensory games.
The nearest coffee is Jamaica Blue (directly below, Level 2) or Gloria Jean's (Level 3) towards the Food Court area.
6. Macquarie Centre
Cnr Herring and Waterloo Roads, North Ryde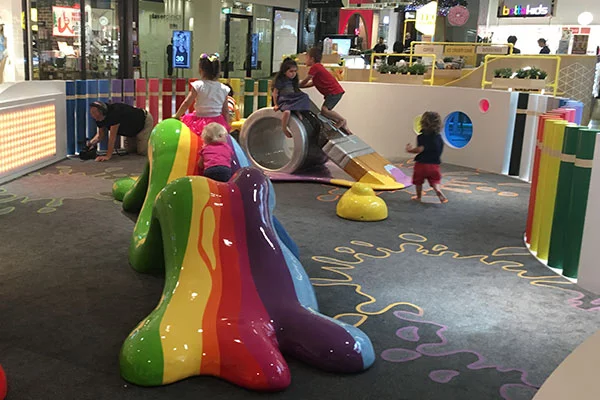 If your little one loves to crawl, toddle or explore, this new play area is for you! Located on Level 1 outside Target, it's full of brightly coloured play equipment, and carefully designed to take into consideration all the issues parents face with play areas.
First up, there's a large dedicated 'pram parking' zone outside the entrance, meaning prams are contained and not left haphazardly for people to trip up on.
There's also just one entrance and exit to the Play Zone, minimising the risk of a child slipping out unnoticed. Parents can choose to sit on the seating bench inside the play area (don't forget to pop your shoes into the integrated shoe cubbies underneath the bench!) or at the tables outside if you prefer to get your caffeine fix.
Click here to read the full North Shore Mums review.
If you're looking for more extended playtime fun, Chipmunks is an amazing play centre and open 7 days. They even offer a 'Drop Off Service' service, where you can leave school-aged children aged 5-11 years. Find them in the NSM Directory.
7. Top Ryde Shopping Centre
Corner Devlin Street and Blaxland Road, Ryde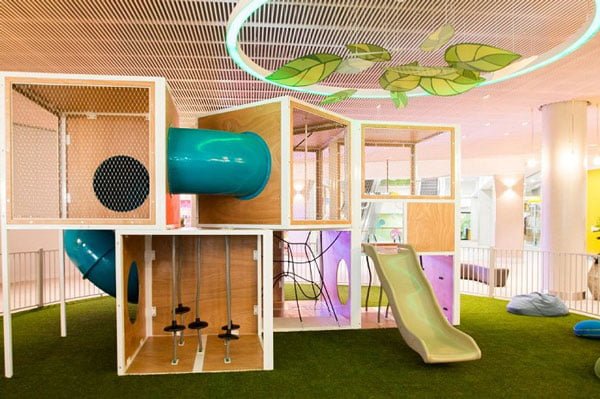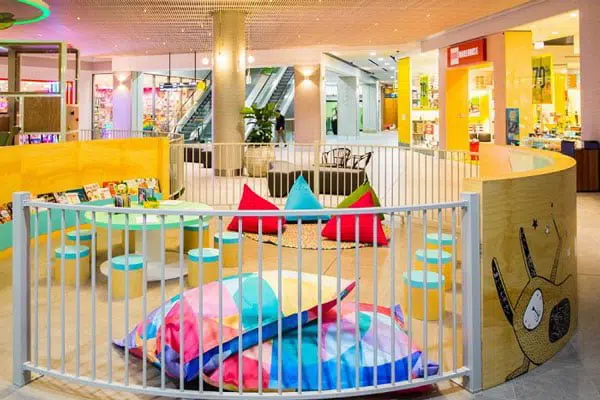 Top Ryde City's FREE play zone is located on Level 1.
Incorporating three specific zones combining passive, active and interactive play, there is something for all children aged 0 -12 years old.
The interactive zone contains three interactive screens as well as a book zone with bean bags to lounge in as well as a table for colouring-in.  The climbing zone, a play gym with rock climbing wall, multiple slides, rope ladder and tunnel. And the soft play, a tactile soft carpet with climbing mounds and cut-outs as well as build it blocks.
8. Rhodes Waterside
1 Rider Boulevard, Rhodes
Rhodes Waterside unveiled their much anticipated Monkey Bar in May 2017, an incredible new free play zone that really redefines the whole concept of having a play area for kids in a shopping centre… and we just love them for it! The design encompasses 6m tall climbing towers viewable from the upper level. The Monkey Bar is filled with slides, touch to learn activities, climbing towers as well as a special soft play area for the little ones. It's suitable for children aged 2-10 years.
9. Belrose SuperCentre
4-6 Niangala Close, Belrose
If the kids need a break from furniture and homewares, there's not one but TWO play areas to choose from at Belrose SuperCentre. One is an outdoor shaded playground on the very top floor (near the food outlets), whist the other is an indoor softplay zone for toddlers on Level 1 (near Adairs Kids).
10. Westfield Warringah Mall
Corner Condamine Street & Old Pittwater Road, Brookvale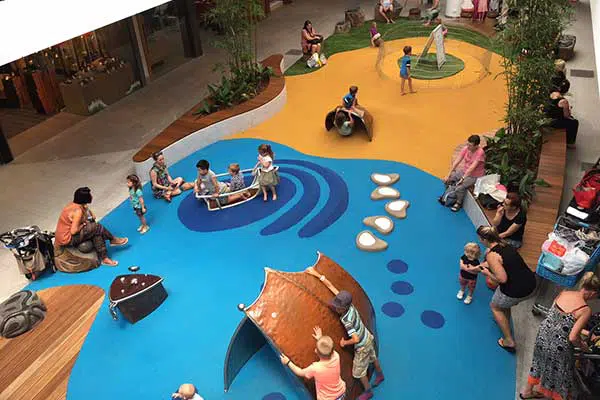 Westfield Warringah Mall has been recently renovated, and it looks amazing! The kids play area is lovely too. Kidsplay (next to Three Beans Café) is recommended for children aged 3-8 years, and is an area where kids can climb, hide and spin on the handcrafted equipment. Bring the young ones to picnic in the open spaces, experience the sounds of the ocean and light up the pebbles. The soft play (pictured) for younger children is on ground level, opposite Just Jeans.
11. Warriewood Square
Jacksons Road, Warriewood
Warriewood Square has a lovely interactive play for toddlers that features native animals from the Northern Beaches area and surf boards. It's located outside Kmart. There's also an ALDI, Coles, Woolworths and lots of specialty stores – fashion, toys, gifts, hair & beauty, electronics and more!
---
Want more play fun?