Has it been a while since you visited to Taronga Zoo? You're in for a treat! It's time to pop it on your to-visit list and treat the kids to a fabulous day out full of animals, water play and cable cars – what more could you ask for? Check out what North Shore Mum Felicity Frankish has to share.
---
I recently took two of my three children (one was at school!) to visit Taronga Zoo. Thanks to our Zoo Friends annual membership (amazing money saver), a trip to the zoo is a regular occurrence for us. It's the perfect day out for my two and four year old, and each trip we discover something new!
Getting to Taronga Zoo
First thing's first… getting to the zoo! We always drive from home (Wahroonga), as it's much easier with the kids. Plus, there's a car park at the zoo that makes unloading the kids and enjoying a big day out together easy. Parking is $22 for the day, unless you have an annual pass, which you can use to validate your parking ticket so you only pay $9. Bonus!
You can also travel by ferry, bus or train! Head to their website for information.
If you think you might visit the zoo a couple of times in the year, then definitely grab an
annual pass
. It's just $110 per adult and kids under 16 from the same household are free. You can visit the zoo as many times as you like in the year!
If you're just looking for a one-off pass, it still helps to book ahead, as you can save by booking online.
Sky Safari
The first thing we always do (after I grab my coffee from the cafe at the entrance!) is jump on the sky safari. You can do a round trip, which takes you right down to the bottom of the zoo (where you come up from the ferry) and then all the way back to the top.
It offers the perfect view of the entire zoo, and it is a highlight for the kids. The queue is almost non-existent first thing in the morning, which is why we always jump on first. Plus, the kids will spend the rest of the day nagging to go!
Zoo shows and keeper talks
If you're nice and organised, it pays to plan your trip around some of the Taronga Zoo's shows and keeper talkers.
Free Flight Birds
Have you ever seen an Andean Condor spread its three-metre wide wings? Learn about the condor and other exotic birds such as the Red-tailed Black-Cockatoo and Galah, as they fly against the iconic Sydney Harbour skyline.
I have honestly never heard the kids laugh so hard as the bird zoomed just over their heads – pure delight!
Seals for the Wild
Watch their graceful seals catch fish, climb and dive in this dynamic display. You'll see species such as the Australian sea lion, Californian sea lion, and New Zealand fur seal show off their natural abilities while you learn about their marine environment.
If you want the true experience, sit up close at the front in what's known as the 'spray zone'. That's right, you'll be getting nice and wet!
Keeper Talks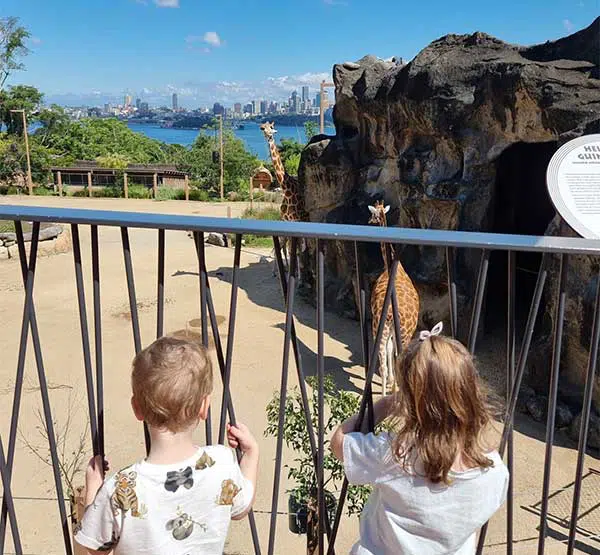 There is also a number of talks to enjoy, including:
Gorillas
Meerkats
Koalas
Komodo dragon
Farmyard
Asian elephant
Giraffe
Taronga Zoo highlights
Lions
Taronga Zoo Sydney welcomed a litter of five African Lion Cubs for the first time in 18 years! The cubs, who arrived mid-August 2021, are healthy, inquisitive and growing every day.
You can now see mum, Maya, Dad, Ato, and the five Lion Cubs at Taronga Zoo Sydney's African Savannah exhibit. We have only had glimpses so far, as they love hiding with their mum out of sight (and who can blame them!). We were treated to a nice and up-close encounter with one of the lions, which was just amazing.
Tiger Trek
This was definitely Elliot's favourite, and he was begging to see the tigers from the minute we entered the zoo.
This Indonesian-themed experience provides an amazing opportunity for you to get up-close with these magnificent, critically endangered Sumatran Tigers and learn how simple shopping choices can help to preserve their precious, natural habitat.
Again, we were really lucky on the day we went, as the tigers were resting on top of the car, nice and close to where we could view them!
Penguins
Another favourite is the gorgeous penguins! You can get up close to see them, and the kids just love watching them swim and toddle on the land. There's even a big viewing area that the kids love sitting down in and spending a bit of time checking them out.
Water Play Area
Hot summer days can be really hot at the zoo, especially if you've been walking around in the sun for a couple of hours. However, Taronga has come up with two ingenious ways to keep kids cool. Firstly, there is the fabulous water play area in the Kids' Trail zone. Pipes, troughs, taps, wheels and water winding through rock pools ensure kids never want to leave (and I mean never!).
Remember to take a change of clothes because the kids will most certainly get wet! Next, is an area between the lower Zoo Shop and the Seal Theatre. It's made to look like a sandy beach and the water gets to just below the knees – great for a run-through on a hot day!
Extra tips
Bring hats
Always bring hat and sunscreen. Right on the water, if the sun is out it's a hot day, so be prepared. Also bring along those drink bottles. There are plenty of refill stations around the zoo for you to use and top up.
Bring food
Pack plenty of food. With all the walking, kids will work up an appetite along the way! There are food places throughout the zoo, but they do tend to get busy and can be expensive. Much easier to bring extra food and find yourself over-prepared for the day.
Go early
If you head in early, it's a chance to beat the crowds (that are sure to follow), while also making it nice and easy to find a park.
Essential Details: 
Taronga Zoo
Address: Bradleys Head Road, Mosman
Opening Hours: 9.30am-5pm – open every day of the year
Price: Adults $44.10, Child (4-15 years) $26.10, Concession $35.10, Family Pass (2 adults and 2 children) $101.60
Facilities: ATM, Cafe/Eateries, Picnic Areas, Water bubblers, Lockers, Stroller hire, Parents Room
For more information: visit the Taronga Zoo website.
---
More animals to see…