Decluttering your home and looking to donate pre-loved goods in Sydney? Hoping to rehome items to reduce landfill? Look no further! We've put together the ultimate guide to giving, so you can KonMari your home with greater responsibility.
---
With the kids heading back to school after a busy holiday getting out and about, it's the perfect time to get in there and tidy up. The consequence of all this 'tidying up' is that all your pre-loved goods now need a new home. We've done the research to find the best places to donate pre-loved goods Sydney.
Charity bins across Australia have been overwhelmed, with many goods piling up outside bins, rendering them unusable and unsaleable. It's important when donating to be mindful of how it will be used again. If you wouldn't happily hand down the item to a friend or family member, then it might be served better recycled or re-homed elsewhere.
Browse different places to donate the following items:
Large Donation Spots
Charity bins are a great spot to donate pre-loved (but good quality) clothes. Just make sure you read the individual bins and only donate stuff that they request… and if the bins are full, don't dump your belongings next to them.
To find the nearest locations, click on the links below:
Local Freecycling and Recycling Facebook Groups
Hornsby Ku-Ring-Gai Women's Shelter has a big wish list of items that they need, so please get in touch to find out more. They have very limited storage, so can only accept particular items at certain times. Follow them on Facebook for latest news including updates about their Wish List.
Where to donate clothes
Mummies Paying it Forward is an incredible organisation that provides pre-loved goods to those most in need. They support Life Without Borders, The Australian Literacy and Numeracy Foundation, The Generous and Grateful, Foster Care Angels, Dandelion Support Network, Mums 4 Refugees, Save the Children and more.
They are currently accepting baby & kids clothing, and nursery items. toys and books and other household essentials. For a detailed list, head to their site.
You can drop off goods during business hours at:
Fitted for Work is a non-profit organisation to aims to empower disadvantaged women and find economic independence through direct donations, employment services, and advocacy. They are a great place to donate pre-loved goods in Sydney.
You can help women find meaningful work by donating good quality business and work attire at its Parramatta Dressing Room, Monday-Thursday between 10am–3pm.
Donations can be delivered to Suites 37 & 38a, 70 Phillip Street, Parramatta. Contact the office on (02) 9635 9909 beforehand to notify of the delivery time.
Dress for Success is a charity that helps improve the employability of women in need. Help to empower women and find employment by donating good quality business and interview quality attire, shoes, jewellery, scarves, handbags (briefcases, portfolios, etc) unopened toiletries, and unopened makeup.
They are very limited for space and kindly require 'as new' quality items for our clients and fundraising sales. They would appreciate as new or brand-new items only; high–end/designer and luxury brand names including athleisure and multipurpose appropriate work clothing and accessories; and high-quality designer, costume and fine jewellery.
Donations can be provided at: 132 Marrickville Road, Marrickville.
Shoes for Planet Earth is a charity that provides running shoes to those in need around the world. There are drop off points across the North Shore in suburbs, including Crows Nest, Mosman and more. Website.
Hospitals: Many hospitals are also set up to receive donations of baby clothes – especially for premature babies in NICU. At Royal North Shore Hospital, you simply phone up the NICU and they will direct you on how you can donate.
H&M: Recycle or upcycle your old and unsaleable items by handing clothing over the counter at stores located in:
Macquarie Centre

Westfield Chatswood

Warringah Mall
The textiles are then sent to the nearest recycling plant, where they're sorted by hand. For every bag of textiles you drop off, you'll receive a discount card for 15% off your next in-store purchase.
Local Daycares are often looking for spare clothes to provide for the children when needed. A great place for unsaleable clothes to get a second life.
King Cotton coordinates the recycling and reuse of clothing in Australia. Collection bins are located across the North Shore, including Macquarie Park, Hornsby, Chatswood, and Ryde. Find your closest collection point.
Where to donate Towels & Bedding
Annual Welfare League NSW: is a non-profit working to provide all companion animals a loving home through rehoming, education and discount desexing programs. You can help the organisation by donating clam shell pools, cat care items, microchip scanners, cardboard boxes, ball pit balls, paper bags and more.
Drop off location: Kemps Creek Shelter, 1605 Elizabeth Drive, Kemps Creek. Call (02) 8899 3333 to discuss possible drop-offs at local branches.
Local vets: Many local vets would gladly accept your old towels and bedding for their practice.
Where to donate Books, CDs, DVDs & Stationary
Street Libraries: is a community initiative helping people share the joy of reading by sharing books with others in the area. Libraries are often located in local parks and offer those in the community to enjoy a book for free and pay it forward to someone else. Click here to find the closest street library near your suburb.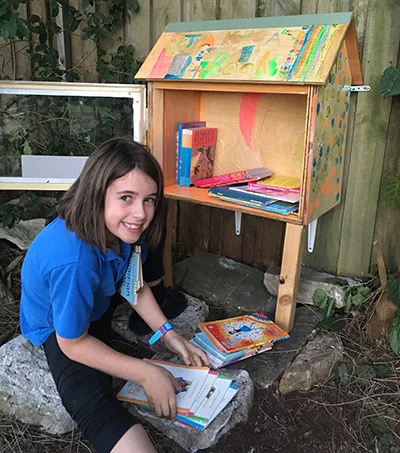 Local libraries also love getting donations of books. If they're not suitable for loaning, they will sell them and put the funds back into purchasing other books for the library.
North Shore Mums Smiles2U is a local organisation started by three North Shore Mums, who create and deliver care packages to sick children and their families at the hospital. The organisation accepts unused colouring-in books, pencils, stickers, and craft items for care packages. Find your nearest drop off point. 
Local hospitals and doctor surgeries will often accept old magazines for patient waiting rooms.   
Where to donate Baby Equipment & Kids Toys
Dandelion Support Network: supports vulnerable families by providing much-needed goods such as all baby goods (baths, bottles, bassinets/cribs/beds, breast pumps, breast pads, car capsules, etc), toys, CDs & DVDs for children, decor and more. Click here to book in a time to drop your donations off in Caringbah.
Mummies Paying it Forward also accepts baby/children's clothing and essentials, nursery items, and toys. For a detailed list of what they're accepting right now, head to their website. See drop off locations in the 'clothes' section at the top of this article.
Local playgroups: a great place to donate pre-loved goods Sydney. Playgroups often use pre-loved toys for their groups and some may gladly accept your donations.
Where to donate Homewares & Electronics
The Bower Reuse and Repair Centre aims to reduce landfill by repairing, recycling and reselling items to support survivors of domestic abuse, including Wagec, Mary's House, Bonnie and Mission Parramatta. It also provides free household goods to Refugees and asylum seekers.
There is a free collection service for household furniture, bikes, building materials, bric-a-brac and books in good condition. You request pick-up via the web booking tool.
Generous and Grateful is a non-profit aiming to help uplift the lives of those most disadvantaged. It collects essential furniture and white goods, beds and mattresses, sofas, TVs, washing machines, fridges, computers, dining table and chairs, drawers, coffee tables to help those in need. In particular, The Generous and Grateful focus on supporting those at risk of homelessness, such as refugees, youth at risk and domestic violence survivors.
Pick-up is available, but as a volunteer-run organisation they do ask you to pay for it. Delivery of items is greatly appreciated. Use the donate page to arrange your donation.  
*Please note, all donations are paused until further notice. Check back on their website.
Women and Girls' Emergency Centre accept laptops, tablets and iPhones, All technology must be able to turn on, have no cracked screens and include a charger. To donate today, email donations@wagec.org.au
---
More around the North Shore…