Looking for things to do with kids on a rainy day in Sydney? There's no need to stay at home! There are lots of indoor attractions around the North Shore to keep you having fun (while staying dry). To burn some energy, visit an indoor play centre or go rock climbing, or discover local shopping centres and restaurants that have free play areas. Why not snuggle up at the cinema, go bowling, ice skating or even go swimming at an indoor aquatic centre?
---
1. Escape the rain at an indoor play centre
On a rainy day in Sydney Indoor play centres are always an excellent option if you've got little ones. Kids can run around and let off steam, and coffee is always close for parents! It's a win-win. Get all the details you need to choose the best indoor play centre for your family here.
North Shore
Northern Beaches
Hills District
Eastern Suburbs
2. Indoor rock climbing
For older kids (5+ years old), indoor rock climbing is a great option for rainy days in Sydney. There are lots of climbing centres around, within a short drive from the North Shore. Climb Fit at St Leonards is the local option, otherwise you can venture further afield St Peters, Alexandria, Brookvale, Castle Hill & Gosford. These places can be very busy, so make sure you check their websites and book your session online before you arrive!
View all the Indoor Climbing Centres.
3. Go swimming at an indoor aquatic centre
Get wetter, and go swimming! There are lots of great aquatic centres that have indoor heated pools and lovely spots for children to splash about.
On the North Shore, try the Hornsby Aquatic & Leisure Centre, Ku-ring-gai Fitness and Aquatic Centre in West Pymble, Lane Cove Aquatic Centre, Willoughby Leisure Centre, North Sydney Pool or Mosman Swim Centre. Beyond the North Shore (but only a short drive) you could try Sydney Olympic Park Aquatic Centre, Ryde Aquatic Leisure Centre or Warringah Aquatic Centre in Frenchs Forest.
Click here to see a list of nearby indoor pools.
4. Go bowling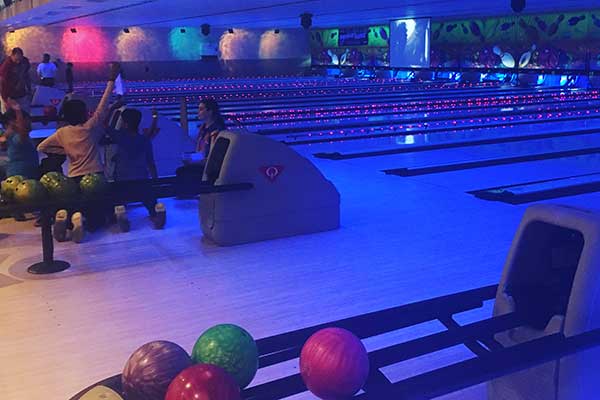 Go bowling on a rainy day! From about the age of four, children can learn to do ten pin bowling (with the help of a ramp and side bumpers). During the week (off peak), games start at about $15 per person. Try Strike Bowling, which has locations in Chatswood (Mandarin Centre), Macquarie Centre or Castle Hill. It's a fun way to spend a few hours!
5. Go for coffee, brunch or lunch (where the kids can play too!)
One of our favourite things to do with kids on a rainy day is to head to a restaurant, cafe or pub that has a free indoor play area. Magpies Waitara, The Belrose Hotel, Terrey Hills Tavern, Hotel Pennant Hills and North Ryde RSL all have indoor play areas for the kids. Plus, it's a clever option – you don't need to pay an entry fee, just buy a coffee, snacks or some lunch.
Click here for a list of all restaurants with play areas.
6. Ice skating
Macquarie Ice Rink is located at Macquarie Shopping Centre and is a really fun and active option for children over the age of about four. For pre-schoolers, they hold Kiddies Club on Monday and Friday mornings where you can have a lesson, skate and lunch for just $20. Casual entry starts at $20 per person. Ice skating is run in two-hour sessions, so check the relevant website to work out what session you want to attend. Pack socks (and gloves if little kids are just learning and falling over lots!).
Click here to go to the Macquarie Ice Rink website.
7. Go to the movies
Escape the rain and relax in a dark cinema for a couple of hours. Children can probably sit through a whole kids movie by about the age of three, and the whole experience is usually very exciting for them. Local cinemas include:
8. Head into the city and visit a child-friendly indoor attraction
Head into the city on a rainy day in Sydney, and visit one of the many family-friendly attractions. Just remember to pack your brolly to get from the car park or train station!
Indoor attractions in Sydney
There is an entrance fee for all of these attractions (see website links for details). If you're likely to go to Sydney Aquarium, Sydney Zoo, Tower Eye or Madame Tussauds more than a couple of times, it makes sense to buy a Merlin Annual Pass, which gives you unlimited access for 12 months!
9. Hang out in an indoor Shopping Centre
One of the easiest things to do with kids on a rainy day in Sydney is heading to an indoor shopping centre. There's nothing quite like driving into a multi-storey car park, and walking straight into an indoor shopping centre without the need for an umbrella.
Even better, if you choose a shopping centre with a play area, it's a win-win for the parent and the child. They can burn off a bit of energy, you can watch with a coffee (if you're lucky)…. and you might have a chance of them sitting in the pram or trolley, or following you around when you need to shop.
We list all the local shopping centres with play areas here.
10. Jump in muddy puddles
Want other things to do with kids on a rainy day, but don't want to venture too far? Rug up, pack the gum boots, raincoat and umbrellas, and go for a walk! If it's not raining too heavily, or it has paused momentarily, pop outside and smell the fresh, clean air. It's not just Peppa Pig who likes jumping in muddy puddles.
---
Want more ideas for things to do with kids?