Splish! Splash! Splosh! While the kids have a blast jumping their way through muddy puddles, you're probably side-stepping your way around them in a pair of soaking wet shoes. With all this rain lately, one thing's for sure… a good pair of gumboots is a must for any wardrobe. Here's a round-up of the best women's gumboots this season.
---
Whether you're standing on the side of that soccer game and cheering the kids on in the mud, or trying to make your way to school pick up while avoiding puddles, here's your guide to the best women's gumboots.
How to choose your gumboots
So, what exactly should you be looking for when it comes to choosing the best women's gumboots?
Size
As with choosing the right shoes, you just need to carefully select the right gumboots – not too tight or too loose – you will end up with squished toes or falling off your feet as you run.
Waterproof
Of course, it's a given for gumboots to be waterproof, but the fact is, some boots do a much better job of keep the rain off from others. Things to consider include how high up the gumboots come and what material they are made from.
Design
When it comes to choosing the perfect gumboot, we can't overlook the design. You want something that goes with your outfit, or makes the perfect statement. Those will be different for everyone, depending on your style.
Quality
Unlike our kids, one thing's for sure – our foot is done with growing. This makes investing in a good-quality pair even more worthwhile. You will get years – and many muddy puddles – with them. It all comes down to the tiniest details of the gumboots, such as stitching and the tread of the soles.
Top Picks: Best Women's Gumboots
Looking for the best gumboots? Thanks to some amazing recommendations in the North Shore Mums Facebook group, we've rounded up the favourite women's gumboots, so you can pick and choose your favourite.
If you're looking to buy gumboots, this is the place to start!
1. BOGS
Do you want gumboots that really reflect your style? Say hello to the Bogs Classic Mid Rosey and Patch Boot Jamboo from Bogs. What we love about these boots is their easy access handles! No more fighting to jam your foot inside a gumboot (or off again). Simply slip on and go. They even have a built-in heel kick for hands-free removal (yes please!). The BOGS Max-Wick technology evaporates sweat to keep your feet nice and dry. From garden to soccer match, this brand will see you through.
Bogs are devoted to making boots that are lighter and more comfortable than any other boot, in any kind of weather. Boots that are 100% waterproof (even the ones that look like they couldn't possibly be!) and warmer, more comfortable, easier to get on and off, and often cuter, than just about anything you can put on your feet.
The members of the North Shore Mums Facebook group agree that Bogs are amazing gumboots…
"Have you tried Bogs? They are amazing! Have last through five soccer seasons and still going strong. Super warm and very waterproof." – Sophie

"I have Bogs. So comfy and warm!" – Mel

"Bogs are fantastic gumboots" – Camelia

"Bogs are the best" – Brooke

"Another vote for Bogs. Super comfy, waterproof, warm. And bonus is you can hose them off or throw them in the wash." – Lucinda
2. Merry People
Ready to add a splash of colour to your wardrobe? Put Merry People on the top of your list! Both stylish and functional, you'll find a colour to suit every mood. Made from natural rubber with a neoprene lining, these boots deliver on comfort while keeping you dry no matter where you are. From mustard and black to beetroot and light pink and orange and pomegranate, you can well and truly shop the rainbow.
Merry People gumboots come highly recommended by members of the North Shore Mums Facebook group too…
"Merry People gumboots are fantastic. They are just above the ankle so easier to walk in." – Kalinka

"I've recently upgraded to Merry People, and they are much more comfortable. Thoroughly tested on the sports field yesterday and they were faultless." – Victoria

"Love my Merry People boots!" – Jennifer

"Definitely Merry People! Very comfy and durable." – Kayla

"Another vote for Merry People! So comfortable, and such good colourways." – Shey

"Love Merry People. I've pretty much worn them every day on the school walk, no blisters, can wear with regular socks and will be warm for winter too." – Kelly

"Merry People more than worth it. They're so comfy and stylish. I love them." – Lisa
3. Hunter Boots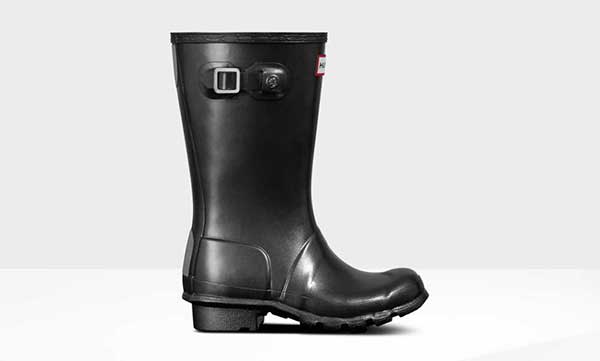 If there's one thing the Brits are prepared for: it's rain. Therefore it comes as no surprise that this British brand knows exactly what they're doing when it comes to protecting your feet from the elements. The globally-recognised brand has a number of different designs for you to choose from, so you can shop your style. From the Original Gloss Short Rain Boots to their Original Exploded Logo Texture Wellington Tall Rain Boots, or if you fancy, their Refined Slim Fit Gloss Mid Heeled Boots (yes, you read that right: HEELS).
Price Range: Approx. $150
4. Joules
Keep it short and stylish with the Joules Blue Rainwell Short Slip On Wellies, add some height with the Joules Black Gloss Field Wellies With Adjustable Back Gusset, or embrace your mood with some polkadots thanks to the Joules Molly Welly Mid Height Printed Wellies. With a number of heritage-inspired prints for you to choose from, you can add a splash of colour on even the greyest days. They feature water-dispensing soles to offer you an even better grip as you race off to grab the kids at school pick up time.
5. Cougar
The rain will feel a little more cheerful with Cougar boots hugging your feet. Whether you prefer the laid-back, yet sleek design of their Kensington Too Chelsea Rain Boot, or prefer to make a statement and rock the laces on the Madrid Rain Boot, you have plenty of options to suit. Rely on their comfortable design ready to get you through that rainy weather and enjoy some of the best women's gumboots on the market.
6. Marks & Spencer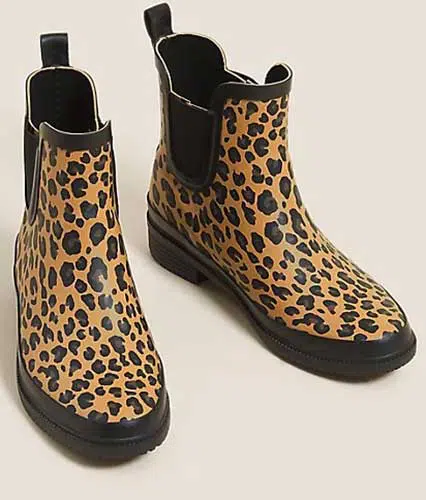 Another British name that knows what they're doing when it comes to waterproof boots, you can enjoy the classic boot with a modern twist. Gumboots are now even easier to wear as part of your everyday outfit with the seamless design of the M&S Wellies. Available in five colours, you can choose from Khaki, Black Mix, Brown Mix, Red and Red Mix, or go for the knee high version in classic black.
7. Mountain Warehouse
Whatever the weather has in store for your day, combat it with these waterproof wellies with 100% rubber outer and cotton lining for comfort inside. You can go for the classic black design, or shop through their fun prints from flowers to birds and even dogs.
8. Next
Are your kids overdue for a wardrobe stock? Save Next to your favourites: so many fabulous basics and gorgeous designs, at affordable prices. Let's not look past their gumboots too! Let your style shine with their Animal Ankle Wellington Boots or go for something bright and cheerful with their pink design.
9. ASOS
If you're yet to hit up next for clothing then you're in for a treat. They have the best range and all for great prices – have fun scrolling! Even better, they stock gumboots too. If you're on a budget, make this brand your go-to. You can shop boots from as little as $50 (often on sale for less), while still enjoying the benefits of a moulded tread and stylish finish. Make a statement with yellow, enjoy the laid-back lilac, or opt for their classic black.
10. UGG
When we utter the word Ugg, comfort immediately comes to mind with their iconic UGGpure wool lining that makes their slippers so amazing. Well, that same wool lining is featured in the Classic Clear Mini, giving you the best of both worlds. Keep dry in a downpour with the waterproof outer, while enjoying the cosiness that comes with their removable insole. Some of the best women's gumboots you can find.
11. Muck Boot Company
Welcome to the range of boots that you can actually get 'mucky' in, no matter your style. There's the Forager Tall, the Muckster Low and even the Muckster Mid, with its fun veggie design that's perfect for getting out and about into the garden. For something a little different, you can enjoy the foldover design that combines comfort with style. You can roll them up or down for versatility, with a breathable mesh lining for comfort.
12. Pip Duck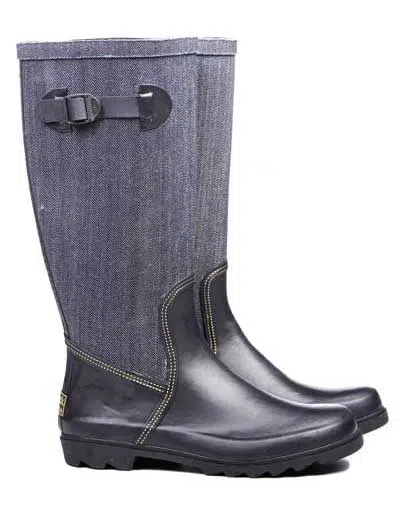 If you like to make a statement with your attire, then these are the gumboots for you. From the Erin Demin and the Peta Paisley to the Isle Shine Black and the Bella Rider, you'll have a tough time picking just one favourite! These quality boots are made from rubber with a cotton lining and will really stand out.
---