Looking to get out and about with the kids and make a splash this Summer? We're spoilt for choice when it comes to fabulous places to cool off. Here's your ultimate guide to the harbour beaches and swimming enclosures near the North Shore, for calmer waters the whole family can enjoy.
---
The rough waves and endless stretches of sand aren't for everyone. If you're looking for some family-friendly swimming spots that offer a bit more shelter, we have you covered. Use the quicklinks below to find harbour beaches and swimming enclosures just waiting to be explored:
Looking for some fabulous rock pools for the kids to splash around in? Check out some stunning rockpools on Sydney's Northern Beaches here!
---
Harbour beaches & swimming enclosures on the Lower North Shore
1. Balmoral Baths
Balmoral is the perfect family-friendly beach that makes for a fabulous family day out during Summer. Kids can enjoy swimming at the enclosed baths area, which is at the Southern end of the beach. There's a wooden boardwalk that runs right around it, with a shark net running along the outside. Plus, there's an enclosed playground close by. 

Address: Balmoral, Mosman NSW 2088
Entry fees: Free
2. Clifton Gardens, Mosman
Located in Mosman, this is the perfect spot to explore in the Summer months. There's a small, sheltered beach with an area marked out with a protective shark net for a nice and safe swim. There's also plenty more to do around the area. Kids can enjoy the shaded, fenced playground that is set on sand (like a beach of its own), with an off-leash dog park off to the side. Great for a day out. Check out our review here. 
Address: Morella Rd, Chowder Bay, Mosman
Entry fees: Free
3. MacCallum Seawater Pool, Cremorne Point
On the Western side of Cremorne Point, this 33-metre harbourside pool offers up plenty of character, along with amazing views. It was originally created as a rock pool by residents, before being turned into what you see today. According to North Sydney Council: "The architectural style of the current pool dates from the 1920s. In keeping with that character, it was first restored by Council in 1985." It's a great, safe swimming spot for families to enjoy, with a waterside timber deck that you can sit and relax on.
Address: Milson Road, Cremorne Point
Entry fees: Free
4. Berry Island Reserve, Wollstonecraft
A trip to Berry Island Reserve offers up a bushland park setting, along with a visit to a sheltered beach. It's a little bit of everything. If you're after harbour beaches and swimming enclosures, then check this one out. There's a fenced playground where kids can climb and play, with a 750-metre bushwalk right next to it for a little adventure. When you're ready for a dip, climb over a few rocks and head to the sand, where you will find a quiet spot for a splash. Relax back as you enjoy the stunning views of the harbour! See our review here.
Address:

10 Shirley Road Wollstonecraft

Entry fees: Free
5. Greenwich Baths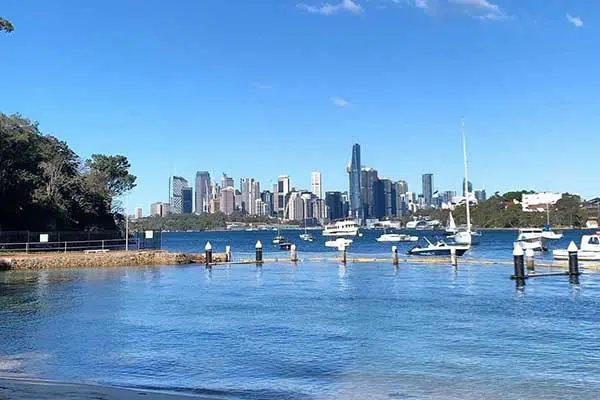 Greenwich Baths is a lovely little swimming spot on Sydney Harbour. The sheltered swimming spot has shark-proof netting, for a safe swimming experience. Plus, there are lots of toys provided on the beach free of charge for the kids to use. There are even lounge chairs for the parents, too. The baths are open for eights months of the year from September to April.
Address: Albert Street, Greenwich
Entry fees: $4.40 per adult

|

$3.40 per child (3- 16 years)

| Under 3 free
6. Northbridge Baths
These unsupervised tidal baths are set along the Sydney Harbour foreshore in Middle Harbour. It's the perfect swimming spot for families of all ages. You'll find a small sandy beach that can only be accessed down a small bush track. Make use of the BBQ facilities, picnic area, change rooms and toilets. Everything you need for a fun-filled family day out.
Address: 2 Widgiewa Road, Northbridge
Entry fees: Free
---
Harbour beaches & swimming enclosures on the Upper North Shore
7. Echo Point Park, Roseville Chase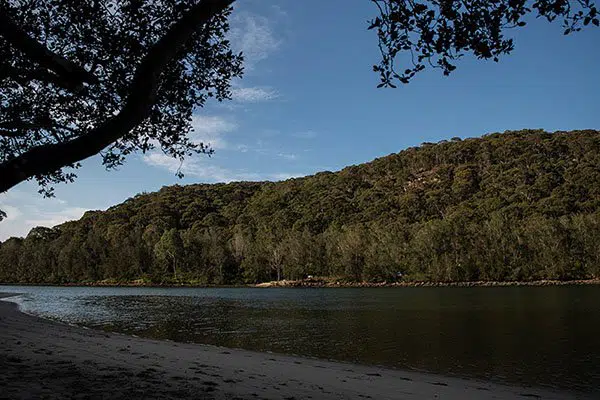 This hidden gem on the North Shore is the perfect spot to explore the beach, along with heritage sites, mangroves and much more. The park itself spreads across three levels, so there are a number of stairs for you to work your way around. Park is at the top, with a short bush track that takes you down. On the second level, you will find a great playground for the kids. Then you can make your way down to the water on the bottom, where the family can splash around in this sheltered and calm swimming area.
Address: Babbage Road, Roseville Chase
Entry fees: Free
8. Crosslands Reserve, Hornsby Heights
The swimming area at Crosslands Reserve is a tidal, sand-bottomed stretch of river on Berowra Creek on the upper reaches of the Hawkesbury River inlet. It's in a beautiful setting in Berowra Valley National Park. The area is perfect for picnics, bushwalking & canoeing. There's a children's playground, bicycle track and several electric BBQs.
Note: There are sometimes issues with water quality, especially after heavy rain. Click here for up-to-date water conditions.
Address: End of Somerville Road, Hornsby Heights
Entry fees: Free
9. Brooklyn Baths
Just 20 minutes drive from Wahroonga via the M1, Brooklyn is a beautiful spot to take the kids for a splash. There's a small, netted swimming spot that has a boardwalk the entire way around it. If you're looking for the perfect harbour beaches and swimming enclosures for day out, put this one on your list. It's a great spot for kids to enjoy a splash! There's also nearby toilets, picnic shelters and BBQs, and an enclosed playground. Check swimming conditions.
Address: Brooklyn
Entry fees: Free
---
Harbour beaches & swimming enclosures on Sydney's Northern Beaches
10. Castle Rock Beach, Clontarf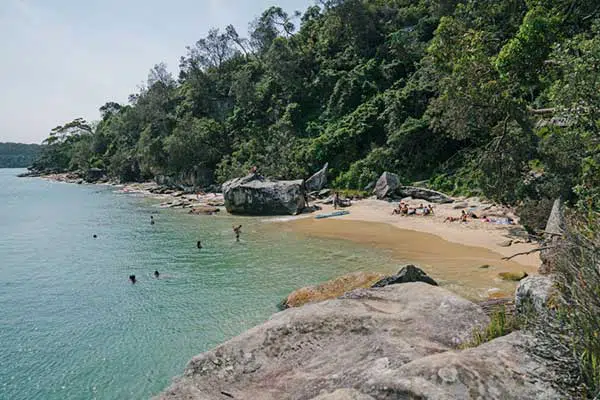 This tiny cove is part of the Manly to Spit walk, but you can also park nearby and walk down for a swim. Be warned, there are some steep, worn stairs to get you down to this beach. But once you're down there, you will be treated to a secluded little beach, which even has its own waterfall as well! There are no cafes or toilets nearby, so you will need to come prepared with the kids!
Address: 15 Ogilvy Road, Clontarf
Entry fees: Free
11. Clontarf Baths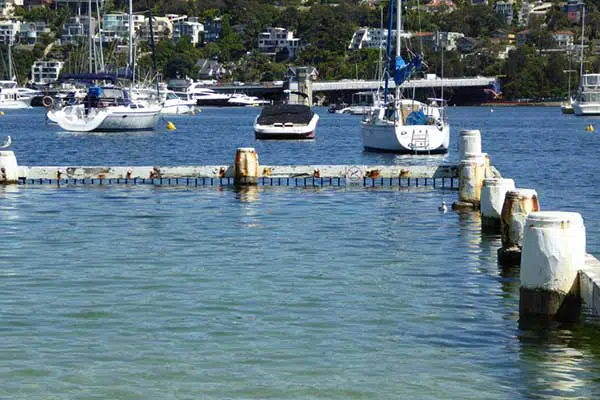 Clontarf Baths is a very popular swimming spot, and for good reason! The water is nice and calm, with fish swimming around you. There's a big 50-metre net that stretches around to keep the whole family safe while swimming. There's a great playground nearby with a very appropriate boat theme, with lots of cafes for you to pick up fish & chips, snacks and ice-cream! Read our review for all the details.
Address: Boyle St, Balgowlah
Entry fees: Free
12. Fairy Bower Sea Pool, Manly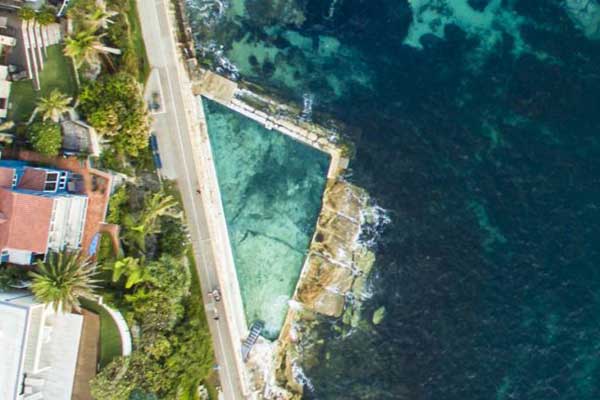 This 20-metre sea pool is located along Marine Parade in Manly and is the perfect sheltered swimming area for families. It was built by residents in 1929 and was cut out and blasted into its triangular shape. It's one of the smallest rock pools in Sydney, but it's great for a cool off or splash. There's a cafe nearby for the all-important coffee, with toilets and a change room handy.
Address: Marine Parade, Manly
Entry fees: Free
13. Manly Dam, Manly Vale
Manly Dam is a beautiful freshwater lake, that is a calm family-friendly spot for a splash in the water. This is the perfect spot for kids as there is a huge playground, plenty of grassy space to run around and explore, and access to the water is easy. The area is popular for bushwalking, mountain biking and water skiing too.
Address: 112 King Street, Manly Vale
Entry fees:

Pay and Display Parking fees apply at Manly Dam, 

Northern Beaches permit holders

 exempted. 
14. Winnererremy Bay, Mona Vale
This stunning spot is well worth the drive for a day of sun, water, playing and cafes. You'll find the Flying Fox Cafe, right next to Winnererremy Bay Park, so you can enjoy a coffee and a bite to eat, while the kids can run! It's right next to the water, so you can head across for a swim in the netted area. Next to this quiet Harbour Beach, you will also find a huge playground, grassy area, bike track, BBQs and large shelters for a great day out.
Address: Mona St, Mona Vale
Entry fees: Free
---
   Want fun ideas for things to do with your family?