Looking for day out by the water? Clontarf Reserve at Middle Harbour ticks pretty much every single box when it comes to family-friendly good times. There's a brand new playground, lots of grass and shady trees for picnics and a lovely calm harbour beach. Fun for the whole family!
---
If you're looking to take your kids for a swim, but don't want to take them to a beach with big waves, Clontarf is one of the best harbour beaches on the North Shore! Overlooking The Spit Bridge at Middle Cove, it's a beautiful beach with a netted swimming area and no waves.
And there's so much more to do there too! There's a brand new playground that features play equipment for kids from toddlers to tweens, lots of grass and benches for picnics, lots of shade, BBQs, a kiosk and paths for scooter riding.
It's only going to get better, too! The new playground that opened in December 2021 is an exciting part of the Clontarf Reserve Landscape Masterplan – a multi-million-dollar upgrade of the area. This includes an improved amenities block and tidal pool, picnic facility, landscaping, pathway upgrades, and realigning the carpark.
Clontarf Reserve Playground
The brand new playground opened in December 2021, and has something for kids of all areas! The aquatic-themed inclusive playground features a rope pendulum swing and spinning bowls, a fishing platform, a sea reed climbing net, a slide, seahorse toddler sand play activity area and a "sandstone hermit crab retreat" as part of a Council-led multi-million dollar redevelopment of the site.
Parents can enjoy spectacular harbour views while watching their little ones play under the new shade sails and beautiful mature trees, which have been protected and restored.
Clontarf Reserve Beach
Netted swimming area
The beach at Clontarf Reserve is calm… perfect if you want to refresh or have a splash in the shallows with your toddler. There's a netted swimming area to keep out larger marine life too, though a long stretch of beach that's also great for a dip.
For the older kids who like a bit more of a thrill, it's popular to jump off the netted swimming area frame. But be careful when doing this! It's best to first check the depth of the water, as it can change dramatically between low and high tide. Ensure your kids are jumping in a deep area to avoid injury.
Jungle Float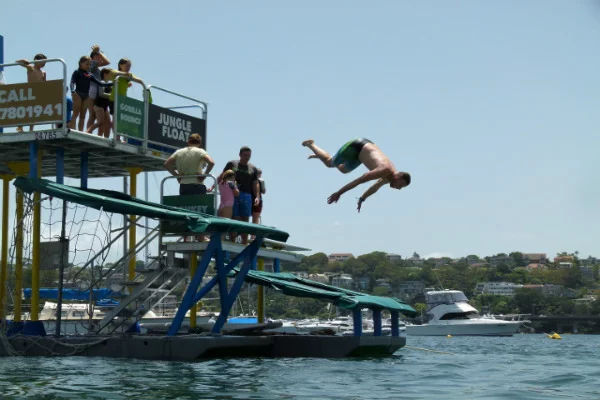 For a bit of extra fun, Jungle Float is a mobile floating 'water park' that operates on weekends and in school holidays just off Clontarf Beach. Jungle Float has a slide, trampolines, high and medium jumps and a rope swing. Sessions go for 1 hour and cost $20. Click here to find out more.
Picnics & BBQs
Pack your picnic rug and some picnic chairs, and find yourself a patch of grass in the shade of a tree, overlooking Clontarf Harbour. This spot is ideal if you don't love lots of sand, as you can sit on the grass in the shade and supervise older kids. There's also plenty of park benches & tables in the reserve too.
Nearby cafe & refreshments
Bosk Kiosk
If you forget to pack a picnic or run out of snacks, Bosk Kiosk offers takeaway meals, drinks and snacks that can be enjoyed in the park. Their menu is updated seasonally and nearly all of it is homemade. They work with boutique and local suppliers to make sure they're offering you more than your average fish and chippy.
You can order burgers, healthy bowls, turkish bread toasties, fish & chips, fruit salads, coffee, smoothies, milkshakes, ice creams and more! View the Bosk Kiosk menu.
Bosk Kiosk Open: Mon – Thurs 9am-4pm | Fri 9am-5pm | Sat & Sun 8am-6pm
Ice cream boats
When we visited Clontarf, Bosk was closed (staff shortages due to Covid-19 isolation), so we were thrilled that Refreshment Boats regularly pulled up to the shore to sell ice creams and drinks. Although they're on the pricier side, the novelty of getting an ice cream from a boat for the kids was worth it!
They won't be there all the time… usually weekends and holidays!
Parking at Clontarf Reserve
Clontarf is absolutely beautiful and incredibly popular, so finding a parking spot can be a challenge. If you're looking to go on a sunny day in Summer, you could have a hard time finding a parking spot. If you're going with the family, you can always get the driver to drop off the kids, beach gear and a parent, and send the other parent off to find a park. Try to go off peak (super early, or late afternoon, 10am-4pm is busiest).
Metered car parking
There's a large car park right next to Clontarf Reserve, but it's expensive and fills up very quickly too. You can pay via credit card or coins.
Off Peak (1 May – 30 September) | 7am – 7pm | $8 per hour or $35 per day
Peak (1 October – 30 April) | 7am – 7pm | $10 per hour or $40 per day
Free street parking
There is free unlimited parking in surrounding streets like Holmes Avenue, Monash Crescent, Allenby Street
Essential Details: Clontarf Reserve
---
Want more summer fun ideas?