Anzac Day services around Sydney in 2021 still come with a few challenges posed by COVID-19 restrictions. We're sharing some ideas for Australians to acknowledge Anzac Day, both in the lead-up and the day itself, as the community looks for ways to honour the service and sacrifice of our brave servicemen and women past and present.
---
What is Anzac Day and why is it important?
Anzac Day is marked on the 25 April. This is the anniversary of the first campaign that led to major casualties for Australian and New Zealand forces during World War One.
In 2021, Anzac Day is on Sunday 25 April. Families choose to mark this date by attending a public commemorative service, the official NSW Anzac Day Dawn Service, or paying tribute via donation.
As Anzac Day falls on the weekend, there is no public holiday. Retailers are not allowed to open until 1pm on Anzac Day, unless they are exempt.
Anzac Day Services and commemorations 2021
The Sydney CBD Anzac Day march
The Anzac Day march organised by the RSL NSW will be held in Sydney's city centre on Sunday 25 April 2021. Under a government exemption, this year a maximum of 10,000 people can participate in the outdoor Anzac Day march.
Anzac Day Dawn Service, Martin Place
The Anzac service at The Cenotaph in Sydney's Martin Place begins at 4.30am. Thousands gather in the pre-dawn darkness to honour fallen soldiers. You can find out more about the service here.
Anzac Day Wreath Laying Services
As part of the official NSW Anzac Day dawn service services, there will be three wreath laying ceremonies at Martin Place on Sunday 25 April.
7.40am: RAN Communications Branch Association (following the outdoor Anzac Day service)
8am: Sydney Legacy
1.30pm: Australian Air League New South Wales Group
Anzac Day events around Sydney's North Shore
North Sydney
North Sydney Dawn Service
Where:

North Sydney War Memorial, Ridge Street, North Sydney

When: Sunday 25 April, 5.45am
A Musical Celebration of the ANZAC spirit
Where: Stanton Library, North Sydney
When: April 23, 10.30am
The Greens, North Sydney
Coffee Cart + Bacon & Egg Sizzle from 5am. Specialty breakfast at the Greens from 6.30am.  Live Music from 1pm. Due to COVID restrictions, they are are sadly unable to run 2UP in 2021.
Where: The Greens, 50 Ridge Street, North Sydney
When: Sunday 25 April, from midday
Mosman
Mosman Dawn Service
Where: Parade ground, at Georges Heights, Suakin Drive, Mosman
When: Sunday 25 April, 5.30-8am
Barbecue breakfast, two-up, live acoustic music
Where: Buena Vista Hotel, 76 Middle Head Rd, Mosman
When: Sunday 25 April, from 9am
Kirribilli
Two-up at Kirribilli Club
Kirribilli Club, 11 Harbour View Crescent, Lavender Bay
When: Sunday 25 April, 2pm
Two-up at Kirribilli Hotel
Where: Kirribilli Hotel, 37 Broughton St, Milsons Point
When: Sunday 25 April, Midday
Crows Nest
Two-up & Live Music at Crows Nest Hotel
Where: Crows Nest Hotel, 1 Willoughby Rd, Crows Nest
From: Sunday 25 April, Midday
Ku-ring-gai:
5am Roseville RSL Memorial Park, 62 Pacific Highway
5:30 am Bicentennial Park, West Pymble
7.30am Wahroonga Park
9.30am Turramurra Memorial Park, Eastern Road Turramurra
10.30am, gathering at St Ives War Memorial
Details of dawn services, memorial services and events are also available at the council site.
Hornsby Shire
5am, Hornsby Cenotaph
6am, Galston Cenotaph
6am, Glenorie Cenotaph & Memorial Gardens
7.15am, Berowra War Memorial (ticketed event)
10.30am, Brooklyn War Memorial
3pm, Galston Memorial Club (numbers capped at 140)
Other ways to commemorate Anzac Day 2021
Bake Anzac biscuits with your children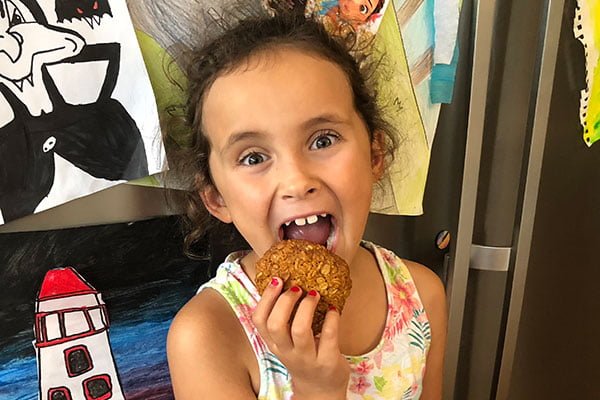 Baking Anzac biscuits with your children is a great way to celebrate Anzac Day, and is a time-honoured tradition to mark our country's National Day of Remembrance. The famed biscuits were sent by wives and other women to sustain the Australian and New Zealand Army Corps (ANZAC) during World War I . The combination of golden syrup and oats, and the absence of eggs, meant the goods traveled long distances without spoiling. Click here for the recipe.
Donate to the Anzac Appeal online
Besides the traditional Anzac day commemorations, your donations can support Australian veterans and their families in need. This is a way to support Anzac veterans and their families during a very challenging time.

Your gift can help provide veterans with crisis accommodation, emergency financial help, or physical and mental health support.
With your help, the Anzac tradition of looking after each other will live on. This is also a great option for those who can't attend the Sydney CBD Anzac Day march.

Light Up the Dawn
Residents wishing to commemorate the occasion at home are encouraged to participate in the Anzac Day driveway commemoration, Light Up The Dawn. Participants are asked to stand at the end of their driveways or on their balconies facing east from 6am for a minute's silence to remember the sacrifice of the ANZACs.
Reach out to a mate or veteran who might be alone
Many people are alone during this time of isolation. It's an opportunity to invoke the Anzac value of mateship and check to see how a mate is doing. And if you know a veteran please call or reach out to them, check in on them, thank them for their service and help them if needed during this time.
---
Want more ideas?