Want to make mum feel special this year? Mother's Day will certainly be different this year, with no extended family get togethers or outings to restaurants on the agenda. But that doesn't mean it can't still be just as special. If you're wondering how to make the mother of your beautiful children feel special this Mother's Day, here are 15 great ideas to get you started.
---
1. Breakfast in bed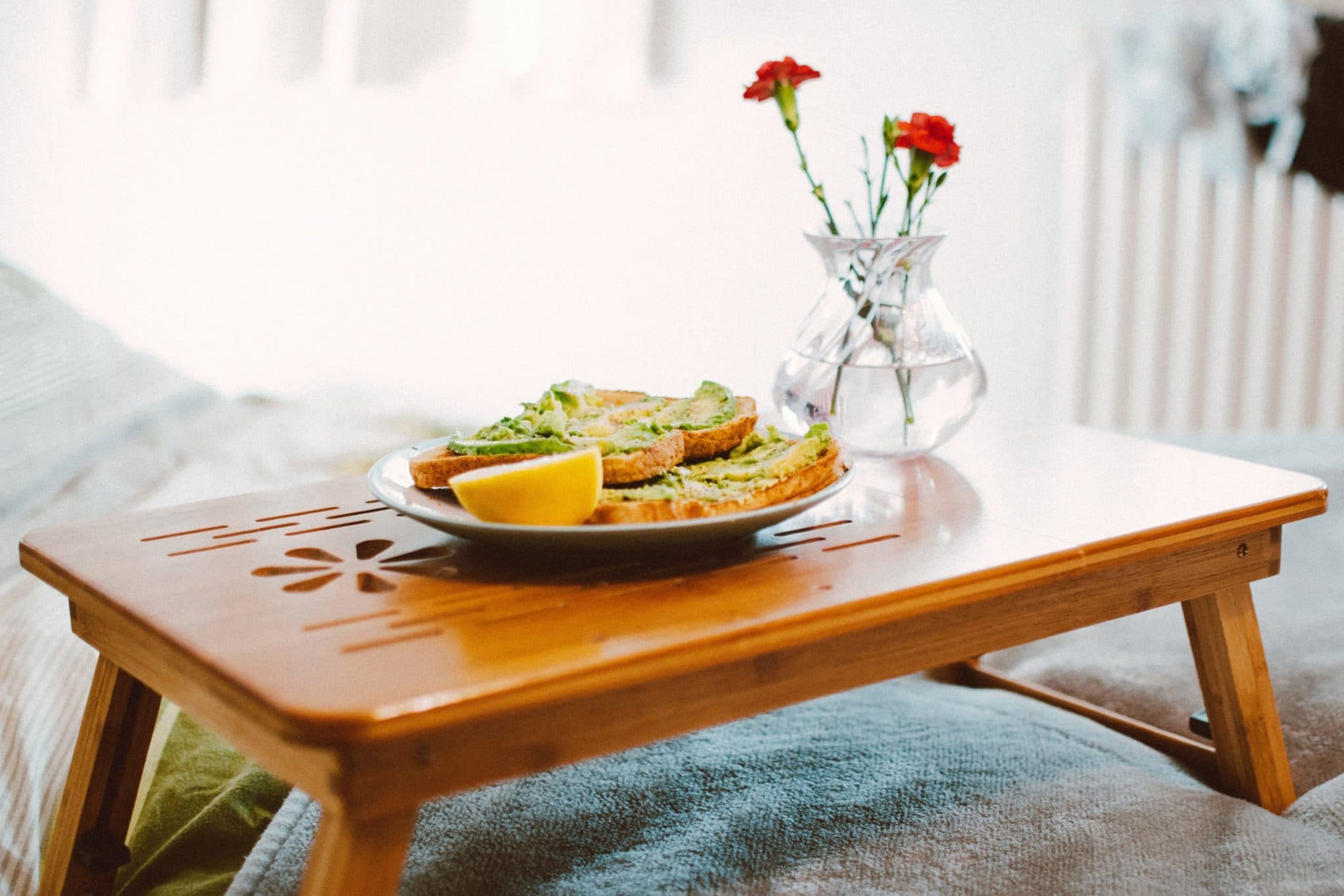 Can't go to the local cafe for breakfast? Bring the breakfast to you! Mums don't even have to leave their bed for this one. If the kids are a little young, get Dad to pitch in for the cooking. If you're looking to get a bit more creative in your household, then download our free Breakfast in Bed printable menu. Leave it on her nightstand on Saturday night with a pen, so she can write down what she would like. Tell her to leave it outside her bedroom, so you don't wake her in the morning!
DOWNLOAD & PRINT : BREAKFAST IN BED MENU
2. Vouchers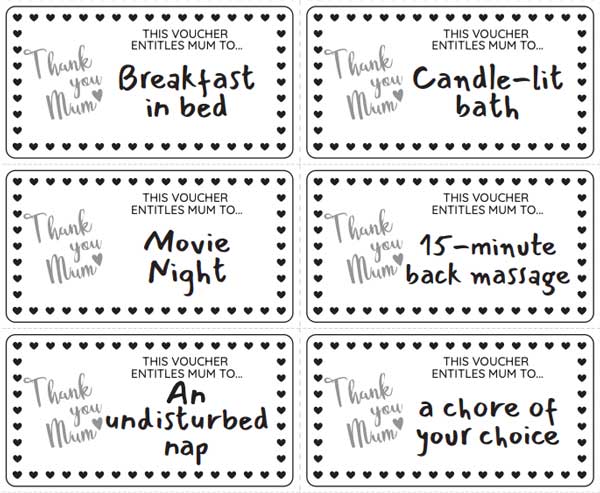 Nothing says 'I love you' like special vouchers just for mum. You can download our free voucher printables here and spoil mum with future promises. From an undisturbed nap to one chore of her choice, mum will love the chance to sit back and relax. There's even space to make up your own!
DOWNLOAD & PRINT : MOTHER'S DAY VOUCHERS
3. High tea at home
Make mum feel super special this Mother's Day with a decadent high tea at home. Whether you want to cook up a few of mum's favourite treats, or outsource the task to a professional, the choice is yours! Plenty of businesses are offering high tea boxes for mum this Mother's Day. If you are looking for some inspiration, check out this post in our group.
4. Backyard picnic
High tea not her thing? Pack up some food and enjoy a backyard picnic together. Get out the picnic rug and have everything set up and ready to go before bringing mum out for the surprise. You can even put together some fun picnic games to play while you are out there, like Hopscotch or I Spy. There are so many delicious picnic foods to choose from, so do a browse on Pinterest and pick out your menu before the big day.
5. Pamper Session
Bring the pampering to her with an in-home pamper session. You can put together a little pamper pack full of nail polishes, massage oils, hand cream and more, and draw up your own menu of what's on offer. Start out with a pedicure and manicure and then work your way up to a massage. Mum will love it! You could even invest in a foot or back massage machine as a present for her – that way she can enjoy the pampering all year long.
6. Get crafty with a card
Dads, there is no relying on school this year to step up the craft game, so this one is on you. Mum shouldn't miss out on precious handmade gifts from the kids. Simply jump on Pinterest for some inspiration and get creative to put something together for mum.
Don't have the creative energy? We're making it easy! Simply download and print our free Mother's Day card – your kids can colour it in and fill out the 'All About My Mum' interview in the middle. It's guaranteed to make her feel gushy!
DOWNLOAD & PRINT: MOTHER'S DAY CARD + Q&A
Hint: Print this one double sided, and fold down the dotted line to make a card… 
7. Movie Marathon
Send mum off for a trip to the movies…in her pjs. You can set up your living room like a movie theatre (blinds closed, nice and dark) and make it even more comfortable (blankets on the couch). Design your own tickets showing mum's favourite movies and have them ready to go for her. You can even set up a candy bar and get mum to choose her movie snacks on the way in. Everyone can sit down and enjoy this one together.
8. Mini Photo Session
Mums can only dream of getting that one nice photo with everyone smiling. Surprise her this Mother's Day by getting dressed up (and staying clean) and putting the camera on self-timer and everyone SMILE. Another way to go about this is to get the kids together before Mother's Day and take a nice photo that you can get printed to surprise mum with.
9. Get cleaning
On the Saturday, get busy tidying up and cleaning the house so it is sparkly and clean for mum's big day. Even better, tidy up your room without complaining! If you aren't sure just how mum likes it, you can always call in a professional cleaner to make sure everything is up to scratch.
10. Gift an experience
Lockdown will eventually end, so why not buy mum something she can use when this is all over. Whether she loves massages, would appreciate being sent on a shopping spree, wants to enjoy high tea out with girlfriends… think about what she would enjoy and give her something to look forward to. There's lot of ideas for now and after isolation here!
11. Family game night
Get the whole family together and join in some gaming fun. If you don't have any board games at home, it is time to stock up. Think trivia games, Monopoly, Pictionary and other classics the whole family can get involved in. You can also DIY the games and enjoy some Charades and Celebrity Heads.
12. Help her explore her passions
Does your mum have a passion project she has always wanted to take up? Encourage her to take some time out and give it a go. You can even promise her a bit of time on a regular basis to keep it up long-term. If she needs a little inspiration, send her this list to check out.
13. Make a movie
Make mum feel special this Mother's Day with a personliased video. It's time to get creative with your smartphone skills and prepare a little something for mum before the big day. Dad can be in charge of this one, and get a video of all the kids sharing what they love most about their mum. You can even ask some funny questions and interview them to put together a heartfelt clip! Add in a few still shots and a bit of background music and you are good to go. There are some great free apps that make editing super easy – we like Ripl and Splice.
14. Decorate the house
Make mum feel extra special by decorating the house to celebrate her. You can pick up some fresh flowers, or get crafty and turn one room in your home into a special space just for mum. You can surprise mum with it in the morning and sit her down in the room with a book and a cup of tea and leave her in peace to enjoy it.
15. Think about the little things
Mother's Day is one day of the year dedicated to our mums so it's important to make it as special as possible. All the little things you do will be appreciated, no matter how small they seem to you. Here are a few ideas…
Put the dishes away (without being asked)
Pick up shoes (yes, even the ones that aren't yours)
Let her finish her sentence even if there's a pause
Listen to the hints she's dropping
Do the thing that she likes rather than the thing you think she should like
---
Thanks to Blossom Printables!
Love printables? Take a look at Blossom Printables range of gorgeous range of customisable birthday invitations, reward charts, games & more on Etsy. It's run by local North Shore Mum, Liv Cullen! View Blossom Printables Etsy Store.
---
Need more ideas for Mother's Day?