Looking for a shaded playground around Sydney's North Shore? On those hot summer days, kids still want to play, but you don't want to fry! Discover our pick of the best shaded playgrounds, underneath beautiful natural trees or decent shaded shelters!
---
It's always great to get outdoors and enjoy the sunshine on a warm day, but you want to make sure you and the kids are protected, too. Shaded playgrounds offer the best of both worlds, allowing kids to play and make the most of the gorgeous weather, without having to worry about reapplying sunscreen every 30 minutes. It makes for the perfect trip out. Use these quicklinks to find a shaded park near you:
Best shaded playgrounds on Sydney's Lower North Shore
Bradfield Park, Milsons Point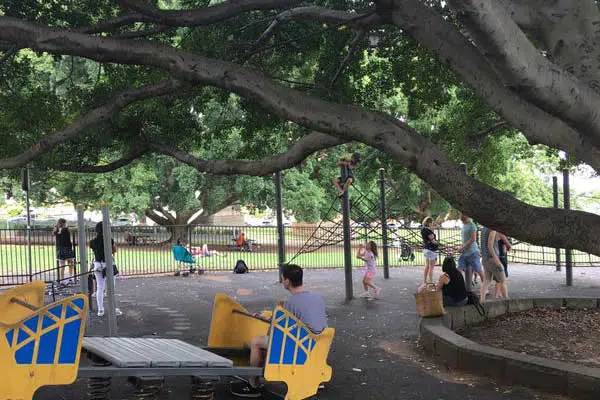 This is a spectacular spot for a playground! It's located beneath the northern pylons of Sydney Harbour Bridge and has incredible views across the harbour. It is naturally shady by two mature fig trees, fully fenced, right by Milsons Point station and close to lots of cafes. What more could you want?
Address: 41 Alfred St South, Milsons Point
Parking: Street parking available
Facilities:

 

Picnic tables & benches, picnic tables, shelter, water fountains
This playground itself had a modern makeover a few years ago (which you can read about here) and features a huge range of exciting equipment, all covered in plenty of shade offered by the surrounding trees. The new playground features a custom-designed climb and slide structure for daring little monkeys, a multi-person spinning pyramid to test balance and improve co-ordination, and a massive triple-bay swing set with a 'parent and child' swing so you can be close to your little ones, an accessible swing for the differently-abled, and basket swings.
Address:

 

High St, North Sydney
Parking:

 

Limited on-street parking on surrounding streets.
Facilities:

 

Picnic tables, water fountain, covered shelter, fully-fenced playground, toilets
Newlands Park, St Leonards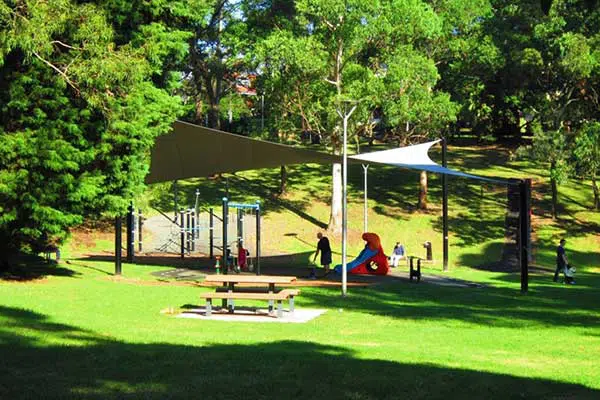 You're guaranteed shade with a trip to this amazing park. There's a huge shade cloth right over the equipment, with plenty of trees surrounding the area that make perfect picnic spots. The highlight of this park is the giant toboggan-style slide that kids will absolutely love shooting down. 
Address:

 

Cnr Duntron Ave & Canberra Ave, St Leonards
Parking:

 

Plenty of street parking
Facilities:

 

Picnic tables, Benches, Play area, BBQ, Off-leash dog area
Stringybark Reserve, Lane Cove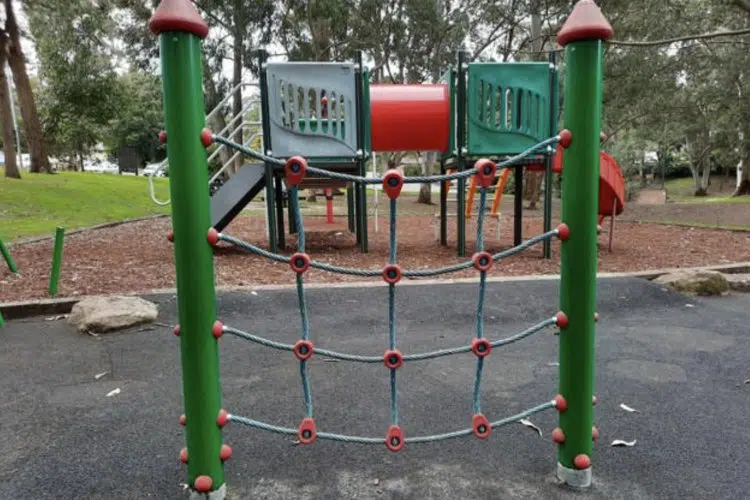 Positioned at the start of the Stringy Creek bushwalks, there are picnic tables and play equipment under towering trees. You'll find a climbing net, tunnel, slides and more, for the kids to have a great sheltered play. A great spot to stop for lunch before a walk (there are plenty to choose from). You can read our Stringybark Creek Reserve review here.
Address: Murray St, Lane Cove
Parking: Street parking available
Facilities:

picnic tables, bushwalks nearby, cricket pitch, tennis wall, basketball hoop
Willoughby Park, Willoughby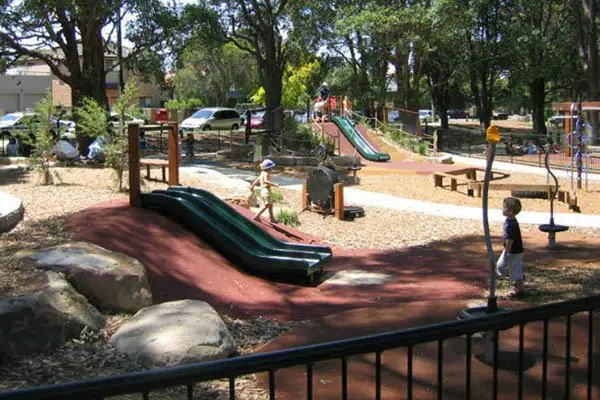 Bursting with equipment including 6m high climbing nets, double slides, balance beams, plus a loop bike track, this shady park with keep kids occupied for hours. Kids can zoom around on the bike path, or venture outside the fence to find even more equipment for the bigger kids. You'll find plenty of natural shade at this park offered by all the trees surrounding it.
Address:

 

McClelland St, Willoughby East
Parking: Street parking available
Facilities:

 

Picnic tables & benches, gazebo for shade, children's bike track (complete with traffic signs), public toilets
Tunks Playground, Cammeray
There's so much natural shade offered at this playground with all the surrounded trees. This playground has something for kids of all ages with this giant tunnel slide (pictured), a climbing frame and a spinning frame on one side, and a toddler area complete with swings just next to it. You can read more with our review.
Address: Tunks Park, Brothers Avenue, Cammeray
Parking: Street parking available
Facilities:

 

Picnic tables & benches, toilets, off-leash dog area nearby, cafe
Best shaded playgrounds on Sydney's Upper North Shore
Putarri Reserve, St Ives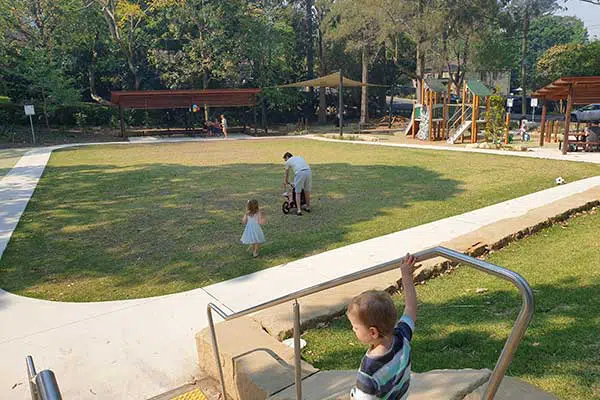 This park has plenty of shade in the form of trees, undercover picnic areas and shade cloths over the equipment. It's the perfect place to set up a picnic for the day (right in the middle of everything) and let the kids run. There's a bike track, swings, climbing, slides and more. You can read our Putarri Park review.
Address: 30 Putarri Ave, St Ives
Parking: Street parking available
Facilities:

 

Picnic tables & benches, children's bike track, fully-fenced
Wahroonga Park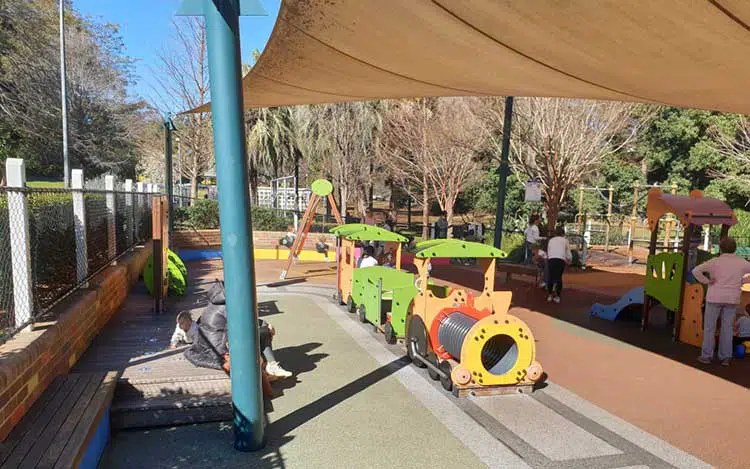 A popular spot for families with kids of all ages, Wahroonga Park has a huge shaded area with plenty of play equipment, but most importantly, it's close to cafes where you can buy a much-needed coffee. Wahroonga Park offers something for all ages, with the train toy on one side, and climbing frames for older kids on the other. There's even a flying fox. You can leave the fenced area and enjoy a shaded picnic under one of the many huge trees in the park. Read our review on Wahroonga Park.
Address: Coonanbarra Road, Wahroonga
Parking: Street parking available
Facilities:

fully-fenced, toilets, cafes nearby
---
Discover more North Shore playgrounds: