Stringybark Creek Reserve at Lane Cove is a family (and puppy) paradise! And one cold morning, nothing was going to stop Katey Chesterton and her faithful dog Essie from setting out to explore this lovely North Shore park. 
---
There's nothing better than finding some nearby outdoor places to explore. If you're wanting to get out of the house to take the kids on an adventure, then head to this gorgeous park, playground and bushwalker's paradise.
Stringybark Creek Reserve is easy for families right from the start. Entering from Murray Street, Lane Cove North, you can take advantage of the ample street parking, and head into the park using a wide, accessible path.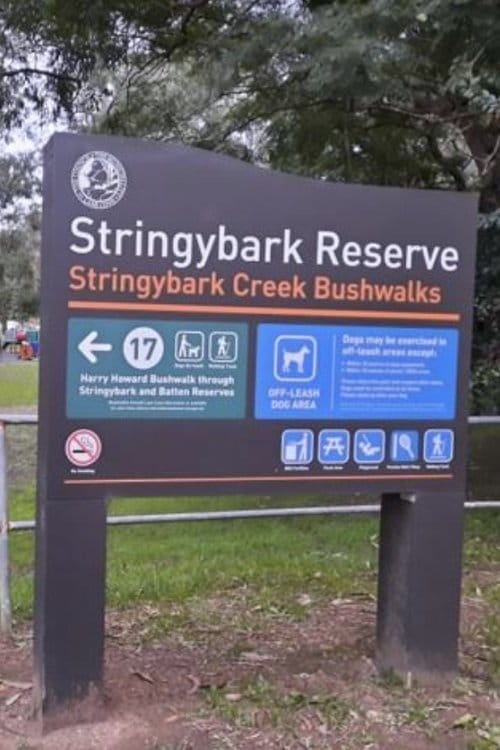 Once inside, the park at Stringybark Creek Reserve is a drawcard for children! The playground offers a climbing area with a bridge, plus swings and a slippery dip. Older kids and teens can burn off some of their energy on the
climbing equipment, shooting a few baskets at the basketball hoop, or having a crack with a bat on the cricket pitch.
Facilities at Stringybark Creek Reserve:
Children's playground and equipment (Murray Street side)
Cricket nets
Basketball hoop
Tennis practice wall
Outdoor fitness equipment
Picnic facilities
Bushwalks nearby
Climbing equipment
Cricket pitch with nets
Off leash dog park
Bushwalking track
Note: there are no toilets
If dog-friendly is your thing, Stringybark Creek Reserve is up there with five-star dog parks thanks to the huge amount of space for pups to run around. Plus, there are dog bowls beneath the public taps and dog-poop bag stations with bins so owners can pick up after their furry friends and keep the park clean for all.
Bushwalkers will find, like me, the best part of the park is the bushwalk! The Harry Howard and Yangoora Bushland Walk is a 4km track, but can be shorter if you like. There are lots a bush turkeys wandering the path and in the trees, so keep an eye out for the feathered friends! The walk has a dirt track (and there's a step to get onto the ramp part). It is quite steep at some points, so I don't recommend it for anyone on wheels, or pushing a pram.
The surrounding greenery along the track (at any point!) is beautiful, and of course, there's also Stringybark Creek flowing alongside you with water tumbling over rocks and a gorgeous waterfall.
If local bushland matters to you, then you might want to consider joining Bushcare in Lane Cove. 
If you're in the mood for a meal, or lockdown lifts enough to enable picnics, there's bubblers on the site plus a generous BBQ area with plenty of seating and a range of picnic tables for family get togethers or a catch up with friends. Or, you could grab lunch from one of the many takeaway eateries along the way.
Nearby Food and Drink:
---
Essential Details: Stringybark Creek Reserve
Where:

Stringybark Creek

Reserve is bounded by Murray, Ralston and Nundah Streets, Karilla & Centennial Avenues at Lane Cove

More Information: Lane Cove Council
---
More out and about on the North Shore: