Need to educate your kids from home? With families across NSW being encouraged by the Premier to keep their children home for the rest of the school term (unless they work in essential services), parents are now faced with the huge task of keeping their children entertained and educated, within their own homes. Fortunately, there are dozens of online education websites that can help provide children of all ages with fun educational games and activities. 
The NSW Government website features a whole section of their website dedicated to Learning from Home, which is packed with advice, tips, resources and learning material.
E-learning websites
Studyladder
Mathematics, English, Science and more! A comprehensive program of online educational activities for primary school aged students aged 4 to 12, mapped to the Australian curriculum. There are over 5000 activities available, and it's the same materials used by over 400,000 teachers.
Ages: Kindergarten – Year 6
Cost: Free (Basic) or $88/year (premium)
Studybetter
Studybetter™ claims to be "the most comprehensive eLearning site in Australia". They provide relevant, detailed, engaging, interactive online learning materials and printed text-based materials for:
Year 6-12 students to help them meet the high standards set by the Australian Curriculum for literacy and numeracy.
Senior students to prepare for and pass their internal and external assessments in English, Mathematics and Science.
Teachers to help them help their students become self-directed learners.
Home school parents and students to assist with planning and implementing their activities for a meaningful and accountable home-based curriculum.
Studybetter™ provides eLearning and workbook resources to empower students to become effective self-directed learners. It has been written by experienced Australian and Australasian teachers for their students. Currently it has successfully helped over 20,000 students.
Ages = Year 6 – 12
Cost = From $89.95 – 99.95 per subject, per year
ABC Education
ABC Education is an online education website that offers thousands of free, curriculum-linked resources for Primary and Secondary students and teachers in Australia. Play cool games, learn things, watch awesome shows and enter competitions to win prizes. Check out what's happening in the news and around the world.
Ages: Kindergarten – Year 12
Cost: Free
Scholastic Learn at Home
Using School magazines, there are daily activities to complete based on reading and videos.
Scholastic says: "We know that missing school isn't easy for your kids—or for you. But we also know that there are simple ways to turn unexpected time at home into exciting opportunities for your students to learn, think, and grow. That is why we've created Scholastic's Learn at Home website. This free resource provides your children with 20* days of exciting articles and stories, videos, and fun learning challenges. Children can complete them anytime, in any order. They can work on their own or together with you and your family. www.scholastic.com/learnathome Our active learning journeys are available on any device and will provide your child with up to three hours' worth of exciting learning experiences per day. They can go on virtual field trips, meet best-selling authors, or dig deep into a topic they love."
Ages : Pre-K – Year 9 (US)
Cost: Free!
Educational Games
Fun Brain
Created for kids in grades Pre-K through 8, Funbrain.com has been the leader in free educational games for kids since 1997. Funbrain offers hundreds of games, books, comics, and videos that develop skills in math, reading, problem-solving and literacy. Educators and parents can trust their site to provide a fun and safe experience both at home and at school.
Ages: Pre-K – Year 8 (US)
Cost: Free!
ABCya
ABCya provides over 400 fun and educational games for grades Pre-K through 6. Their activities are designed by parents and educators, who understand that children learn better if they are having fun. Games are categorised by grade and subject, and cover topics such as multiplication, parts of speech, typing, pattern recognition, and more. They even have games that are just plain fun (and safe) to play! With so much variety, there is sure to be something for kids at all learning levels and styles.
Ages: Pre-K – Year 6 (US)
Cost: From $5.83 per month
Highlights Kids
Activities, games, podcasts and more for kids to enjoy. Highlights is a beloved global media brand dedicated to helping children become curious, creative, caring, and confident through engaging content and experiences that are focused on nurturing and developing the whole child. Highlights reaches children 0–12 with its most popular magazines and books, and on multi-platform digital experiences, digital apps, toys/games, a podcast, YouTube and more.
Ages: 0-12 years
Cost: Free! 
Switch Zoo
Today, Switch Zoo has 142 species, and the website features additional animal games, music created from animal voices, a reference section about all the animals in Switch Zoo, lesson plans, and poetry, stories and artwork created by students and other visitors.
Turtle Diary
Turtle Diary offers a unique blend of education and entertainment to create the ideal interactive learning platform for your little ones. The kids' quizzes offered on their site enable children from first to fifth grade to become confident in applying learned concepts, and grant instant evaluations.
Ages: Year 1 – Year 3
Cost: Free! (with a premium option)
E-learning For Kids
Free and fun learning for kids covering maths, English, computer skills, health, life skills and more.
Ages: K – Year 6
Cost: Free! 
Reading & Writing Online Education Websites
ABC Reading Eggs & Reading Eggspress
ABC Reading Eggs is an online education website that makes learning to read interesting and engaging for kids, with great online reading games and activities. Children love the games, songs, golden eggs and other rewards which, along with feeling proud of their reading, really motivate children to keep exploring and learning.
Ages = 2 – 7 years (Reading Eggs) & 7-13 (Reading Eggspress)
Cost = $12.99/month or $79.95 for a 12-month subscription. Get a FREE 30-day trial
Read Theory
Improve your students' Reading Comprehension. Students can read texts at their own pace. Students answer comprehension questions based on what they have read and receive immediate feedback.
Ages : Kindergarten – Year 12
Cost = Free!
Littlescribe
Littlescribe enables children to become authors! It's about powering, inspiring, igniting a love of reading, writing and sharing!
Write – Grab A4 paper + crayons. Now write and draw your original story

Create – Use the littlescribe app to "snap and collate" your pages to create a book.

Bookclub – Invite trusted friends and family to join your book club and enjoy reading your books

Library – Find your books and your friends books in your personal library.

Read – Read a digital copy or hard copy of your book, simply order online and we will post it to you.

My Book! Edit your online book, leave a note or emoji on a friend's book.
Spellodrome
Bring your word lists to life with an engaging array of activities, games and challenges – all powered by your own word lists. Designed by educators, Spellodrome encourages independent learning and the development of critical spelling awareness.
Pobble365
An image per day that can be used for writing inspiration. There are a range of educational materials provided alongside each picture prompt.
The Literacy Shed
Short animations and films that can be used to inspire creative writing.
Epic!
Epic! is the Leading Digital Library for Kids 12 & Under. Students can read fiction and non-fiction online. Students can select read-to-me, audio books and videos. Instantly access 35,000 of the best books, learning videos, quizzes & more
Starfall
Starfall.com opened as a free public service to teach children to read. Since then it has expanded to include language arts and mathematics for preschool to Year 3. Starfall's emphasis on phonemic awareness, systematic sequential phonics, and common sight words in conjunction with audiovisual interactivity has proven effective in teaching emergent readers. Starfall activities are research-based and align with Individual and Common Core State Standards in English language arts and mathematics.
Ages: Pre-K – Year 3 (US)
Cost: From US$35
Storyline Online
Storyline Online, streams videos featuring celebrated actors reading children's books alongside creatively produced illustrations. Readers include Viola Davis, Chris Pine, Lily Tomlin, Kevin Costner, Annette Bening, James Earl Jones, Betty White and dozens more. Storyline Online is available 24 hours a day for children, parents, caregivers and educators worldwide. Each book includes supplemental curriculum developed by a credentialed elementary educator, aiming to strengthen comprehension and verbal and written skills for English-language learners.
Ages: All ages
Cost: Free! But gifts, grants and donations welcome.
Unite for Literacy
Unite for Literacy has developed the platform, publishing tools, and systems-based strategies that support the US public and private sector partners to change the literacy landscape of their communities and optimise the future for all their young children. They offer a range of free audio books for kids.
Ages: All ages
Cost: Free! 
Literactive
Literactive is the leading provider of reading material for pre-school, kindergarten and grade 1 students available online. The program is comprised of carefully levelled guided readers, comprehensive phonic activities and a wealth of supplemental reading material which gradually develop a child's reading skills in a sequential and enjoyable manner. Developed and approved by teachers and parents across the United States, Literactive is the acknowledged leader in early learning online. All the material is available for free from this site but you need to register.
Ages: Preschool – Year 1
Cost: Free! 
Seussville
These activities, crafts, and printables provide hours of Seussian ideas to engage your child in playful learning. Add a snack based on favourite books or characters from their tasty recipes, or search their themes for a curated collection of all of the above. So team up with your kid and get creative…there is fun to be done!
---
Maths Online Education Websites
Mathletics
"Bring the love of learning home with the most engaging online mathematics program in the world."
Mathletics can provide valuable maths learning for students throughout their entire school journey, from the start of primary school to the end of secondary. As students mature, so does the program, providing updated visuals, challenges, and activities that will keep them captivated with maths. Interactive activities, games & challenges.
SplashLearn
SplashLearn is transforming the way school children in grades K-5 learn and study math through a highly engaging, and personalised program. SplashLearn is available across all digital platforms (iOS, Desktops, Android) and has been used by more than 30 Million students worldwide. It has won many awards and has been featured by Apple multiple times.
Ages: K – Year 5
Cost: Free!
Coolmath4Kids
For their 12 and under users, Coolmath4Kids is an amusement park of games, lessons and more, designed to teach math and make it FUN.
Ages: Under 12
Cost: Free! 
Math Game Time
Math Game Time is your destination for the best math games and homework help online. Their games are fun, educational and trustworthy.  Math Game Time was created by educators to help kids succeed.  Their goal is to provide a fun, educational playground for students in Pre-K through Year 7  to excel in math.
Ages: Pre-K – Year 7
Cost: Free! 
National Geographic Kids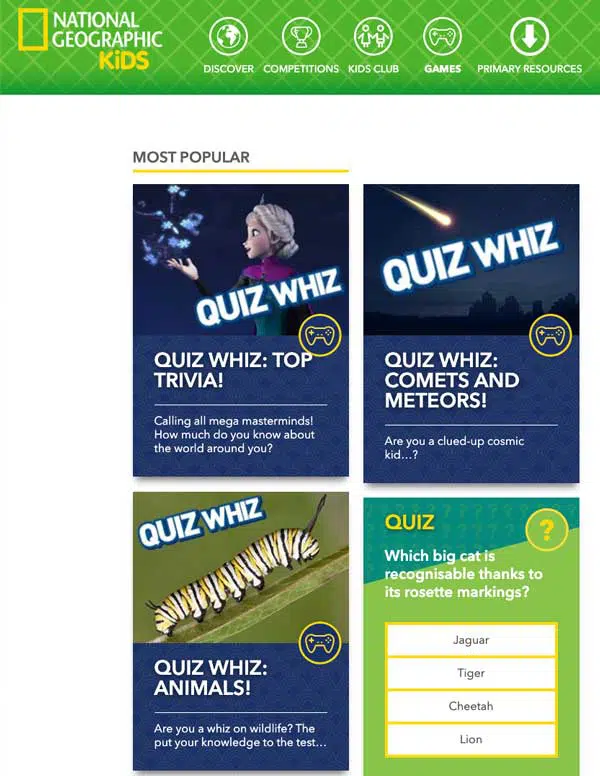 Articles, videos and games for kids linked to Science and Geography.
Science Kids
Science Kids is the home of science & technology on the Internet for children around the world. Learn more about the amazing world of science by enjoying our fun science experiments, cool facts, online games, free activities, ideas, lesson plans, photos, quizzes, videos & science fair projects.
News & Current Affairs
Behind the News (BtN)
Behind the News (BtN) is a long-running news program on the ABC aimed at school-aged children (8–13 years of age). BtN is aimed at upper primary and lower secondary students with the hope of helping them understand issues and events outside their own lives.
Behind the News explores news using the current language, trendy music and popular culture of youths. The program explains the basic concepts that underpin the issues and events, while also providing background information in the hopes that children will take an interest.
Behind the News also covers issues often overlooked by mainstream news, and makes use of online resources including streaming video of BTN stories, study materials for teachers and additional information and arduous activities for students.
Ages: 8-13 years old
Cost: Free!
Kids News
Kids News is an online news website with articles on the latest issues in the world, aimed specifically at kids! Kids News is proudly supported by News Corp Australia. Articles on kidsnews.com.au are based on content from the many publications within the News Corp Australia network
Ages: 7+ years
Cost: Free!
The Kid Should See This
"There's just so much science, nature, music, art, technology, storytelling and assorted good stuff out there that my kids (and maybe your kids) haven't seen. It's most likely not stuff that was made for them… But we don't underestimate kids around here."TKSST is an unprecedented collection of 4,300+ kid-friendly videos, curated for teachers and parents who want to share smarter, more meaningful media in the classroom and at home. And it's free for everyone.
---
Want more activities and entertainment for kids at home?