Need to educate your kids from home? With families across NSW been asked to keep their children home until at least the end of August (unless they work in essential services), parents are now faced with the huge task of keeping their children entertained and educated, within their own homes. Fortunately, there are dozens of online education websites that can help provide children of all ages with fun educational games and activities. 
---
The NSW Government website features a whole section of their website dedicated to Learning from Home, which is packed with advice, tips, resources and learning material.
E-learning websites
Studyladder
Mathematics, English, Science and more! A comprehensive program of online educational activities for primary school aged students aged 4 to 12, mapped to the Australian curriculum. There are over 5000 activities available, and it's the same materials used by over 400,000 teachers.
Ages: Kindergarten – Year 6
Cost: $88/16 months
Studybetter
Studybetter™ claims to be "the most comprehensive eLearning site in Australia". They provide relevant, detailed, engaging, interactive online learning materials and printed text-based materials for:
Year 6-12 students to help them meet the high standards set by the Australian Curriculum for literacy and numeracy.
Senior students to prepare for and pass their internal and external assessments in English, Mathematics and Science.
Teachers to help them help their students become self-directed learners.
Home school parents and students to assist with planning and implementing their activities for a meaningful and accountable home-based curriculum.
Studybetter™ provides eLearning and workbook resources to empower students to become effective self-directed learners. It has been written by experienced Australian and Australasian teachers for their students. Currently it has successfully helped over 20,000 students.
Ages: Year 6 – 12
Cost: From $89.95 – 99.95 per subject, per year
ABC Education
ABC Education is an online education website that offers thousands of free, curriculum-linked resources for Primary and Secondary students and teachers in Australia. Play cool games, learn things, watch awesome shows and enter competitions to win prizes. Check out what's happening in the news and around the world.
Ages: Kindergarten – Year 12
Cost: Free
Scholastic Learn at Home
As a parent, you can download resources and find ideas for home learning with Scholastic's Parent Corner. You'll find English, Science, Maths, and even Father's Day activities!
Scholastic says: "We know that missing school isn't easy for your kids—or for you. But we also know that there are simple ways to turn unexpected time at home into exciting opportunities for your students to learn, think, and grow. That is why we've created Scholastic's Learn at Home website. This free resource provides your children with exciting articles and stories, videos, and fun learning challenges. Children can complete them anytime, in any order. They can work on their own or together with you and your family. Our active learning journeys are available on any device and will provide your child with up to three hours' worth of exciting learning experiences per day. They can go on virtual field trips, meet best-selling authors, or dig deep into a topic they love.
BEST WEBSITES FOR READING, WRITING & LITERACY
---
Educational Games
Funbrain
Created for kids in grades Pre-K through to Year 8, Funbrain has been the leader in free educational games for kids since 1997. Funbrain offers hundreds of games, books, comics, and videos that develop skills in math, reading, problem-solving and literacy. It's the perfect educational fun for kids at home.
ABCya
ABCya provides over 400 fun and educational games for grades Pre-K through to Year 6. Their activities are designed by parents and educators, who understand that children learn better if they are having fun. Games are categorised by grade and subject, and cover topics such as multiplication, parts of speech, typing, pattern recognition, and more. They even have games that are just plain fun (and safe) to play! With so much variety, there is sure to be something for kids at all learning levels and styles.
Highlights Kids
Activities, games, podcasts and more for kids to enjoy. Highlights is a beloved global media brand dedicated to helping children become curious, creative, caring, and confident through engaging content and experiences that are focused on nurturing and developing the whole child. Highlights reaches children 0–12 with its most popular magazines and books, and on multi-platform digital experiences, digital apps, toys/games, a podcast, YouTube and more.
Switch Zoo
Today, Switch Zoo has 142 species of animals, and the website features additional animal games, music created from animal voices, a reference section about all the animals in Switch Zoo, lesson plans, and poetry, stories and artwork created by students and other visitors.
Turtle Diary
Turtle Diary offers a unique blend of education and entertainment to create the ideal interactive learning platform for your little ones. The kids' quizzes offered on their site enable children from first to fifth grade to become confident in applying learned concepts, and grant instant evaluations.
E-learning For Kids
Free and fun learning for kids covering maths and science. You can join them in Math World with 336 courses, or Science World with 213 courses for K to Year 6. 
Maths Online Education Websites
Mathletics
"Bring the love of learning home with the most engaging online mathematics program in the world."
Mathletics can provide valuable maths learning for students throughout their entire school journey, from the start of primary school to the end of secondary. As students mature, so does the program, providing updated visuals, challenges, and activities that will keep them captivated with maths. Interactive activities, games & challenges.
SplashLearn
SplashLearn is transforming the way school children in grades K- Year 5 learn and study math through a highly engaging, and personalised program. SplashLearn is available across all digital platforms (iOS, Desktops, Android) and has been used by more than 30 Million students worldwide. It has won many awards and has been featured by Apple multiple times.
Ages: K – Year 5
Cost: Free!
Coolmath4Kids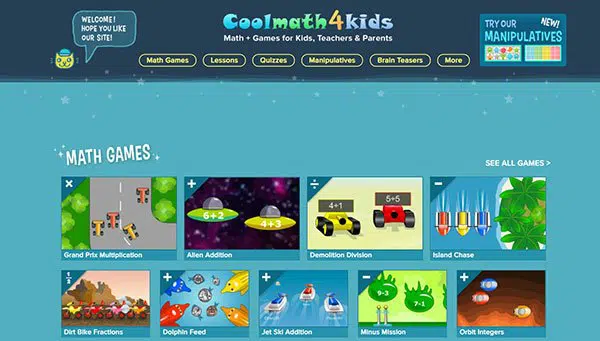 For their 12 and under users, Coolmath4Kids is an amusement park of games, lessons and more, designed to teach math and make it FUN. They also have a brain-training site for everyone, Coolmath Games, where logic & thinking meets fun & games. It's the perfect mental workout.
Ages: Under 12
Cost: Free! 
Math Game Time
Math Game Time is your destination for the best math games and homework help online. Their games are fun, educational and trustworthy.  Math Game Time was created by educators to help kids succeed.  Their goal is to provide a fun, educational playground for students in Pre-K through Year 7  to excel in math.
Ages: Pre-K – Year 7
Cost: Free! 
BEST WEBSITES FOR READING, WRITING & LITERACY
National Geographic Kids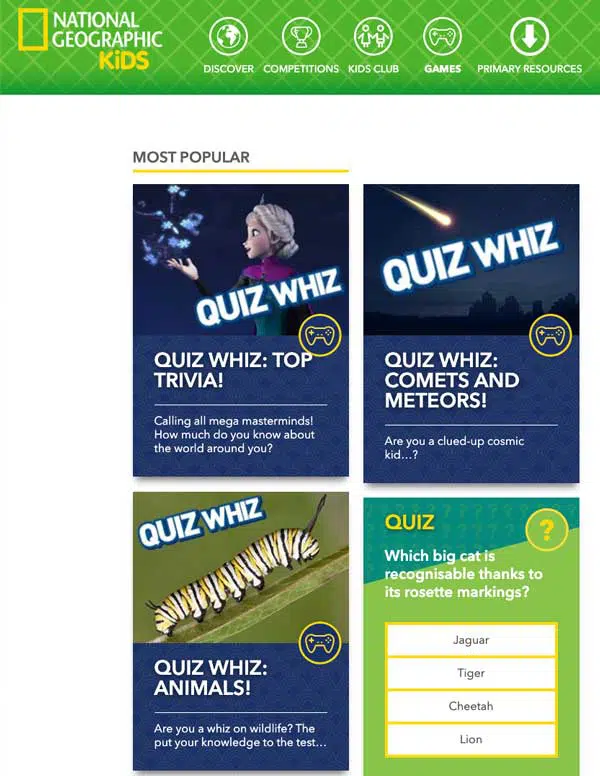 Articles, videos and games for kids linked to Science and Geography. Discover some of the coolest facts for kids from around our planet. From animals and geography to science, nature and history, there are so many amazing facts for kids just waiting to be discovered by young explorers
Science Kids
Science Kids is the home of science & technology on the Internet for children around the world. Learn more about the amazing world of science by enjoying our fun science experiments, cool facts, online games, free activities, ideas, lesson plans, photos, quizzes, videos & science fair projects.
---
Coding
Code.org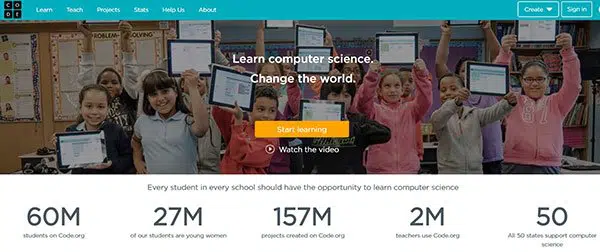 Code.org® is a nonprofit in the US dedicated to expanding access to computer science in schools and increasing participation by women and underrepresented youth. Their vision is that every student in every school has the opportunity to learn computer science, just like biology, chemistry or algebra. 
They have plenty of options available online so kids can continue the learning at home from building real working apps to one-hour tutorials for all ages.
Ages : K – Year 12 and beyond
Cost: Free!
Machine Learning for Kids
Coding website, where students are able to program and train their own program (Artificial Intelligence) to do various things.  It provides an easy-to-use guided environment for training machine learning models to recognise text, numbers, images, or sounds.
Tynker
Tynker is the #1 Kids Coding Platform, where millions learn to code. Tynker offers self-paced online courses for children to learn coding at home, as well as specially designed curriculum for schools and camps. With 60+ award-winning courses, there's a learning path for every kid, no matter their age or level. They have over 4,100 learning modules, backed by hundreds of built-in tutorials and hands-on projects.
Ages : Ages 5-18
Cost: Free during school closures!
---
News & Current Affairs
Behind the News (BtN)
Behind the News (BtN) is a long-running news program on the ABC aimed at school-aged children (8–13 years of age). BtN is aimed at upper primary and lower secondary students with the hope of helping them understand issues and events outside their own lives.
Behind the News explores news using the current language, trendy music and popular culture of youths. The program explains the basic concepts that underpin the issues and events, while also providing background information in the hopes that children will take an interest.
Behind the News also covers issues often overlooked by mainstream news, and makes use of online resources including streaming video of BTN stories, study materials for teachers and additional information and arduous activities for students.
Ages: 8-13 years old
Cost: Free!
Kids News
Kids News is an online news website with articles on the latest issues in the world, aimed specifically at kids! Kids News is proudly supported by News Corp Australia. Articles on kidsnews.com.au are based on content from the many publications within the News Corp Australia network
Ages: 7+ years
Cost: Free!
The Kid Should See This
"There's just so much science, nature, music, art, technology, storytelling and assorted good stuff out there that my kids (and maybe your kids) haven't seen. It's most likely not stuff that was made for them… But we don't underestimate kids around here." TKSST is an unprecedented collection of 4,300+ kid-friendly videos, curated for teachers and parents who want to share smarter, more meaningful media in the classroom and at home. And it's free for everyone.
BEST WEBSITES FOR READING, WRITING & LITERACY
---
Want more activities and entertainment for kids at home?