It's party time! Whether it's a 3rd or a 13th birthday, there's no better excuse to round-up the friends and get celebrating with a fun birthday party! Of course, a lot of hard work goes into planning the perfect party. It all comes down to finding the ideal spot to host that next event and making sure you have entertainment on hand. Here's your guide to the best kids party venues on the North Shore.
---
Hosting a birthday party is no easy task. No matter the milestone, it takes prep, patience, and often – a little outside help.
Whether you're looking for an entertainer to come to you, or would prefer to outsource to a local venue, here's your ultimate guide to kids party venues and entertainers on the North Shore.
Make planning that next birthday party a breeze!
And if you still need more ideas, we have a dedicated section in our Directory just for Parties! You'll find cake makers, entertainers, activities, party venues and party supplies & hire.
Outdoor attractions for a kids party
Ku-ring-gai Wildflower Garden, St Ives
Looking for an outdoor birthday party for your child? Try Wildflower Garden in St Ives! Set on 154 hectares of urban Sydney Sandstone bushland at St Ives and adjacent to Ku-ring-gai Chase National Park, Ku-ring-gai Wildflower Garden boasts some of Sydney's best Wildflower trails, Duffys Forrest and Coastal Upland Swamp as well as 18 threatened species of Australian Flora and Fauna and two endangered ecological communities providing learning experiences in the natural environment.
Wildflower Garden Party Packages
Wild Birthday Party: 
The 1.5 hour birthday party experience is hosted by a qualified Ranger and includes a one hour wild activity followed by 30 minutes for food and cake. Nature-based themes include Nature Play, Art Adventures, Animal Encounters, Survival Skills and Campfire Experience. Choose from one of their fun and wild themes.
Nature Play (1-5 years): Celebrate your special day with an immersive natural experience! Kids will explore our bushland, meet local fauna and get their hands dirty with a fun nature based activity.
Nature Superheroes (6+ years): Be the hero the wild needs. Kids will create their own eco-capes and have an adventure in our unique bushland, discovering the amazing adaptations in nature that make our flora and fauna truly super.
Animal Encounters (6+ years): Connect with your inner animal. Kids will explore our amazing wilderness, find wild creatures, meet some of our favourite Australian animals and play some animal games.
Art Adventures (6+ years): Art with a natural twist. Kids will go on an exciting outdoor adventure where they can get creative and make their own natural eco art work.
Survival Skills (6+ years): Want to learn the essential skills for surviving in the wild? Kids will go on a survival bushwalk, learn about bush foods and practise survival skills.
Campfire Experience (6+ years): Learn the skills needed to build a campfire. Have a heap of fun cooking treats and telling stories around your crackling campfire. Note this theme only runs April to September.
Essential Details
Address: Ku-ring-gai Wildflower Garden, 420 Mona Vale Rd, St Ives
Cost:

From

$20 per child

Australia Reptile Park, Somersby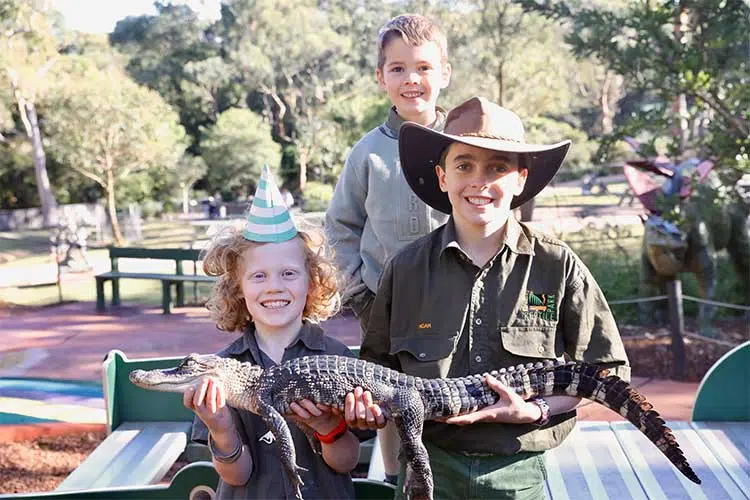 Have a kid's birthday party with BITE at the Australian Reptile Park! With wildlife shows, a children's playground, bushland picnic setting and the chance to get up close with koalas, kangaroos, pythons, reptiles and of course Hugo, the giant Galapagos tortoise, your child's party will be unforgettable!
Go all out with our Elvis Party Pack which also includes a 1.5 hour personalised tour with a zookeepers where you will enjoy an exclusive meeting with some of their wonderful animals, while learning interesting facts about them.
Reptile Park Party Packages
Hugo Party Pack: $300 for 10 children (minimum) & $26 per additional child
Package includes:
Entry to the Australian Reptile Park
Free entry for 1 parent of birthday child
Party area for 90 minutes
Party food
Two 1.25L bottles of soft drink
Kangaroo food (1 bag per child)
Animal photo experience for party group
Print of 1 x colour photo (valued at $25)
Lolly bags
Party invitations
Discounted entry for other attending adults – $32
Elvis Party Pack: $600 for 10 children (minimum) & $26 per additional child
Package includes all inclusions from the Hugo Party Pack, PLUS 1.5-hour private tour with animal encounters!
---
Indoor playcentres for a kids birthday party
Wizzy World, Frenchs Forest
North Shore Mums Offer: Mention North Shore Mums and they will double their birthday gift for the party child, so they receive two double passes for entry to Wizzy World. 
Wizzy World is a huge party and play centre and makes one of the best kids party venues located conveniently in Frenchs Forest with plenty of parking close to the door. The play centre includes a separate baby area, and Toddler zone, so the young ones can play in a smaller play area that is size appropriate.
The bigger children have the 6 metre high playframe with slides, flying fox, and mazes to keep them busy. The separate sportszone is set up with football goals and basketball hoops, so the kids can start to develop some hand eye coordination in a fun environment, or even drag the carers in for a bit of exercise.
There is plenty of seating for carers to enjoy a coffee or meal from the cafe, and you can conveniently see the children's play areas from the seating. Wizzy World offers unlimited playtime for a one off entry.
Wizzy World Party Packages
Wizzy World has been hosting children's birthday parties for over a decade, and understand that parents are busy with work and life, so make the process as easy as possible. Simply book the party time and select from the Princess, Beach/Pirate, or Jungle/Dinosaur room, and they will arrange everything for the party – so all you need to do is bring the cake and candles.
They will provide everything from the invitations, play time for the children, party hosts, catering for children and adults, a choice of traditional party food or healthy packages, time in the disco room and a party bag for each child attending the party. So they make it easy for you to host a party, spend time with your guests, and not have to spend hours shopping, cleaning, cooking, and then cleaning again.
Address: 7/25 Frenchs Forest Road East, Frenchs Forest
Cost:

From

$445 for 10 children

---
Cheeky Monkeys Play House, Warriewood
North Shore Mums offer: free scone platter for the parents and a free balloon for every child attending the party.
Looking for one of the best kids party venues near Sydney's Northern Beaches? Cheeky Monkeys Play House is home to a colourful, 3-story play structure as well as a separate toddlers play structure that offers an adventurous sanctuary for every child! Not only this, but their café provides the perfect way to settle down with a nice coffee or meal, with your playful children in sight.
Beautifully themed party rooms are located upstairs and are always popular over the weekends filled with children celebrating their birthday with their family and friends.
Cheeky Monkeys Party Packages
Cheeky Monkeys caters to all the party needs of both the child and the parent. They offer three party rooms with loads of the latest themes:
Slot Car Racing-full of cars, characters & superheroes.
Fairy Forest-full of fairies & mermaids.
Wizard Room-full of magical characters & imagination.
They combine their separate colourful flashing Disco Room with the Fairy Forest and Wizard Room Parties.
All parties are for 2 hours and include your chosen themed room, party food, table settings, lolly bags and a wonderful themed party host. They offer a range of party extras that will leave the birthday child feeling extra special after their time spent at their Play House.
Address: Unit 1101/4 Daydream Street, Warriewood
Cost:

From

$330 for 10 children

More fun indoor birthday party packages:
---
Art & Crafts Parties
Pinta Crafts, St Leonards
Pinta Crafts is a creative space where adults and kids of all ages and abilities can experience the fun of painting functional ceramics. During the activity, they teach ceramic painting techniques that participants can follow. All tools and materials are provided.
After painting, they will glaze and fire the pieces in a kiln. This process will make the ceramics functional and usable. Dinnerware will be food safe and microwave safe. The ceramics will be ready for collection at the studio 2-3 weeks later.
Pinta Crafts 
Party Packages
There's no set party packages at Pinta Crafts, you simply pay for what you paint.

Average kids' party cost: $40-$50 per person

Average Adults' party cost: $40-$80 per person
Cost is per piece and is inclusive of ceramic bisque, full range of paint colours, all tools and materials, glazing & kiln firing (to be done after the party), instructions and assistance, your stay in the studio.
---
Entertainers & Party Planning
Birthday Fairy
North Shore Mums Offer: Book a deluxe package (grazing, picnic or high tea) and mention North Shore Mums to receive free cupcakes! Must be booked in the next 12 months.
Want to host a birthday party at home or in the local playground… but don't want to worry about the catering or entertainment? Then you need the Birthday Fairy! Birthday Fairy is Australia's highest rated children's entertainment company with over 600+ 5 star reviews on Google and Facebook. That's seriously impressive…
Birthday Fairy provides a range of offerings, to create memorable experiences and promote happiness for children and parents.
You can book entertainment with amazing characters and interactive activities such as pampering, slime, pet adoption and craft. Birthday Fairy also provides complete party packages with grazing, picnic and high tea options. These packages include catering, decorations, setup & packup and everything for the perfect celebration. You can book your balloons, cakes, cupcakes, event signs and adult catering with Birthday Fairy too!
Party Packages
Entertainment Only Package
Free customised invite
Amazing entertainment with your chosen character
Your entertainer will being a mat to sit on, music, games and pass the parcel prizes
Items you can add onto an entertainment-only package: lolly bags, deluxe gift boxes and activities such as jewellery making, pet adoption, slime, plaster painting and more
Birthday Fairy Deluxe Packages
Free custom invite
Children's catering
Beautiful silk flowers, themed decorations and props on a grazing table
Children's paper cups, plates, forks, serviettes
Children's seating included with picnic and high tea packages
2 hours of entertainment with a mat to sit on, music, games and pass the parcel prizes
Plus the setup and pack up
Essential Details
Address: They come to you (service North Shore, Northern Beaches & Eastern Suburbs)
Cost:

From

$260

---
More on parties: