Are you planning your child's next birthday party? Discover some handy tips and tricks to make your party so successful your birthday boy or girl will be grinning from ear to ear! Here's 8 tips to organise child's a birthday party,
---
Preparing and freezing party food in advance, sending out invitations, organising party games, decorating your house, hosting the guests and cleaning up all the mess left behind might be enough for you to put up the white flag in surrender! But organising a birthday party doesn't need to be so stressful, especially with these tips to organise a child's birthday party.
So, how do you go about organising a memorable child's birthday party (memorable in a good way) and not lose your sanity at the same time?
Tips to organise the best children's birthday party!
1. Work out a budget for the birthday party
First things first, you need to decide how much you want to spend for your child's birthday party. 
William Sammuri, Educational Expert with Wannabees Family Play Town recently compared the cost of hosting a birthday party for 15 five-year-old guests at home versus hosting it at a community hall, indoor play centres and sports centres on the north shore of Sydney. 
"Hosting your own party at home can be fun for some parents and a challenge for others. For 15 guests, you can expect to pay between $741 and $1303.  This price range allows for a children's entertainer and eight hours spent planning and setting up and two hours cleaning, as well as all the food, party bags and accessories required," William Sammuri said. 
According to his report, birthday parties in a park are similar in cost to parties held in the home, but with the need for sunscreen and a sun shelter for the guests, setting you back between $771 and $1358. This price range includes a children's entertainer, eight hours of planning and setting up, and one hour of cleaning as well as the hire of a sun shelter and all the accessories needed.
A party at a community hall has the additional cost of the hire of a hall, which falls between $120 to $200 for three hours. In all, a birthday party at a community hall costs between $861 and $1503. This price range includes a children's entertainer, eight hours of planning and setting up, and two hours of cleaning as well as all the food, party bags and accessories needed.
2. Decide on your venue
Venues that work well are those that encourage all the guests to interact and have fun in the one place. You don't want people only to come together to sing Happy Birthday and eat the birthday cake!   
What would your child like to do during their birthday party? What are they interested in? There are a variety of venues to consider that cater for different tastes.
An important factor to think about if you'd like to host the party outside is the weather. And, if you're planning on hiring an entertainer, their space requirements will dictate the type of venue you're going to need. The venue also needs to be suitable for the age of the children attending.
In addition to space, you'll need to cater to the needs of any adults attending the party. If they stay at the venue, what will they be doing? Is there somewhere for them to sit? Large numbers of people may not work in a small- or medium-sized home.
View our Party Guide for lots of options!
3. Choose the date and the time
Once the venue has been decided, it's time to work out a date and time that best suits your needs and fits in with your family's schedule. 
Children often have sporting commitments on Saturday mornings and younger children tend to have a nap either mid-morning or late afternoon. Also, consider if the party has to be on a weekend or if it can it be planned for a weekday, especially if it's for a preschooler.
If you're having your party outside the home, think about the travel time to your venue based on the day that you choose. If you have to travel a fair distance, having the party after school may not be the best option –weekend traffic may be better. 
4. Send the invitations
Ask your child who they would like to invite to their party. It is a good idea to ask a few times over a couple of days to see if the list of invitees stays the same. 
Think about how many children you are comfortable with attending the party? And, don't forget their siblings! If your child attends preschool, day care or school, are you going to invite these friends as well as family friends?
Be sure to include a start time and a finish time on the invitation so that parents know when to pick up their children.
Will you send your invitation electronically or in the post? Perhaps you may want to send 'save the date' emails or cards so that your guests can plan ahead and you can rest assured that you'll have all the special guests coming to your child's party.
A tip I have learned from a school mum is to place the birthday party invitations in the bags of the invited children just prior to 'pick up' so they don't get lost and are more likely to be discovered by the parents. Or, hand them directly to the parents themselves.
5. Choose a theme your birthday party, plus the cake and lolly bags
If your child has a favourite theme, begin looking for cost-effective party decorations, cups, plates, cutlery and items for the lolly bags that follow that theme. There are a whole host of websites dedicated to these, and craft and discount stores are great places to pick them up from, too. 
Great party bag ideas
Crayons and small note pads

Bubbles

Small cheap animals, like turtles, dinosaurs or farm animals from your local discount store

Fake tattoos

A packet of seeds – a budding gardener may enjoy a packet of tomato seeds

A little tub of playdough

Water pistols

A tape measure or tiara

A small paperback book

Stickers

Pencils and erasers
6. Select the food
The time of your party and the age of the guests will dictate what food you will provide. 
It's important to consider if you'll be providing healthier alternatives for children in addition to 'good old traditional party food', too. 
Ask your child to get involved with the party food menu. Whatever food you decide to provide, remember these key things.
Can any of the food be pre-made?

Will there be enough storage in your fridge or freezer to fit the food in the lead-up to the party? 

Will you have enough oven or stove space to cook or prepare on the day itself?

Will you be offering different food to the adults that stay at the party? Parents who attend with their children don't normally expect to be served food, but it is nice gesture and a platter or two of wholesome party sandwiches or fruit salad is very welcoming and inviting.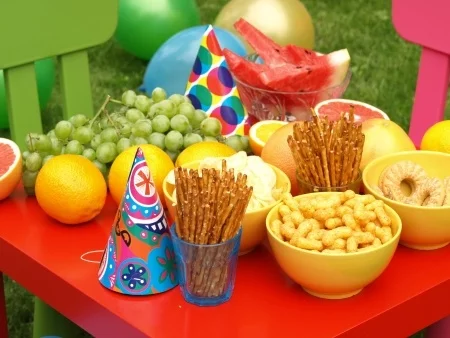 If you have chosen to hold the party outside in a park, consider that you probably won't have an oven or kitchen to prepare the food. Can you easily cart everything to the park or play area from your car? 
7. Organise the party activities
The best birthday parties are those that have the children's games scheduled, to keep the party running on time. But allow 10-15 minutes for your guests to arrive before commencing with any games. 
Most parties run for at least two hours and finish with eating and the birthday cake. Allow about 30 minutes for food and singing Happy Birthday. 
And to avoid tears on the day, decide in advance if you are going to have your child open their presents in front of their guests and factor this into the party's schedule. 
Great party activities and games
Musical chairs

Musical statues

Egg and spoon race

What's the time Mr Wolf?

Balloon relay race

Pin the tail on the donkey

Pass the parcel
8. Take lots of photos
Photos are the best way to remember the birthday party. If you think you're going to be too busy to take them yourself, ask a close friend or relative to take the photos for you and hopefully they can capture the event from a different perspective, too!
There are also lots of photographers on the North Shore that would be happy to take this job off your hands.
---
More entertainment & fun