Sea Life Sydney Darling Harbour has over 500 creatures to see, from zebra sharks to manta rays plus penguins and dugongs, so it's easy to spend a day (or two) exploring! We headed to the underwater world to see all the magic in action. These are our favourite parts.
---
There's a LOT to see at Sea Life Sydney Darling Harbour, so we've chosen our top three highlights from our visit, as voted by our family! Take a look at what we loved most, then read on to see the whole adventure that awaits you at Darling Harbour. Remember, you can visit just the sea life section or double up and visit the sister attraction, Sydney Wildlife Zoo, all in the same visit.
Our family's top three spots at Sea Life Sydney Darling Harbour
1. Dugong Island, starring Pig the Dugong
For our family, Dugong Island at Sea Life Sydney Darling Harbour was the absolute highlight. Perfect for smaller children who might find Shark Valley a little overwhelming, the outdoor viewing platform gives clear views of Pig the friendly dugong chomping on his lunchtime lettuce.
Affectionately named after his eating habits, Pig was rescued from Forrest Beach in North Queensland when he became separated from his mother at a very early age. After a period of rehabilitation, Pig was released into the wild. However when he was found washed up again a decision was made not to release him again for fears he wouldn't survive.
2. The glow-in-the-dark interactive bio-luminescence beach
In between tanks of creatures from the deep, an incredible digital ocean is a drawcard for kids. The beach scene features a section showing the water by night, when bioluminescence lights up the waves. Mine spent ages here, hypnotised by the display. It allows you to walk through the waves while the bioluminescence splashes under your feet in this motion-sense display that leaves the young and the young-at-heart amazed and wanting to splash through it again and again!
3. Penguin Cove
Of course, most kids love penguins (and there's plenty to love about the adorable creatures), but the habitat at Sea Life Sydney Darling Harbour only intensified their obsession! The world-class display has floor-to-ceiling viewing windows and a crawl space where kids (and mums, if they're in the mood!) can clamber inside and get a birds-eye view of the penguins slipping across the ice and snacking on fish.
More amazing exhibits and habitats:
Shark Valley: The underwater tunnel is teeming with grey nurse sharks, wobbegong sharks, smooth ray and black cod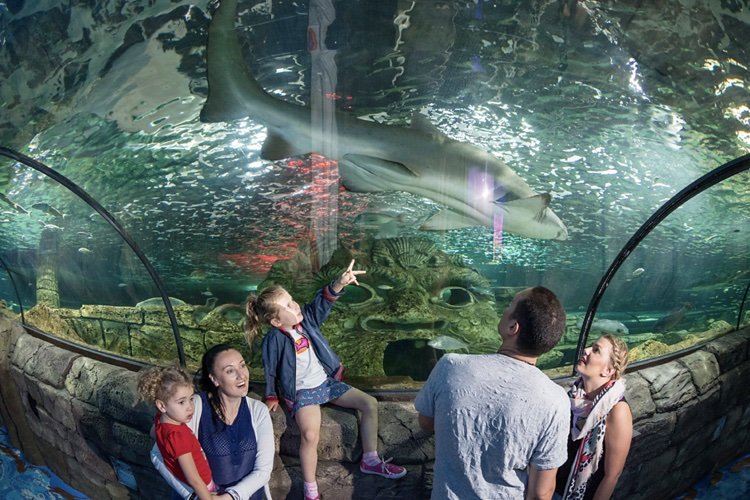 Discovery Rockpool: Meet and touch sea urchins, sea stars, waratah sea anemone, shark eggs and hermit crabs
Day and Night on the Reef: The home of reef sharks, tropical fish, jellyfish and 126-kg Myrtle the Turtle plus her pals Dave and Chong
The Giant Wave: At the end of the experience, look back at the heart of the reef and all of its creatures, through a giant frozen wave sculpture
Essential Details: Sea Life Sydney Darling Harbour
Opening Hours: 10am-4pm, Thursday – Monday (closed Tuesday & Wednesday)
Address: 1-5 Wheat Road, Darling Harbour, Sydney
Cost: Save 20% when you book online, $38.40 Adult | $28 Child. Or buy an Annual Merlin Pass for entry to

visit all 10 attractions across Australia and New Zealand 

More Info: Sea Life Sydney Darling Harbour
---
More options for family fun: