WILD LIFE Sydney Zoo at Darling Harbour is a wonderland of wild animals! We headed to the inner-city zoo to see all its creatures, great and small. These are our favourite parts.
---
With so many face-to-face animal encounters at WILD LIFE Sydney Zoo, we've chosen our top three highlight to make it easy to plan your day! Take a look at what we loved most, then read on to see the whole adventure that awaits you at Darling Harbour. Remember, you can visit just the sea life section or double up and visit the sister attraction, Sydney SEA LIFE Aquarium all in the same visit.
WILD LIFE Sydney Zoo: Top Animal Encounters
1. Saltwater Crocodile, Kakadu Gorge Zone
This well-thought out enclosure allows you to view Rocky, the Zoo's mammoth saltwater crocodile, from every angle!
First, step through a doorway and you find yourself on what feels like a precariously platform above the croc, although of course in reality its perfectly safe!
Then, travel down to ground level via a special passageway that brings you eye-to-eye with Rocky.
Lastly, you can view the croc from below the waterline with a special see-through panel that shows his enormous size! Like most crocodiles, he spends much of his time dozing in his large pool, so this view is a great way to see how much of his huge body is usually hidden underwater. 
Rocky was originally from Rockhampton in Northern Australia (which is where he got his name from). Rocky's water is kept at 30 degrees to allow him to maintain his preferred body temperature that sits between 30-33 degrees.
2. Emu encounters, Wallaby Cliffs and Kangaroo Walkabout Zone
This zone offers the incredible chance for families to wander through an exhibit of friendly wallabies, kangaroos and other creatures, all roaming freely across the paths and rocks. While coming up close to yellow-footed rock wallabies and Kangaroo Island kangaroos is wonderful, they are generally less curious than other animals and prefer to laze about in the shade. That's why our favourite part of this zone was the inquisitive emus, who will come close to you (and are a thrilling, sometime scary sight when they're right beside you!).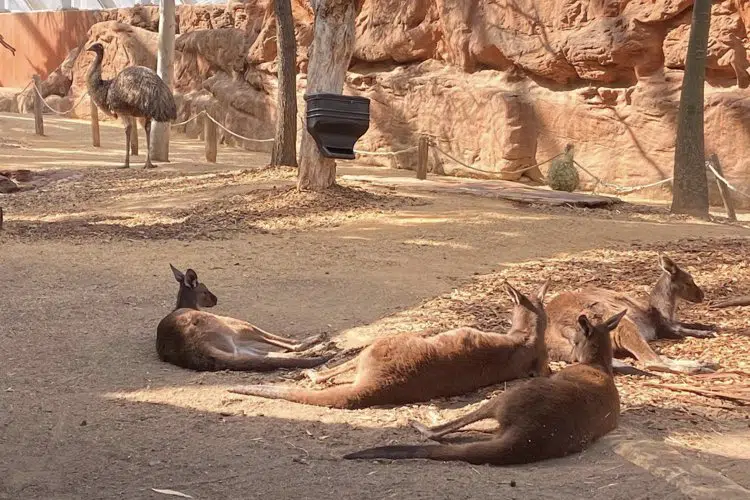 3. Cuddle a koala! Koala Rooftop Zone
With koalas under threat, this is a great chance to meet one face-to-face but also help support conservation efforts through awareness raising. The Koala Photo Experience, on the beautiful open-air rooftop area, is the chance to meet and even get up close to the very cute koalas, plus the opportunity to get a photo with the furry friends.
Note: While there are koala viewing experiences included in general admission, if you want the chance to snuggle one of these super-sweet creature, there is an extra cost, about $25 for a photo that can include four.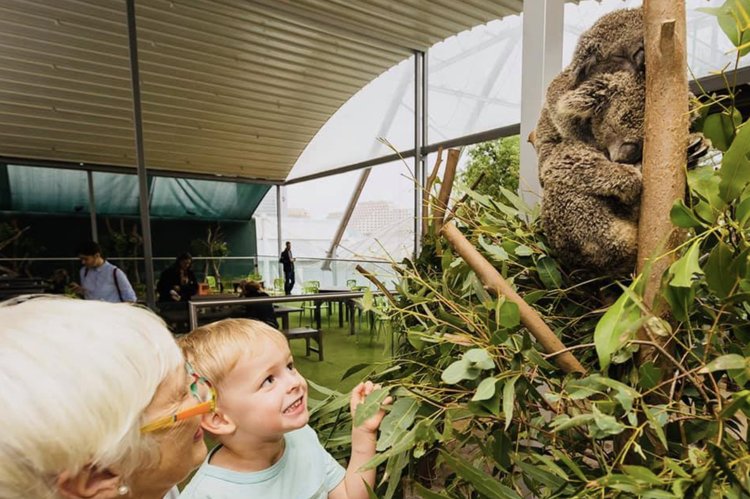 All the zones to explore:
Daintree rainforest (

Princess the Southern Cassowary, Pademelons, Satin Bowerbird)

Gumtree Valley (

Bush Stone-curlew, koalas)

Tricky Tongues and Treetops (

Frankie the rescue Numbat, Tree Kangaroo, Echidnas)

Nightfall (B

ilbies and Ghost Bat)

Devil's Den (Tasmanian Devils
Koala Rooftop (Koala encounters)
Kakadu Gorge (Saltwater crocodile)
Platypus Pool (Platypus)
Wallaby Cliffs (

Yellow-footed Rock Wallabies and Bare-nosed Wombat named Ringo)

Kangaroo Walkabout (

Kangaroo Island kangaroos, quokka, emu and princess parrots)
Essential Details: WILD LIFE Sydney Zoo Darling Harbour
Opening Hours:

 

10am-4pm, Thursday – Monday (closed Tuesday & Wednesday)
Address:

 

1-5 Wheat Road, Darling Harbour, Sydney
Cost:

 

Save 20% when you book online, $38.40 Adult | $28 Child. Or buy an

 

Annual Merlin Pass

 

for entry to

 

visit all 10 attractions across Australia and New Zealand 

More Info:

 

WILD LIFE Sydney Zoo Darling Harbour
More options for family fun: