Can you believe it? Christmas is done and dusted, the New Year is here and now the countdown is on until school goes back. We are all no doubt feeling a little school holiday fatigue…there are only so many ways to keep the kids entertained! Don't worry, we have some great ideas to help you make the most of these final days of the Summer school holidays on the North Shore…
---
The end is in sight. It's a matter of weeks until the summer school holidays are over and the kids are back at school. While this brings with it just a little excitement (hooray for having some days to yourself again), there is always a pang of sadness at saying goodbye to the Summer holidays. We want to help you make the most of these last few days and create some lasting memories together.
Check out these quick links to find some fun and exciting adventures that would suit your family
---
1. Child-friendly beaches
What else is Summer for, except heading out to one of the amazing beaches Sydney has on offer. We've compiled a list of our favourite child-friendly beaches where the waves are mild, there are nearby playgrounds, toilets and refreshments!
Here are some we highly recommend:
2. Cruise around Sydney Harbour
Now is the perfect time to be a tourist in Sydney! With borders shut to international and many Australian tourists, the local attractions in the Sydney CBD are much quieter than usual. This not only makes it easier to keep things Covid-safe, but it also means there are some great deals on at the moment.
And what better way to be a tourist than by cruising the harbour? Right now, you can book a harbour cruise with Captain Cook Cruises with their Harbour Bar ticket for just $9 per person! You'll be picked up from Circular Quay or King Street Wharf, and will cruise around the spectacular Sydney Harbour for a couple of hours. You'll be seated with your own table where you can order drinks and tapas style food contactlessly from your mobile, and enjoy live music. You're also free to roam around the boat to the top level. Book tickets.
'We booked a last-minute staycation in the city last weekend (there are some great deals around!), and while wandering around Circular Quay, noticed the Captain Cook Cruises Harbour Bar Cruise. I couldn't believe it was only $9 per person! I booked it right then, as there was a cruise ship leaving in 15 mins. Very spontaneous, but one of the best things we've done! We all enjoyed soaking up the incredible views. The Harbour Bar level is very plush and comfortable. Highly recommend!' – Rachel Chappell, North Shore Mums Founder
3. Watch a live show!
You can still watch a live show and be Covid-safe! You'll find strict new measures in place for events like this – like QR sign in, sanitisation stations, 'socially distanced' seating and masks compulsory for adults.
Our personal recommendations for January?
4. Play at a local playground
Pack a picnic and head off on a tour of some of the great parks right here on the North Shore. With the amazing weather we are (now) enjoying, there has never been a better time to go and have some swinging, sliding, climbing fun. Wondering where to go? Head over and check out our post on 20 awesome parks on the North Shore that you need to try.
So many new parks have cropped up this year, so make sure these ones are at the top of your list:
5. Take a hike
We are very lucky in Sydney to be blessed with some amazing places to explore, right here on our doorstep. So what are you waiting for? Put those New Year's resolutions to the test and get outdoors and active. We have 15 different bushwalking tracks for you to explore. Some of our favourites are:
6. Head to the movies
Summer time really does bring some of the best family flicks for you to enjoy. There's something for everyone, big and small. The perfect excuse to bundle up in the car, splash out on that extra large popcorn and settle in for some family fun. Wondering what to see? Check out our post on the best kids movies these Summer holidays.
Here are some of our favourites:
The Witches: this is one for the older kids, taking Roald Dahl's novel to the big screen!
The War with Grandpa: after a laugh? The whole family will enjoy the antics of this fun film.
The Croods: this one is great for the little kids – and parents will get some laughs with it too.
7. Action-packed water slide fun
Why not get one last thrill in before the end of the holidays and splash into one of the great water slides and parks around Sydney. There are so many to choose from, you might tick off a few days checking them out. We have put them together in one easy post so you can find your favourites. Check it out here.
Here are some of our top picks:
8. Fruit picking adventures
The fruit picking scene was a little disrupted last year with all the restrictions in place due to COVID-19. While things have certainly changed, many doors have reopened for your fruit picking fun. Be sure to check their site before you go, and it is always worthwhile to book in ahead of time.
Check out our post on the best places for fruit picking near Sydney, and make sure you jump to the Summer section.
Pine Crest Orchard: currently open until April, they have plenty of plenty of stone fruit, apples, pears and persimmon left of the trees.
Bilpin Fruit Bowl: head along and pick some peaches, nectarines and apples. No booking needed!
Berrylicious Strawberries: book in to pick your own strawberries grown in their greenhouses.
9. Feed the ducks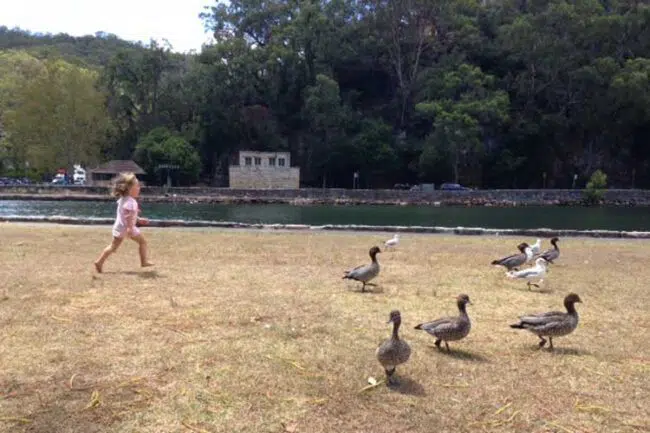 Find a nearby river or lake on Sydney's North Shore and take off on an adventure to find some ducks to feed. While we can't guarantee you will find them, you are in with a good chance. Here are 8 spots to find ducks on Sydney's North Shore.
10. Hair chalk
Kids love having a bit of fun with their hair – the brighter the better if you ask them! School holidays are the perfect opportunity to let them go wild. After all, it will wash out before term starts.
Hair chalk is a popular one amongst the kids, and we have seen the question being asked a number of times over in the North Shore Mums group. Want to know which hair chalk is the best? Here's the lowdown:
Kmart hair chalk: "

Kmart stocks decent hair chalk. Haven't tried others to compare though, so can't comment on quality". Another mum shares that you need to use spray with the Kmart hair chalk to stop the colour from coming out straight away.

Temporary Pastel Chalk: "I

 bought some years ago and they last so long. Not this brand but similar to this."

Smiggle Hair Chalk: "

I use hair chalk from Smiggle for my toddler! It's in pens and really easy to apply and washes straight out!"
---
Still stuck for ideas? Head over to our Essential Guide to the Summer School Holidays and browse some great local options to keep kids busy.