Looking for a nearby, child-friendly beach to cool off on a hot Sydney summer day? We've compiled a list of our favourite child-friendly beaches within easy reach of the North Shore. Beaches where the waves are mild, there are nearby playgrounds, toilets and refreshments! 
---
Getting the kids out and about for a fun-filled day at the beach is no easy feat. We asked our North Shore Mums where the best child-friendly beaches on the North Shore are. Check out the links below to jump through the beaches:
Best child-friendly beaches on Sydney's North Shore
Balmoral Beach
Balmoral Beach has lots to offer families and is a fabulous child-friendly beach on Sydney's North Shore. There's a fab playground, lots of cafes and restaurants, a long promenade where kids can ride bikes and scooters, lots of grass for picnics or eating take-away fish & chips, toilets and showers.
There is metered parking on The Esplanade, or free street parking in the side streets (easy during the week, but very busy at the weekend!).
'Enclosed pool, great sand for castles, good playground and most importantly, GREAT coffee at the boathouse or bathers!' – Tess.

'I love going to Balmoral during the week. It's so quiet and peaceful! A great place to meet up for play dates' – Caroline.
Clifton Gardens Reserve
Clifton Gardens is a stunning spot, any time of the year! You can take a dip in the waters of Chowder Bay, run around on the huge grassy reserve, have a picnic or cook a BBQ and the kids can burn off some energy in the playground. Coffee and ice creams can be purchased from the little cafe on the left (as you look out to the harbour).
'I can't believe I've been living in Sydney for almost 20 years and only just discovered Clifton Gardens! I'd never even heard about it until a year ago. Now we go there whenever we get the chance.' – Charlotte.

'Clifton Gardens is a favourite location for us. Parking is quite expensive, so I usually park up on Morella Road. It's only a five minute walk, and saves about $16. When I go with my hubby, he drops me off at the reserve with the bags and kids, and then heads back up the hill to park the car.' – Kate.
Greenwich Baths
With spectacular harbour views, fresh food at the cafe and a relaxed environment, the Harbour's pleasant waters are ideal for swimming and the facilities at Greenwich Baths cater for everyone from toddlers having a splash to a lap swimmer enjoying their training.
Greenwich Baths is nestled on the tip of Greenwich Point, with spectacular harbour views including Cockatoo Island, Iron Cove, Balmain and the Sydney CBD skyline. The Harbour's pleasant waters are ideal for swimming and the facilities at Greenwich Baths cater for everyone from toddlers having a splash to a lap swimmer enjoying their training.
Casual entry is $4.60 adults, $3.60 children. Click here to go to the Greenwich Baths website.
'It is a little harbour beach that is actually privately run; it costs a couple of dollars entry, but it is very sheltered, lots of shade, a shark net, lifeguards, a kiosk with good coffee that do great little lunch boxes for kids, beach toys provided, and half decent amenities. They even have a Nippers program.' – Natalie.

'Our favourite beach on the North Shore is Greenwich baths because it is safe, has community sharing toys all over the beach and cafe for mum. Beautiful little hideaway' – Kendall.
Northbridge Baths
The Northbridge Baths are unsupervised tidal baths set within the stunning Sydney Harbour foreshore. The popular baths boast a sandy beach surrounding and are set within the native bushland of Middle Harbour. There is a BBQ, picnic area, change rooms, toilets, hot showers and parking.
'Free entry, free hot showers, free parking, always clean, netted swimming area and local. At high tide there is no sand area so if taking toddlers you need to check the tides. For older kids this isn't a problem. Cafe only open Saturday when swim club runs from 8 to 10 (cafe open outside these hours but not sure how long).' – Jane.
Brooklyn Baths
Just 20 minutes' drive from Wahroonga via the M1, Brooklyn is a beautiful spot to take the kids for a splash. If you like Fish and Chips, you'll find plenty of take-away and dine-in options available. There's a small, netted beach, the Brooklyn Baths on the banks of the Hawkesbury River which is great for a splash, nearby toilets, picnic shelters and BBQs, and an enclosed playground.
'Not officially a beach but has sand, water, only small area to supervise (especially good with toddlers) and a park and amenities close by as well.' – Kristina.
Best child-friendly beaches on Sydney's Northern Beaches
Clontarf Reserve
Clontarf is a fabulous child-friendly beach within Sydney Harbour. There's a lovely netted, calm swimming and splashing area for children. Parents can either get in on the action on the sand, or supervise from the grass or a bench.
There's a huge, shaded playground with equipment for children aged 1-12 years, BBQs, toilets and a café for sandwiches, coffee and ice creams. The only negative is that parking can be quite expensive (approx. $10 for one hour, or up to $40 for a whole day), though you can park two minutes' walk away in the nearby streets for free. It's a stunning location, right on the foreshore of Middle Harbour.
'No waves, huge play area that has a massive shade cloth over it, no matter what time you go there will always be shade! Oh and coffee! Haha' – Rach

'Clontarf is our favourite harbour beach. It's ideal for kids as there are no waves.' – Suzy
Manly
There are lots of kid-friendly beaches in Manly – Shelly Beach, Little Beach and Manly Cove (next to where the ferries come in) all have lovely, calm areas which are ideal for kids. Or if you want to get the real beach experience and battle with the day trippers, Manly Beach is another option!
Find out more about Manly beach
'Shelly beach in Manly! It's a sheltered cove, BBQ and picnic area, kiosk and it's teeming with marine life which makes it perfect for snorkeling.' – Caitlin.

'Little Beach is such a beautiful spot, and only the locals seem to know about it! Lovely, netted swim area, café, toilets and swings. Free street parking too.' – Sophie.

'We love hanging out at Manly Cove. It's a really popular spot for parents with babies and toddlers. You're right near the action of Manly, so close to all the cafes and shops. Plus, you get two hours free car parking in the Council Car Parks' – Lisa
Dee Why Beach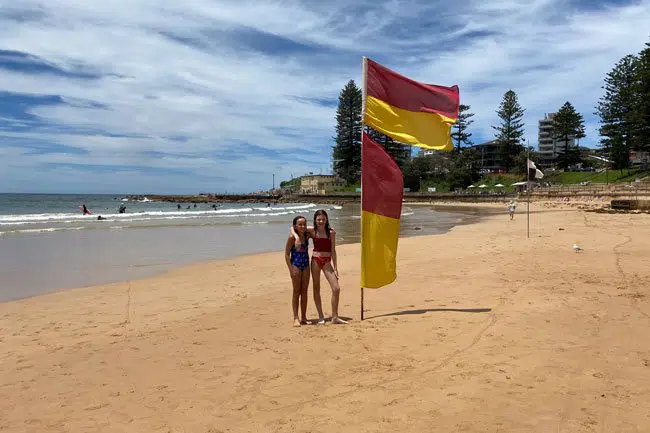 Dee Why has lots to offer… a proper sandy beach (with waves), two ocean pools, two playgrounds (one by the beach, one behind the surf club), plus lots of fabulous cafes along The Strand. There's free 2-hour parking on nearby streets, and also a metered car park by the Reserve.
Find out more about Dee Why Beach.
'I love that there is lots of sand for the kids to play in, and that you feel like there is loads of space. It's a proper beach! Also like the fact that parking is pretty chilled and even I you are a bit of a distance away, it a nice easy flat walk. After all that play, you can then enjoy a lovely lunch at a nice restaurant.' – Victoria.

'Dee Why is great anytime of the year. It's less than 30 minutes' drive from us in St Ives, and particularly beautiful in the morning before it gets too busy. We usually go to the beach playground first, then head to one of the cafes for breakfast. On Shore is our favourite, as they have lots of toys at the back of the restaurant'. – Melanie.
Collaroy Beach
Located between Long Reef and Narrabeen, Collaroy is another suburb on the northern beaches which is very family-friendly. Little kids particularly love the rock pools.
'Parking is free and readily available on Birdwood Ave and Beach Road just next to beach; you can always find a spot. Playground just next to beach (needs renovated but it will be soon, just finished renovating car park and area around beach), two ocean pools (one large one and one kiddie one), rock pools which are just fantastic at low tide, still enough beach to build sand castles by the rock pools or by the 'main' beach, loads of restaurants, cafes, bars, bakeries around – especially RSL and Baker Caker Coffee maker, easy to go for a decent walk around Long Reef, we never go anywhere else!' – Mary.
Winnererremy Bay, Mona Vale
Just 20 minutes' drive from St Ives, Winnererremy Bay in Mona Vale has everything you need for a fun family day out! It's one of the best child-friendly beaches on the North Shore. There's a quiet harbour beach which is ideal for spot to have a splash about, as well as a huge grassy area, bike track, BBQs and large shelters, awesome playground suitable for toddlers up to older kids and walking track around the harbour. It's also has the fabulous family-friendly Flying Fox Café, which is a great spot to pick up a take-away coffee or ice cream, or to dine in for breakfast or lunch.
'We always make sure we pack swimmers and towels when we go to Winnereremy Bay… after a session in the playground and refreshments in the cafe, we invariably head to the beach for some fun in the water. It's really calm, and my two-year-old just loves it' – Sally.

'During summer, we go to Flying Fox Cafe every couple of weekends. It's honestly the best park I've ever been to, and has everything you could possibly need.' – Annabel.
Child-friendly beaches on the Central Coast
If you live near Wahroonga, the beaches on the Central Coast are easy to get to via the M1 (and don't take longer to reach than the Northern Beaches!). There are lots of lovely child-friendly beaches not far from the North Shore to try – Terrigal, Avoca and The Entrance are all fabulous spots with lots of amenities.
'We do the hour drive up to The Entrance whenever possible. The reasons are endless. Rockpools for seashell hunting, and a beautiful, manned beach 300m walk away for the older kids. The town centre is within 5 mins walk with a toddler water play area and plenty of fish and chips shops. The other week we packed the car for a day at the beach and when we got there, we ended up watching a street performer and his dog then off for ice-cream and home. A lovely day out and no traffic!' – Kerry.

'Just 50 min drive from Hornsby: Terrigal for its huge beach, the big lagoon for the kids, many cafes and restaurant and we usually finish the day with a fish & ship in the park dominating the sea.' – Roxanne.

'Avoca Beach is a favourite for our family. We usually head to the estuary bit, as it's really calm. It's quiet and very laid back!' – Rebecca.
---
Want more fun in the sun?