I feel like every child makes the transition in their life when they move on from babycinos and discover the wonders of delicious, overflowing, topped-with-treats milkshakes. There are some amazing creations right here on the North Shore, so next time you are looking to spoil the kids (or yourself), put these cafes on your list in your hunt for the best kids' milkshakes on the North Shore.
---
If you are watching your waistline, now is the time to look away. I promise that once you catch your eye on some of these beauties, you aren't going to be able to help yourself! Use our quick links to jump through the cafes, or perhaps you want to visit them all for a bit of market research? Here are our picks for the best kids milkshakes on the North Shore:
---
1. The Incinerator, Willoughby
The Incinerator is a great, kid-friendly cafe that has plenty of space for kids to run around. The cafe itself is housed in an iconic incinerator building in Willoughby, with plenty of delicious food. Hallstrom Park is just a minute away, so you can stop in for a milkshake (and a coffee) before or after a play. Their milkshakes are delicious! They may not look as fancy as some of the other options out there, but the are stuffed full of Tim Tam goodness. Yum! The adults ones are huge, so definitely go for the kid's option.
2. The Wilkes, Artarmon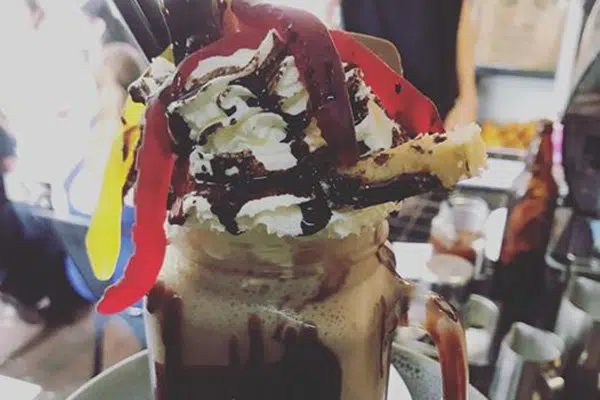 Whipped cream, chocolate sauce, salted caramel slice, giant mugs and lolly snakes… does it get much better than this? The Wilkes certainly know how to deliver when it comes to their famous milkshakes. Your kids will be delighted! Choose from this amazing Tim Tam Milo shake or check out their Nutella shake, and make sure you save room for some of their homemade treats.
Address:

7 Wilkes Avenue, Artarmon

Website: Facebook
3. Chalkboard Cafe, Gordon
If you're after good food and delicious milkshakes, then you are in for a treat. Each dish at Chalkboard Cafe in Gordon comes beautifully presented, decorated with edible flowers and completely Instagrammable. Their milkshakes are no exception. Choose from an array of delicious flavours, with  crushed Tim Tams, ice cream, wafers, fairy floss and more adorning the top. You will have zero regrets with this one!
4. Vogue Cafe, Macquarie Centre
Couldn't get away without giving this cafe a mention, aside from the amazing milkshakes, which we will get to in a minute, but it has a fabulous enclosed play area for little kids with plenty of toys to keep them entertained. You might even get to enjoy a coffee in peace! Now, onto the shakes. Your eyes will pop when they see these amazing creations. The kid's milkshakes come with Persian floss and chocolate on top, while the adults can opt for a Super Shake delight. Their shakes are so famous they even published a book on it: 'Decadent Shakes (milkshakes and more)'.
Address: L

evel 2 Macquarie Shopping Centre, outside Myer & Country Road!
5. The Missing Piece, Macquarie Centre
As you can see, Macquarie Shopping Centre is clearly a great place to stop and grab a milkshake. Jaws will drop when this amazing creation comes out, topped with M&Ms, biscuits and chocolate. As you can see from the photo evidence above, there is plenty of choice, and each one is just as delicious and incredible as the next. Good luck choosing!
6. Pottery Green Bakery, Turramurra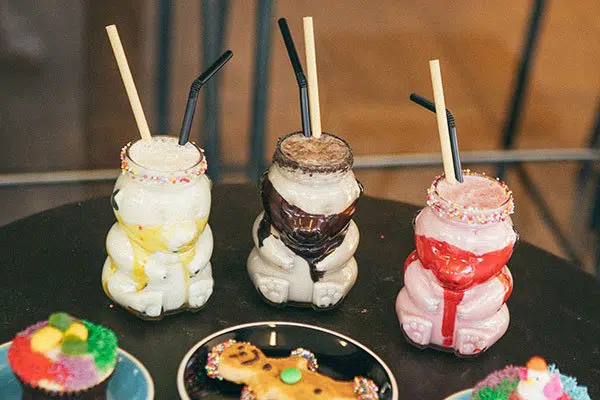 Teddy bear cups, lots of topping dripped throughout and sprinkles – how can you go wrong. These are the perfect kid-sized milkshakes that are a little more understated than some of the others out there, just in case you were after a smaller sugar rush. They are conveniently located in the row of shops at Turramurra, where you can park right out front. You can even grab one to go and take it to one of the nearby parks.
7. Sourdough Bakery, Hornsby
The fabulous cafe in Hornsby has both indoor and outdoor seating and is conveniently located near the iconic Fountain. I'm not going to lie, these milkshakes are the sharing variety and it is best to start with one and just grab a few extra cups! Their Nutella Shake comes topped with a cronut, just to fill you up even more. You can also choose from the Caramel Smash and Strawberry Jam Slam, and thankfully, there are kiddie milkshakes too for something a little smaller! They also have a fabulous food menu that is worth checking out.
Address: Westfield Hornsby, opposite the fountain
Website: Facebook
8. Wild Pear Cafe, Dural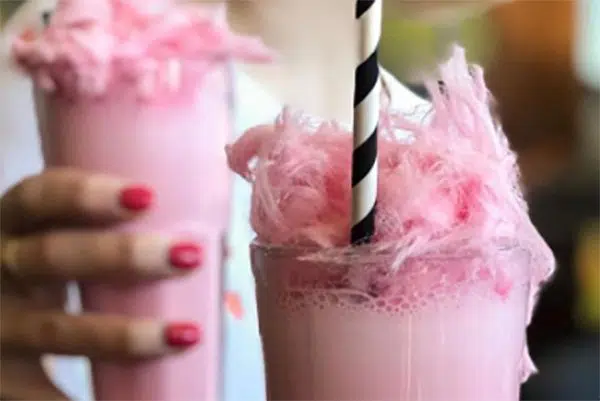 If you are after something a bit different from the chocolately overload varieties on offer at some of the other cafes, then treat yourself (and the kids, of course) to a trip to Wild Pear Cafe. These Rosewater Milkshakes not only look pretty, but taste amazing, topped with fairy floss just to complete that all-pink look. They have more to choose from on the menu and their food is just as spectacular, so make sure you visit them on an empty stomach.
9. The Choc Pot, Burwood
So this one is Inner West (not North Shore), but it deserves an honourable mention if you're heading out that way. This place is incredible! The creations they come up with can be likened to walking into the Willy Wonka Chocolate Factory – but beware, your children will want everything on the menu. Who can blame them! Pictured above is their sour cherry panna cotta, fudgey chocolate, cherry ripe-blended milkshake. Mouth drool! And they have plenty more options for you to choose from.
10. Warnies Railway Cafe
It's definitely worth the drive to the Central Coast to visit this incredible cafe. Be sure to try their the Gaytime Crazy Shake, by far the most popular of all their crazy shakes. It's a Caramel Milkshake, an entire Gaytime Ice-cream, Cream, Biscuit Crumb edge, Crushed Honeycomb and Caramel Syrup. Decadence at the next level!
---
Know any other great cafes on the North Shore that serve up delicious milkshakes for kids of all ages? We would love to know! Please leave a comment or get in touch.
---
More fun dining ideas around Sydney's North Shore: