Lindfield Soldiers Memorial Park in East Lindfield opened in January 2020, but lockdown delayed families from visiting for a play! Now this cosy (but jam-packed park) can be added to your must-visit list!

---
Lindfield Soldiers Memorial Park is a new and popular park that contains play equipment suitable for all ages and abilities. The playground consists of a multi-swing set, trampoline, voice tubes plus a combination play unit – all designed in consultations with locals. It also has an electric barbecue, flying fox and plenty of parking. Our North Shore Mums Discoverer Laura and her kids went to check it out! Here's her take on the new Lindfield Soldiers Memorial Park.
Remember, we're still little way from completely easing COVID-19 restrictions in NSW, but from last Friday 15 May, North Shore parks are open for play once again, much to the excitement of our kids, who love outdoor spaces to explore.
Although we have the swings and slides back, this doesn't mean the end of social distancing. Be sure to read the new rules to comply with, and then scroll down for some suggestions of where to spend your weekends. And remember, do not go out if you're sick and maintain physical distancing.
Lindfield Soldiers Memorial Park: Our review

The playground joins a list of North Shore parks open for play, the new playground playing host to a range of equipment in a small setting- actually, an enormous amount for the limited space! The clever use of the area and range of equipment easily kept my kids entertained for a good couple of hours and suited both my kids (An 18-month old and my 4 year old).
The Playground & Equipment

The playground area is equipped with softball rubber, which I find much cleaner and more toddler-friendly than loose bark chip (much easier on little knees and elbows, too!). The playground has plenty to play one, with a combination play unit as a central feature. This offers netted climbing, a slide, musical elements plus a classic undercarriage of swing doors and counting pieces beneath the slide section.
My 19-month-old loved everything on offer and could manage everything but the net climbing structure linking the stairs, and the slide which is aimed at slighter older children (although she was still totally game to try -she is very adventurous!).
The first thing that grabbed my 4-year-olds attention was the Flying Fox next to the playground. If you're on your own with more than one child, it might be difficult to supervise them all in the different areas-  luckily, I had Grandma visiting so we could split up between the park and the Flying Fox. Note as well, whilst the playground is set amongst nature, it is close to Tryon Road near Eastern Arterial Road, and is only partially fenced. So those with "runners" or "explorers" should be aware and stay alert, or perhaps set up camp next to the open fences or rocky edges where the risk is limited.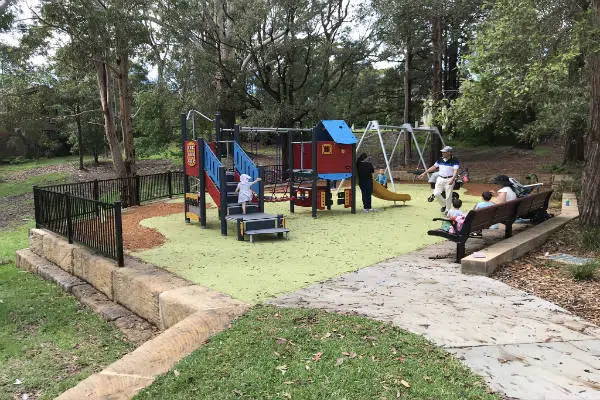 Picnic spots, shelter and facilities
Not only does this park boast new and inviting equipment, it also hosts an electric barbecue and several picnic spots so bring a Bento Box or some snags for the barbecue and make a morning of it. Much to my 19-month-old's delight, there is also a drinking water tap, or water play in her eyes!
There are no cafes nearby, but "Deli in the Park" and a Bakery are only a couple of minutes away on Hughes Place.
There are toilets a little further down the track (behind the oval) which is hugely convenient for those urgent moments! If you  supervising solo, or have multiple kids with you, you may want to take everyone to the toilet at once as they're not in view of the playground.
Lindfield Soldiers Memorial Park: Our review
This park offers something for everyone with ample free accessible parking, plenty of equipment and toilets on site. Whilst it is small, you could easily spend a morning here or stop by for a run around on a long road trip home or away and with cafes not far away and the option to BBQ there are plenty of options to extend your time here.
Essential Details
Facilities:
Toilets (on track behind playground)
BBQ facilities
Sheltered picnic tables
Bubbler
Essential Details:
Address: Tryon Road, East Lindfield
Getting there: Parking on site is available (with spaces directly at park)
Facilities: Behind the Oval
Nearest coffee: 10 minutes walk away (2 minutes drive)
What to bring: Picnic or snags for the BBQ and a change of clothes if your little one likes water play!
---
More parks and playgrounds we love: