Looking for some stunning natural outdoor spaces and parks to explore with your family? One of the fantastic things about living on the North Shore is the abundance of outdoor space available to explore, play and relax! So pack a picnic, and enjoy a day in the great outdoors. 
---
1. Ku-ring-gai Wildflower Garden, St Ives
Address: 420 Mona Vale Road, St Ives
There's lots to explore at Ku-ring-gai Wildflower Gardens – pram-friendly walks along cement pathways through beautiful bushland, more advanced bushwalks, a big playground, picnic tables, toilets, free parking, and just so much space for your children to run and play.
2. Wendy's Garden, Lavender Bay
Address: Lavender Cres, Lavender Bay
This beautiful public garden is a hidden gem for North Shore Mums living on the Lower North Shore. Wendy Whiteley (who first moved to the area with her late artist husband Brett in 1969) transformed this once railway garbage dump into the stunning garden it is today, located below Clark Park and currently leased to the Council for public use. This is a great place to let your children run and explore the gardens while you soak up the spectacular Harbour views. Entry is free.
Kirribilli Club is nearby if you want a spot of lunch and there is metered parking available.
More information: Wendy's Secret Garden website
3. Clifton Gardens, Mosman
Address: Morella Rd, Mosman
This beautiful waterfront park is the perfect place to spend a lazy Sunday. With picnic tables and lots of grassed areas you would be hard-pressed to find a better place for a picnic lunch. If you're in need of a coffee, you can walk over to Bacino Kiosk which is at the end of the beach, but it is not pram friendly as you need to cross the sand to get there. There are pubic toilets with showers which are great to use if you decide to go for a dip in the shark-netted bay.
If your children love a game of basketball, make sure you bring your ball along as there is an outdoor court. There are some great climbing structures and swings as well as paths perfect for scooting! There is plenty of parking, but it's pay and display.
Want more? Read our Clifton Gardens review.
4. Brennan Park, Wollstonecraft
Address: Hazelbank Rd, Wollstonecraft
Brennan Park abounds in mature trees, ideal for summer shade, along with beautiful meandering rockery gardens. The children's playground has a 'fantasy garden' theme and is sheltered under a sprawling fig tree. There are also seats, picnic tables, a water fountain and toilets.
5. Swain Gardens, Killara
Address: 77 Stanhope Road, Killara
Swain Gardens is three hectares of expansive gardens for children to explore and enjoy. There are toilets and barbecues making this a great spot to enjoy a picnic lunch and relax while your little ones roll with the magic of the gardens. Find out more about Swain Gardens.
6. Eden Gardens, Macquarie Park
Address: 307 Lane Cove Rd, Macquarie Park
Eden Gardens has over two acres of mostly pram-friendly beautiful gardens, chickens, water features, fruit trees and a mini-dam. There is also a small kids' playground, plus a cafe so you can grab a coffee or lunch! Eden Gardens website.
7. New Leaf Nursery, Ingleside
Address: 224 Powder Works Rd, Ingleside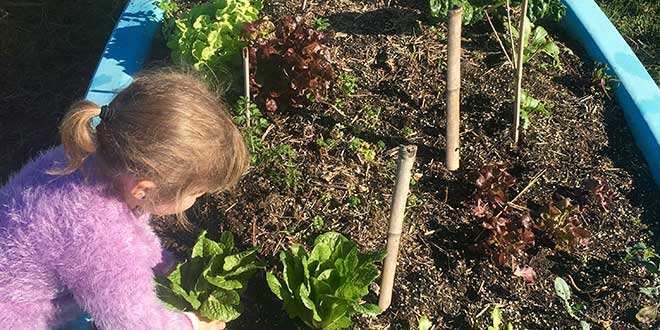 New Leaf Nursery is a charming nursery in Ingleside, that sells more than just plants! It's a great outdoor space to explore, with guinea pigs, chickens and a kids' petting zoo (with hand washing station). At the back of the nursery is a zone built specifically for kids with teepees, sensory plants, chicken coup and more guinea pigs. There's even a piano to play. This nursery is a great spot to get a coffee, some plants and give your kids a chance to explore. Find out more in our review.
More information: New Leaf Nursery website
8. Fagan Park, Galston
Address: 38-48 Arcadia Rd, Galston
This 55 hectare park is full of outdoor spaces for your children to explore and run off some energy! The 'Garden of All Nations' was a highlight for us with a garden representing each continent, which thrilled my son as we explored all the different plants. There is also coffee available to keep the adults happy as you stroll through these pram-friendly gardens! And there are toilets everywhere you go.
The paths are perfect for riding a scooter or bike and the picnic tables are a great place to stop for lunch or just to relax if your children find a part of the park they wish to spend more time in. A giant playground resides next to the coffee provider and car park. Parking costs a flat fee of $5. Fagan Park review.
9. Berowra Waters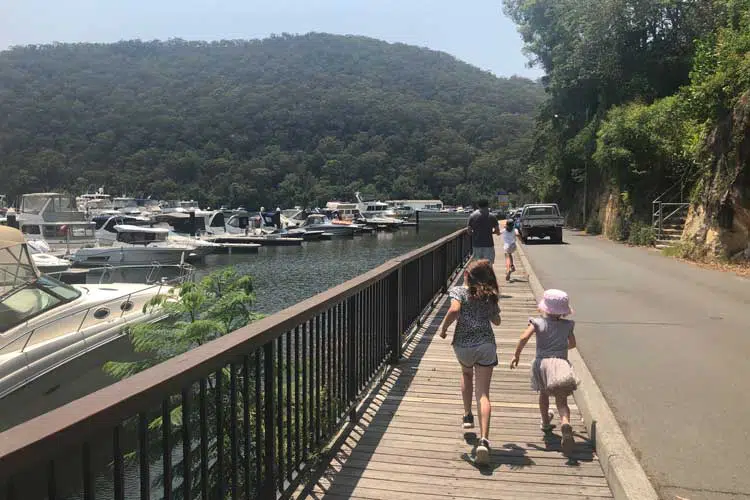 Just a 20 minute drive from Wahroonga, Berowra Waters is a quiet & peaceful boating oasis. Drive down the windy road from Berowra to Berowra Waters – and either park your car and hop on the ferry, or drive onto the ferry. It's a short 3 minute ferry ride to the other side (Berillee). Here you'll find a cafe serving great coffee and delicious meals, a small convenience store (for ice-creams, fishing needs & wine!), a boating marina and a pirate-themed playground. There's also beautiful bushwalks (part of the Great Northern track).
10. Bobbin Head
Address: Ku-ring-gai Chase National Park, Bobbin Head
Bobbin Head is a beautiful outdoor space on the North Shore to visit with your family. There's a huge playground (on sand, no shade), a couple of cafes, lots of open grass to run around, ducks, and plenty of walks for people of all ages and levels.
Enter either via North Turramurra (at the end of Bobbin Head Road) or via Mount Colah. It's about a 10 minute drive past the main entry gates. Parking is $12 per vehicle per day. More details.
---
More Parks & Playgrounds around the North Shore