Sydney's newest indoor ninja warrior course has opened its doors at Moving Bodies at Mt Kuring-gai on Sydney's upper north shore. NSM Discoverer Clare Mathie's girls took up the challenge and conquered the huge range of obstacles.
---
My two girls Lucy, 10, and Alice, 8, were happy but exhausted.
"I loved it, Mum. Five Stars," my eldest exclaimed.
"Me too. It was the best," chipped in Alice giving me a high-five.
They had just successfully tackled the indoor ninja warrior course that's been newly set-up in a 1000 square metre complex at the Moving Bodies Centre.
Ninjas get
ready 
Earlier, when we arrived – the entry door is via the steps to the complex's ground floor – I signed consent forms (also available online) at the reception desk before we joined a group of other participants for the compulsory safety briefing.
The Centre's operator Bec cheerily explained the course and a few simple rules:
There are at least 24 different obstacles in the ninja course, plus four warped walls of different heights, a pegged wall and a parkour area
Participants can jump to reach obstacles. If a child can't reach an obstacle don't lift them up – it's been designed for adult use.
No shoes are allowed on the ninja course, but participants need to wear closed shoes (sneakers) and socks while using the warped walls.
And, parents need to supervise their children. Moving Bodies' coaches will also be on the course to help participants.
Bec challenged the kids to "show their muscles" before they headed to the course!
On your mark, get set and go
The girls were ready for the challenge.
They first tackled The Spider Wall where they stretched their legs against two Perspex walls and inched their way up the sides.
Then they aimed to climb the floating doors – nicknamed The Cheese – which are suspended from the roof and swing forwards and backwards.
This was Lucy's favourite obstacle and she was ecstatic when she mastered it!
Next was a series of floating steps and swinging logs which the girls tried to leap across without falling off.
It was then on to monkey bars and rings – with the greatest challenge being able to hold on before dropping to the (padded) floor.
And, they also clung to swinging "Dynamite Bags", clambered up rope ladders and a cargo net.
At the end of the series of obstacles are four warped (or curved) walls which are 6-foot, 8-foot, 10-foot and 12-foot in height. Kids run towards one of the walls and need to use their strength to climb to the top. The Moving Bodies' coaches supervise them and offer helpful tips.
This was Alice's favourite and was thrilled when successfully reached the top of the 6-foot wall.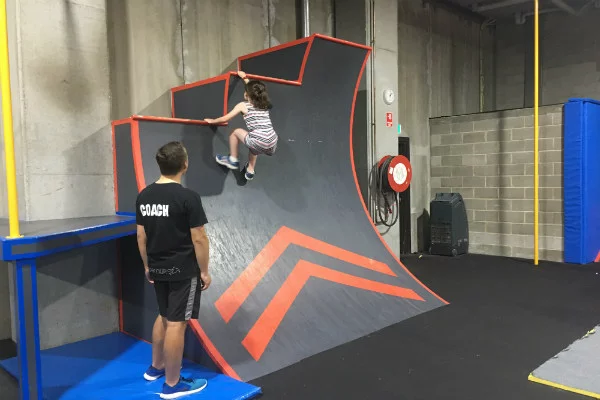 In fact, Bec says some the contestants set to star in the next season of the ninja warrior TV show are training on the tallest warped wall.
There's also a parkour area where kids can run, jump and climb obstacles set-up like city buildings, plus there's a pegged wall to climb too.
The girls had a blast during their hour-long session and are keen to return in the school holidays.
Essential Details
Age: The course is designed for children aged from 5-plus. Adults can also complete the course
Cost: Casual entry (after school, on the weekend, and school holidays) is $20 per person.
Session Times: There is a 15-minute safety briefing before each session. Participants then have the use of the course for one hour. The first session (on the weekend and during school holidays) is at 9.30am and the sessions run across the day. Sessions can be booked via the Moving Bodies website.
What to Bring: No shoes are allowed on the ninja course, but participants need to wear closed shoes (sneakers) and socks while using the warped walls. While there is a water bubbler, it's a good idea to also bring bottles of water with you.
Where to eat: There's an onsite café which offers a selection of food – including homemade pizzas – and hot and cold drinks. There are high-chairs in the café and a box of toys for children too young to participate in the course.
Address: Cnr Marina Close & Hamley Road, Mt Kuring-gai NSW 2080 (about 10 minutes north of Hornsby)
Phone: (02) 9457 7732
Website: movingbodies.com.au
Want more Events, Parks & Playgrounds? Browse our dedicated section in Out & About.