Does your child have a birthday coming up, and you're struggling for ideas to celebrate during Coronavirus self-isolation? You can still celebrate those big milestones from home, with a little creativity! With so many fun digital ways to make your child's party special, you can bring your family and friends together from around the world  – or around the corner. Let's get the party started and show your kids that physical distancing won't stop you having a fun-filled, extra memorable Coronavirus birthday.
---
1. Virtual Kid's Party
Whilst we are staying home during the coronavirus pandemic, why not throw a themed online party, hosted by your favourite character via live video stream? From Superwoman to Elsa, Spiderman to Star Wars, invite your child's hero into your lounge room – virtually. Here are just a few on offer…
Pistachio Entertainment are offering a Personalised Video Message where you get a recorded message customised for your child for any kind of celebration. Or choose a Live Character Virtual Party to delight your child with real time games, singing, dancing and more!
Superheroes Inc

 

have launched Virtual Zoom parties. With more than 180 characters on offer, you can choose your preferred format including an Interactive Party, Magic Show or a Dance Off with games, quizzes, storytelling and the Happy Birthday song! They offer 15, 30 & 45 minute options. They also offer a FREE Video Message with a character.
StarDust Kids

 

have also created a virtual party for kids and their families via live video stream. Get a unique party link and invite your 'guests' to join in the fun! The innovative and interactive 30-minute party includes a welcome show, birthday song and plenty of classic kids party games and activities, plus a personalised birthday video.
2. DIY Online Birthday Party
This is actually any parent's dream come true – a party without the mess! Organise your own online party with a video conferencing app like FaceTime, HouseParty, Messenger Video, Google Hangouts or Zoom.
To make your Zoom call even more special, you can create lots of fun virtual backgrounds on Canva from their easy-to-use templates.
You can still play party games like:
A disco! Get all your friends to request a song before the party and create a playlist on Spotify. Add in coloured lights, a disco ball and get dressed up to dance around your lounge room.
Musical statues
Scavenger hunt – get all guests to run and find something in their house that's cuddly (for example), and bring it back to the computer.
Get everyone to sing 'Happy Birthday' while you blow out the candles
The Slime Store can send all the guests a DIY Slime Park before the party, and you can hold the party on zoom.
3. A Drive-By Birthday Party
If your kids are desperate to see their friends in real life, organise a birthday convoy. Friends can drive slowly past your house within a dedicated time frame, while you stand out the front to wave and maybe have a quick (socially distanced) "hello". You could even ask them to throw a few decorations on the car for a bit of fun! A drive-by party is the perfect way to make your child feel special – and bring the neighbours out to join in the party too.
For safety reasons, this style of celebration is better suited to houses on quiet suburban streets.
4. Organise a personalised message from a celebrity
This is awesome! Kids will blown away by a personalised message from a celebrity through Cameo. Whether it's for a special birthday, gender reveal, good luck, an anniversary or any other reason, this is a really memorable way to make someone's day.
They've got thousands of actors, musicians, comedians, gamers and more waiting to record a message for your birthday boy or girl! Like Greg Paige (the original Yellow wiggle), Kellie Crawford (from the original Hi-5), The Umbilical Brothers or even Jesse Metcalfe (Desperate Housewives) for a girlfriend!
5. Movie Night
Have a virtual movie night with friends! Tell your friends to get in their pyjamas and grab some snacks, then watch your child's favourite movie from different lounge rooms, at the same time! Netflix Party synchronises your movie play and lets you chat with your mates while you're watching.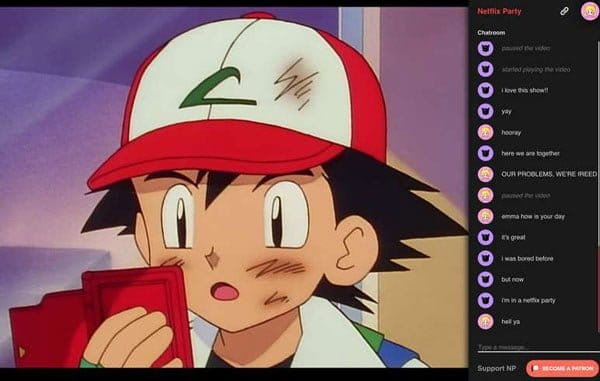 6. Deco
rate the house
Decorate the house with birthday cheer! Surprise them when they wake up to a house decorated with balloons, streamers and a big birthday sign. These DIY balloon garlands and party at home packs make it super easy to decorate with style.
You can even get the party delivered. Order a bunch of balloons, a box of cupcakes, or a delicious meal from their favourite restaurant delivered straight to your front door.
7. Make them a birthday movie with messages from friends!
Ask all your child's friends to send a video birthday message. You could interview them with funny questions about your child or compile a collection of their Tik Tok dances! Turn it into a little movie so your child can relive the birthday love from their friends for years to come.
If you want to get a professional video made, Remember When Family Films is a is a video and photo montage service (based in Pymble #supportlocal) for families who want to relive and remember their special moments. They use the video clips and photos from your phone to create unique family short films and videos. Each video has up to 1,000 photos and unlimited video clips. Find them in the North Shore Mums Directory.
8. Look at favourite family photos
Sit down together as a family and scroll through photos of holidays, birthdays and fun times you've loved. It's not often that we take the time to look back over the millions of photos we snap each day, so doing this together can be a really special moment on your child's birthday. It can also inspire some great ideas to add to your post-Coronavirus bucket list!
9. Action-packed party day at home
Forget work or home school for the day, and let the whole family have the day off. Plan an action-packed day of fun activities, games and party food at home! Hide and seek, baking, Twister, a treasure hunt and a backyard picnic will keep you busy all day.
10. Family pizza night
Ordering pizza is easy but getting together to make your own dough is a real memory maker. Kids love getting hands on with mixing, rolling and topping their own pizza and doing it together makes the pizza taste even yummier. Here's an easy recipe for the dough and you can even set the table with decorations that fit your party theme to make it extra special.
Finish off your day with a slice of leftover cake and mark this birthday down as one you'll never forget!
Thanks to Rachel Green from Shine Copy for collaborating with us on this article! Follow Shine Copy on Instagram.
---
Want more fun things to do at home with kids?