If you are after a fun-filled day with the kids, the Australian Reptile Park has it all. From creepy crawlies of all kinds, to kangaroos you can feed, snakes to pet (yes, you read that right), tortoises to follow around and dingoes you can have a howling competition with… but the selling point: it is SO hands-on for kids. Wahroonga mum Felicity Frankish took her three children to try it out.
---
We all know that when it comes to kids and walking, everything can very quickly turn into a battle. One of the best parts about the Australian Reptile Park is that everything is close. While you can of course go at your own pace, it isn't an overly huge park. It is easy for even the littlest feet to make it around on their own, and I found my double stroller was a waste as my two year old walked everywhere.  But note that it is also very easy to get around with a pram (even a bulky one like mine).
Exploring Australian Reptile Park
We have been to the Reptile Park twice before (and loved it every time). But it is amazing how much you can miss going from one animal to the next. This time we went first thing in the morning (arriving at 9am) and the park was empty. We took our time going around and it's amazing how many new things we came across on this visit.
There are plenty of buttons hidden in plain site around the place for you to press and discover new things. For example, the tree outside the nocturnal house has a snake, owl, and many other animals popping out from its hollows on the press of the button. The importance? To show kids just how vital our trees are – even the oldest ones. Once your little one realises there are so many hidden gems if they take the time to look, it becomes an even bigger adventure (and in some cases, competition) to find them all.
Hands-on Activities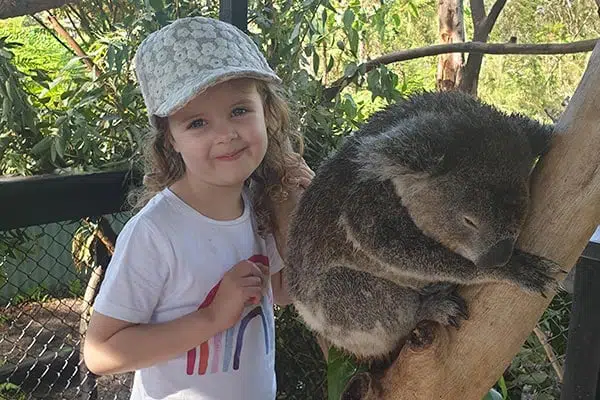 So how can kids get hands on at the Reptile Park? Firstly, there are plenty of shows to keep them entertained. Here are some of the gems you can catch:
Funnel-web spider milking
Dingo walk
Reptile show
Tasmanian Devil Talk
Koala feeding
Lorikeet feeding
On the weekends you also have:
Alligator feeding
Venom show
Crocodile feeding
After the reptile show, you can purchase tickets and get up close with the animals for a photo. My toddler loved being able to hold a baby crocodile, and was all too keen to buddy up with the python (me, not so much).
They have a lovely tortoise who also likes to wander the grounds, allowing you to get up close and give him a pet. If you are lucky, they also bring out their giant python for a walk on the grounds and you can come right up and pet him.
You can then stop for lunch with the Kangaroos, although be warned, you do risk losing your food to the emus nearby – on a positive note, my pram got the best clean it has had in months with all the food scraps getting picked off. You can purchase feed for the kangaroos there are well, and get as close as you like to them.
Don't forget to make your way up to the spider and reptile enclosures at the top. They not only have plenty to see, but lots to do as well. You will love getting greeted by the friendly dancing spider before making your way in to see the (not-so-friendly) giant spider – though he may make the little ones jump. The walls are full of fun facts for kids to soak up, with plenty to press and play with as well. A highlight was Incy Wincy Spider playing on the way out, where you can watch him climb up the wall to the song.
The Science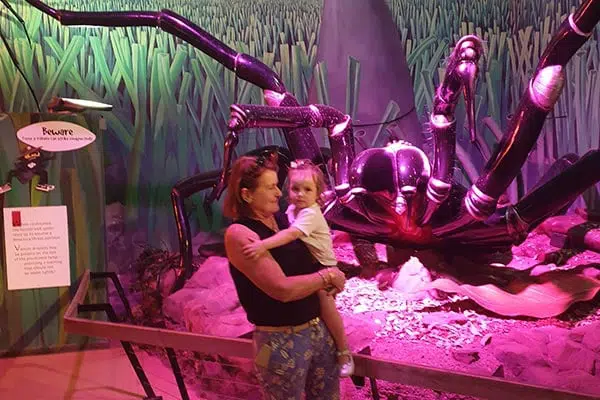 It is hard not to fall in love with the work they do at the Australian Reptile Park. One of the great things they do at the park is collect the venom from the deadly snakes and spiders, which is then used to manufacture anti-venoms to save humans who get bitten. The Australian Reptile Park is the sole supplier of venom for terrestrial snakes and funnel-web spiders in Australia. They regularly milk from than 300 snakes and 500 spiders at the Park.
Playground time
We all know how much kids love a good playground – the Australian Reptile Park's playground is one of the best. It is really big and has something for everyone. It's the perfect chance for you to stop, revive, survive, while the kids burn off any excess energy they have (honestly, where do they even find it?). The playground is also conveniently located close to the food and toilets, making it the perfect pitstop for the day.
The canteen there is full of plenty of food options for you and the kids, including hot chips, meat pies, sausage rolls, sandwiches, drinks and plenty of lollies. There are also plenty of bbq spots around so you can bring your own food from home and set up a picnic as well – just remember to keep the food away from those emus!
Transport and Parking
The Reptile Park is located just off the M1 Pacific Motorway, making it very easy to get to via car. There is plenty of onsite parking available, with wheelchair/pram friendly access.
Gosford Train Station is the closest rail link to Australian Reptile Park, but there are no bus services from Gosford train station to Australian Reptile Park.  Uber or a local taxi company can transfer you to the park from Gosford Station.
Reptile Park Pricing
If you are making the trip, I highly recommend turning it into a day out. This is so easy to do with all the activities to keep little one's busy. Australian Reptile Park has updated their annual passes! They've lowered the prices and, for a limited time, have extended them for unlimited entry until December 2021! 
| | | |
| --- | --- | --- |
| Admission | General | Annual |
| Adult | $39 | $99 |
| Child (3-15 years) | $21 | $60 |
| Senior (+60) | $29 | $80 |
| Family Pass (2 adults, 2 child) | $105 | $250 |
| Single (1 adult, 2 child) | $75 | $170 |
| Extra child on family pass | $15 | $49 |
Review: Australian Reptile Park Overall
I can't rave about this place enough. It is one of the best places to take kids as it is so hands-on. My kids are all under the age of five and this place has so much to offer them already, the biggest benefit is just how close they can get to the animals. As they get older, there is so much for them to learn and do, taking in a whole new experience on our visits.
If you check them out in the holidays, they often have extra activities running, so be sure to be on the lookout for these. My kids have enjoyed face painting in the past.
Reptile Park: Essential Details
Address:Pacific Highway, Somersby NSW 2250
Open: 9am-5pm everyday of the year, 7 days a week, except Christmas Day.
Phone: (02) 4340 1022
---
More local fun