The hottest new dining destination on the lower North Shore is finally open! Acre Artarmon is a stunning farm-food inspired bakery, café, bar restaurant and greenhouse-style space, and it's now open! Finally we are able to explore the sprawling indoor and outdoor productive gardens. Adjacent to HomeHQ Artarmon, the open-air oasis encourages guests to wander through, touching, smelling and viewing the growing produce.
---
Acre Artarmon is open! Will it be a table amongst the hydroponics, under the terrace pergola or perhaps nestled in a restaurant booth? Or will you swing by for freshly churned gelato, a brew and and a bunch of flaky house-baked treats? Maybe enjoy mid-week brunch (best in the new plant-filled atrium cafe)?
Acre Artarmon's fresh herbs, flowers and fruit (grown onsite) will be used to produce delicious artisan bakery products; feature in café, restaurant, weddings & events menus; and used in homemade pizzas, garden-inspired cocktails and friendly beverages.
Acre Artarmon aims to engage, educate and inspire people to talk about sustainability through offering unique experiences from guided tours, chefs' demonstrations, long table lunches, meet-the-maker tastings, twilight gardening, produce markets, kids programs and more.
What to expect from Acre Artarmon:
Local and exotic fruit trees

A kitchen garden

Vertical plantings and hydroponic growing systems

A large greenhouse-style

function space

Planted pergolas with strawberries and bougainvillea,

Picnic-style areas

Kids' playground

Chicken coop and composting
Run by the team behind acre Eatery (Camperdown) and acre farm & eatery (Melbourne), the Artarmon venue is designed by Emilie Delalande of Etic, the interior designer behind Barangaroo House, and ex-team leader at Akin Atelier for Coogee Pavilion.
Luke Heard, acre director, says: "Like many, we've found navigating through one of the toughest periods we have ever faced to be extremely challenging. acre Artarmon represents a rebirth and emergence out of this challenging time. We hope that with its sprawling outdoor, open-air, and spacious areas, combined with new and exciting food and agritourism experiences, acre Artarmon will offer a place to connect and reconnect for us all."
Three dining options at acre Artarmon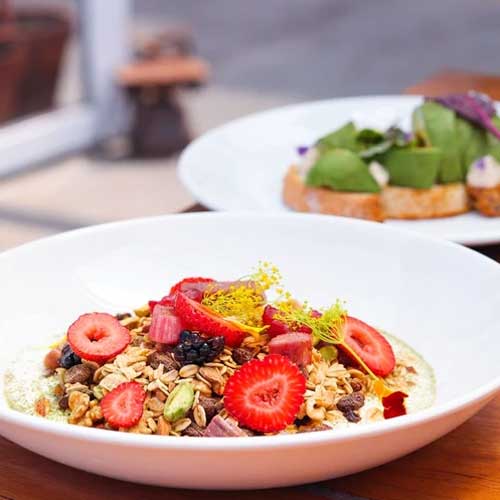 Acre Artarmon has a casual all-day cafe bakery, which features a fresh, healthy and largely plant-based menu, great coffee, eat-in and to-go items, freshly churned gelato and shakes, cakes, sandwiches and more, utilising seasonal ingredients grown in the gardens.
Guests are invited to order through their phones, eat-in the atrium, wander or sit amongst the greenery in the plaza with food and drinks, or take something back to work or home for later. 
​Opening Hours: 

Mon – Sat  7am – 5pm | 

Sun 7am – 3pm

Bookings are not required.
acre Italiano Restaurant
The signature acre Italiano restaurant provides a destination dining experience for visitors. Taking in views of the beautiful gardens and terraces, it features unique Italian farm food menu utilising seasonal ingredients grown onsite.
Opening Hours: Thursday 4.30pm – 10.30pm | Fri 12pm – 11pm | Sat 12pm – 11pm | Sun 12pm – 4pm
Adjoining the acre Italiano restaurant, guests are invited to walk-in and grab a table amongst the lush greenery. Lots of incredible pizza options! 
Opening Hours: Thursday 4.30pm – 10.30pm | Fri 12pm – 11pm | Sat 12pm – 11pm | Sun 12pm – 4pm

Bookings are not required.
Essential Details: acre Artarmon eco hub & eatery
Address: 1 Frederick St Artarmon (adjacent to

adjacent to HomeHQ Artarmon)

Parking: HomeHQ. First three hours are free.
Train: Located 1km from Artarmon or St Leonards station on the North Shore line.
---
More North Shore places to explore: