When you've got children ranging in age from toddlers to primary school aged kids, finding parks and playgrounds that keeps everyone satisfied can be a challenge! But as North Shore Mum Discoverer Jodie Compton found out, Ryde Park gets the big kick of approval!
---
As a mum of three children, Oliver aged eight, Lachlan aged six and Amelia aged two, trying to find somewhere to take them to suit all of their interests can sometimes be challenging.
My older two boys love kicking the soccer ball, climbing trees and riding their scooters, whereas my two year old, loves the playground and also likes riding her scooter, however the age differences can sometimes mean the parks are too old for my daughter or two "babyish" for my older two.
I am very excited as we came across Ryde Park over the weekend and yes, everyone was happy. To my surprise we were there for four hours and no one wanted to leave.
The Scooter Track
This track was popular amongst all of my children. There are child size traffic lights, stop and go signs and pedestrian crossings set amongst neat gardens.  For those wanting to have a rest and something to eat before they start speeding around on their scooters again, there are covered picnic tables. This area is all entirely fenced in and adjacent to this is a large fenced dog park for those wishing to bring their furry friends for a run.
We decided to venture down the park and watched a local rugby game for a short time that was on the main field before going to the park area and we all had a kick of the soccer ball. This area was lovely with beautiful gardens and a lovely Rotunda, which would be a great area to have a child's birthday party.  There are paths throughout this area that the children were able to continue riding their scooters on.
Playground
The playground had equipment that my boys were happy to play on and was suitable for their age. Amelia enjoyed the toddler area with the climbing and slides and the ground is polysoft flooring, so no messy woodchip in the shoes.  Adjacent to this area is a large sandpit, so remember to bring the bucket and spade if your little one enjoys this area.
There are also more shaded picnic tables adjacent to the playground in a lovely grassed play area.
There is a path which goes around this area, which was popular for the children to use their scooters on and also basketball court for those wanting to "shoot some hoops".  This seemed to be another great area of the park to have a birthday party, with several on whilst we were there.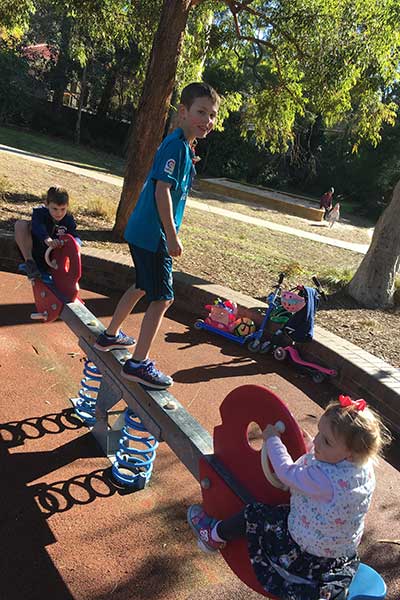 Rugby Field
As we were nearing the end of the morning and getting close to our four hour parking limit, we decided to have a quick kick of the soccer ball at the second rugby oval at the park. Amelia continued riding her scooter on the footpaths around this oval, which was great as I could supervise her and the boys playing at the same time.  This area would also be great to fly a kite or Frisbee
Time to go
All three children didn't want to leave, but were happy to ride their scooters all the way back on the paths to the car. Everyone was pretty tired after the long morning, but all three children asked to go back to Ryde Park and I was one pretty happy mum as I got my coffee and there was not one complaint all morning.
Essential Details:
Location: 7 Blaxland Road, Ryde
Parking: There is ample free street parking all around the park. Time limits apply.
What to pack: Scooters, Soccer ball, Kite, Frisbee, Spade and Bucket and some money for coffee/drinks. Either pack a picnic or enjoy the delicious food on offer at the café.
---
Want more outdoor fun ideas to do with the kids?