Are you looking to get your kids outside and digging in the dirt? Now's your chance! Nature play has so many benefits for your little one and Ku-ring-gai Wildflower Garden in St Ives is offering weekly activities for kids aged five and under to enjoy play-based investigation and discovery in nature. Discover more and check out the review from North Shore Mum, Flick Frankish.
---
Importance of playing in nature
Do you remember your childhood days of heading down to the creek to look for tadpoles, climbing trees, and heading off on bushwalks? These days, kids don't have the same opportunities to explore the world around them. The average time spent outside has changed from 4-6 hours per day in the 1980s to 45-90 minutes per day today.
There are so many benefits that come from getting outside and playing in the dirt. Nature play fosters our children's physical, cognitive, social and emotional development. It grows their resilience, self-confidence, initiative and gross-motor skills. Kids are given the freedom to explore the world around them, learn how to care for the environment, and look after one another.
Nature Play at Ku-ring-gai Wildflower Garden
The Nature Play for toddlers program at Ku-ring-gai Wildflower Garden offers weekly activities specially created for children aged 0 to 5 and involves a fun morning of play-based investigation and discovery in nature led by their experienced Environmental Education Rangers. The program is structured with new nature themes each week designed to develop curious minds and playful spirits. They also have a Nature Play for preschoolers program with content best suited for ages 4-6.
Stomping with Dinosaurs
I took my two kids, Vivienne (3) and Elliot (21 months), along to the toddler session: Stomping with Dinosaurs. Here's what we thought!
We arrived right at 10am and walked into an assortment of different activities, all set up ready to go. There was a playdough table with freshly made playdough set up. We were even lucky enough to take some home with us! In the middle, there were cars and dinosaurs spread across the mat for the little ones to play with. Down on the grass they had dinosaurs frozen in ice, with warm water spray so kids could melt them out.
After 15 minutes of free play, we came together on the mat and met out rangers: Ranger Anna and Ranger Amber. They were bright and extremely friendly – and just great with the kids. We shared a story together, and then it was off to explore.
We went on the hunt for foods dinosaurs might eat and stomped our way around the gardens (with a quick play at the playground as we went).
Here's what we saw: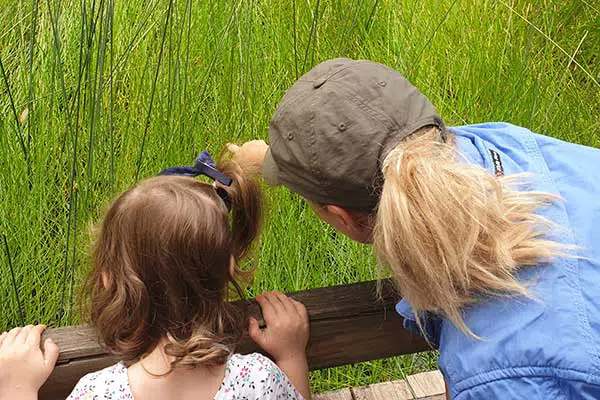 Frogs: this was Vivi's favourite! Ranger Anna was kind enough to stop multiple times to point out frogs to Vivi.
Caterpillar: we watched them eating away at the leaves.
Snake: yup, they have a resident snake at Wildflower Garden who happened to be sleeping next to the path we were on.
Butterflies
Moths
Plenty of plants!
We came back for some arts and crafts and it was time to go. The kids had an absolute blast and were kept busy the whole time we were there.
Upcoming Nature Play sessions
See all upcoming Nature Play sessions here.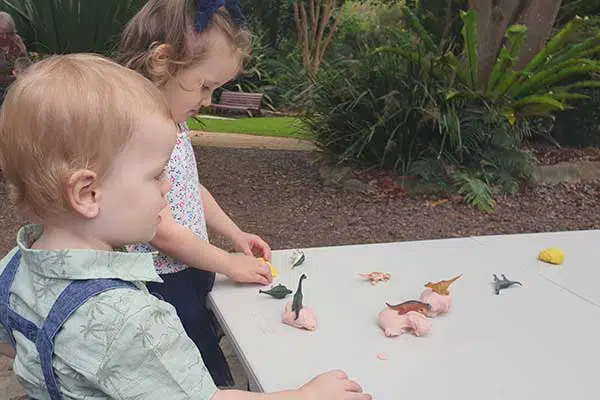 Everybody roar like a dinosaur! Bring your stompy feet on a trip into their "time machine" to imagine what the bush was like in prehistoric times.
Wednesday 10 Feb, 10am-11.30am
Thursday 11 Feb, 10am-11.30am
Plants are smarter than you might think. Learn about all the ways plants move their seeds around without taking a single step!
Tuesday 16 Feb, 10am-11.30am

Wednesday

17 Feb, 10am-11.130am
Thursday 18 Feb, 10am-11.30am
While we're asleep in bed, other creatures are coming out to play. What nocturnal creatures do you know?
Tuesday 23 Feb, 10am-11.30am

Wednesday:

24 Feb, 10am-11.30am
Thursday 25 Feb, 10am-11.30am
Essential Details: Ku-ring-gai Wildflower Gardens
Address: Ku-ring-gai Wildflower Gardens, 420 Mona Vale Road, St. Ives
Cost:

Activities cost $20 per child with one parent/carer admitted free of charge. 

What to bring: Hat, sunscreen or raincoat, snack for morning tea
Disclaimer: Our reviewer was provided with a morning at Ku-ring-gai Wildflower Gardens in return for her honest review. All thoughts and opinions expressed are her own and not influenced by the company or its affiliates in any way.