Looking to take the kids on an adventure that's nice and close to home and won't break the bank? Camping is the perfect way to make some amazing family memories, while getting outdoors and enjoying everything on offer. Here's 10 family-friendly camping spots near Sydney's North Shore for you to explore.
---
Camping with the family is one of the best ways to strengthen that bond and enjoy a few laughs. It's so easy to pack up and take off for a few nights in the school holidays, or simply enjoy a spontaneous weekend trip. With so many amazing places to stay nearby, it's time to start that next adventure.
Best Family-friendly camping spots around Sydney
1. Lane Cove National Park
If you really don't want to travel far from home, Lane Cove National Park is right on our doorstep and offers everything you need for an amazing, nature-immersed camping trip for the whole family. Lane Cove caravan park offers tent, campervan, motorhome or caravan camping with great facilities in Lane Cove National Park. The holiday park itself is very well equipped, featuring a swimming pool and paddling pool. Cook up your meals in the campground kitchen or on one of a number of electric barbecues, while the kids enjoy a spot of footy, handball or hopscotch.
Where: 13 Plassey Road, Macquarie Park
Drive from Gordon: 12 minutes
Cost: $76 (two-night minimum) powered tent site
Website: nationalparks.nsw.gov.au
2. Cockatoo Island
If you're hoping to jump outdoors over the weekend, Cockatoo Island offers a waterfront campground from Friday to Sunday each week. You can truly enjoy a night under the stars and away from the hustle and bustle of city life with their unbeatable views of Sydney Harbour, scenic picnic spots, BBQs and cafes. It has everything you need for a fun-filled weekend. You will have access to toilets, hot showers, a communal kitchen and plenty of sheltered facilities. The easiest way to get there is to jump on a ferry from Circular Quay.
Where: Northern Apron, Cockatoo Island
Drive from Gordon: 26 minutes (plus ferry ride)
Cost: From $50 per night (campsite only)
Website: cockatooisland.gov.au
3. NRMA Sydney Lakeside Holiday Park
Located in North Narrabeen on Sydney's Northern Beaches, you'll find Sydney's only waterfront holiday and caravan park. On one side, there's the world-renowned North Narrabeen surfing beach, and on the other, the calm and tranquil waters of Narrabeen Lake – a prime spot for long days spent fishing, kayaking or standup paddleboarding. Set up on a caravan site or campsite or relax in a spacious cabin or villa overlooking the lake. With plenty of guest facilities and a thriving café and restaurant scene on your doorstep, you can relax just moments from all Sydney has to offer.
Otherwise, if you don't mind a bit more time in the car, take a look at some other fabulous NRMA holiday parks. They both have multiple locations to choose from, with lots of kid-friendly activities, from jumping pillows to swimming books, water play, playgrounds and more. Plus, during the holidays they also offer holiday care for the kids! Bonus.
4. Glenworth Valley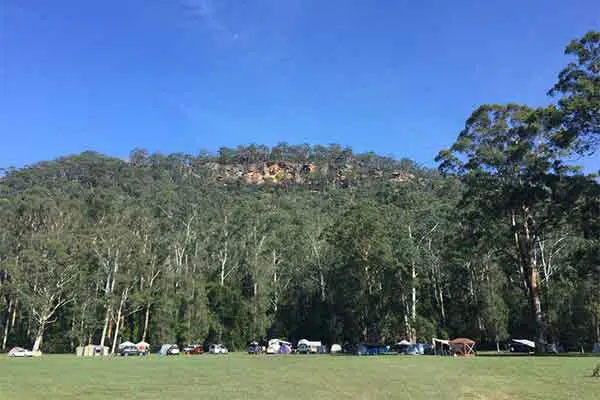 Escape to Australia's largest horse riding and outdoor adventure centre at Glenworth Valley. You can settle back under the stars and enjoy all the gorgeous bush around you. There's about 200 acres of secluded riverfront campsites, where you can sit before an open campfire. This is family-friendly, bush camping in a pristine natural environment. Most of the campsites are scattered along Popran Creek in a number of large open fields. The campsites are kept in a natural state and are all unpowered. You will find hot showers, toilets, wood-fired barbecues and picnic tables and they offer the convenience of parking your car at your campsite.
Where: 69 Cooks Road, Glenworth Valley NSW
Drive from Gordon: 40 minutes
Cost: from $30 per night
Website: glenworth.com.au
5. The Basin, Ku-ring-gai Chase National Park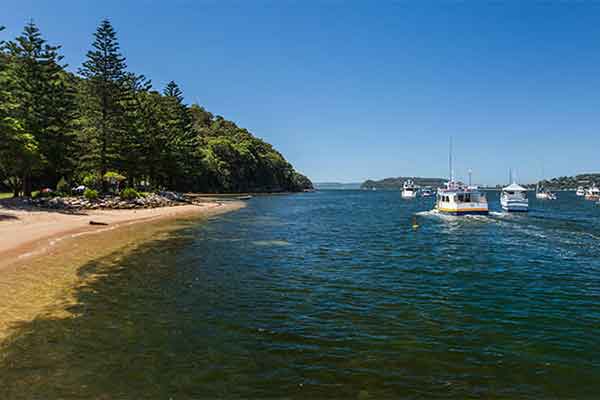 The Basin campground in Ku-ring-gai Chase National Park is one of Sydney's most popular beach camping spots. This large, grassy area overlooks Pittwater, offering lovely surroundings and views. It's easy to see why this waterfront campground is so popular. At The Basin, you'll find great facilities, including an amenities block, picnic tables, barbecue facilities, drinking water, public phone, showers, toilet, as well as a sheltered beach and an inland lagoon. Pitch your tent in a shady spot, enjoy a bike ride or a swim and see if you can spot the local swamp wallabies or kookaburras.
Where: The Basin, Ku-ring-gai Chase National Park
Drive from Gordon: 40 minutes
Travel note: There's no car access to The Basin campground. You can park at West Head Road but it's a steep 2.8km walk to the campground from there. If you're not up for the hike, arrive by water taxi, boat or a ferry, which leaves from Palm Beach Wharf.
Cost: $34.85 per night (up to 6 people)
Website: nationalparks.nsw.gov.au
6. Calmsley Hill City Farm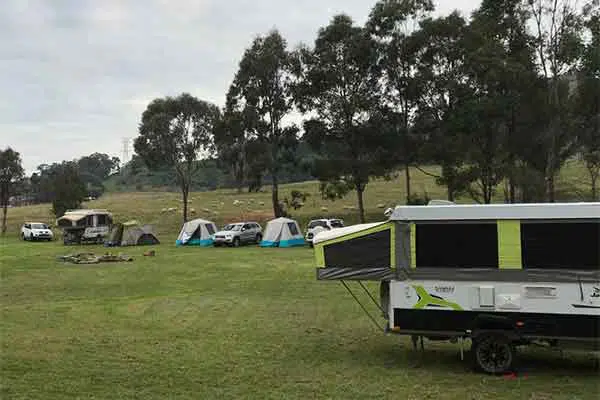 If you're looking for a fun, hands-on farm experience where kids can get up close with the animals, then this is it. It's the ultimate family-friendly camping spot near Sydney. Even better, they offer overnight camping so you can truly immerse yourself into camp life. Camping runs from September to April, to make use of those warmer months. Camping out in a paddock in front of grazing Kangaroos, Wallabies and Emus. Explore the farm's paddocks with our friendly farmers as the sun sets. They offer a camping package that includes two days at the farm (feeding animals, etc), dinner, breakfast, animal encounters, collecting eggs for breakfast and more.
7. Blue Mountains
If you're after a truly authentic Australian experience, pack up your camping gear and head to the Euroka campground, near Glenbrook on the eastern side of the park, right near the beautiful Nepean River. Whether you're into camping or glamping, unwind in the company of the majestic eucalyptus trees and a range of birds, like cockatoos and parrots. It's the perfect accompaniment to a great weekend getaway.
There are so many things to explore, so it's a great place for a family camping trip. You can take in the breathtaking landscapes at the Tunnel View lookout, give your legs a good workout on the Red Hands Cave track, and try mountain biking along Oaks firetrail. There are 5 camping areas within Euroka: Appletree Flat, Bennett Ridge, Darug, Nioka and Red Gum.
Where: Euroka campground, Fern Glen Walking Track, Blue Mountains National Park
Drive from Gordon: 1 hour
Cost: $24.60 (per night) up to 6 people
Website: nationalparks.nsw.gov.au
8. Cattai National Park
Cattai campground is a great place for a weekend getaway with family or friends. Kids will love the wide-open space that is great for bike riding, playing and running, plus the campground is right near the Hawkesbury River, meaning fishing, canoeing and kayaking opportunities are all nearby. There's also the historic Cattai Homestead, a short walk or drive from campground. It's an important part of Australian history so be sure to check it out. You'll probably be woken by the call of birds in the morning, and you may see a kangaroo peeking at you through the bushland on a morning walk to the lookout over Hawkesbury River.
Where: Cattai campground, Arndells Trail, Cattai
Drive from Gordon: 1 hour
Cost: $24.60 (per night) up to 4 people
Website: nationalparks.nsw.gov.au
9. Bouddi National Park
Just a little over an hour north of Gordon, Bouddi National Park is located near Gosford, and is the perfect camping spot if you're looking to make a splash. You can choose from Little Beach, Putty Beach or Tallow Beach campground, and spend your days fishing, swimming, whale watching, or heading off on one of the many hikes in the area. Bouddi is home to one of Australia's first marine protected areas, Aboriginal sites, wildlife and wildflowers.
Where: Bouddi National Park
Drive from Gordon: 1 hr 10 mins
Cost: Little Beach: $34.85 (up to 6 people)

|

Putty Beach: $34.85 (up to 6 people)

|

Tallow Beach: $24.60 (up to 6 people)
Website: nationalparks.nsw.gov.au
10. Bonnie Vale Campground
Bonnie Vale is a family-friendly campground located between Bundeena and Maianbar at the north end of Royal National Park. This popular riverside campground is known for its large sand spit, which makes it a great swimming spot. The campground has a mix of powered and unpowered sites, and is equipped with flush toilets, hot showers and drinking water, so you won't need to rough it.
Go fishing at nearby Jibbon Beach, enjoy a barbecue by the sea or hike along Royal National Park's long list of walking tracks. On weekends, you can even hire a kayak and paddle in the Hacking River.
Where: Bonnie Vale campground, 2 Seabreeze Lane, Royal National Park
Drive from Gordon: 1 hour 25 minutes
Cost: $41 per night (up to 6 people)
Website: nationalparks.nsw.gov.au
---
Want to experience more outdoors?