In the latest episode of The Parenting Couch podcast, Rachel and Sarah talk to Alison Brahe Daddo about her incredible journey. For Gen X women, Alison was a big part of our lives… on the cover of Dolly as we were going through puberty and teen years… and now she is back to support us through that next big life stage of life, Menopause.
---
If you're a Gen X Australian woman, you'll remember the stunning Alison Brahe, who graced the covers of Dolly, Cleo & Cosmo in the 80's and 90's. Alison is now in her fifties (and yes, still looks incredible)… but really struggled through peri-menopause. To help other women, she's written a book about the experience, Queen Menopause: Finding your majesty in the mayhem.
In the latest episode of The Parenting Couch podcast, Rachel and Sarah spoke to the lovely Alison Brahe Daddo, who candidly opens up about her struggles through menopause – so that she can help other women who are about to enter that stage of life.
LISTEN TO THE INTERVIEW WITH ALISON BRAHE
Menopause changed Ali's perspective on life, relationships and body image. It made her truly realise the implications of being silent, of speaking up, of consent, of boundaries and the importance of feeling, of being and of anger.  She reveals how through all the shifting and changing that menopause brings she found a new emerging sense of self and her life.
'Now that I've crossed that invisible line into Menopause, into the second half of my life, I look around me in wonder… and sometimes despair. It's a challenge to not see yourself the way culture sees you. Every woman will eventually go through menopause – that's half the population of the planet! And yet it's something that is still not fully explored. It's held in shame for some women and ignored by others. It can be devastating to some and call to freedom for others.'  – Alison Brahe Daddo
Hear a snippet from the interview
Alison Brahe Daddo shares her darkest times of peri-menopause and how it made her question her marriage with Cameron Daddo. But, as her therapist made her realise… Cameron hadn't done anything wrong, and was still the same guy she loved. She was just dealing with crazy hormones that were affecting her moods so much.
Listen to the interview with Alison Brahe Daddo
Listen to the episode of The Parenting Couch interview with Alison Brahe Daddo your favourite podcast platform.
About Alison Brahe Daddo
Once a household name, Alison was much loved nationally and grew up alongside a generation of Australians.  Now, just like the rest of us, she's all grown up and is now in her fifties.  She's also gone through menopause, an experience that she shares in her new book.
Alison Brahe Daddo is a screen writer, producer (US series Polly G), podcaster and teacher. She is currently writing several feature film scripts whilst continuing to teach and co-host a podcast Separate Bathrooms with her husband, Cameron Daddo.
Alison began her career as a model at 16 years old working in Australia, London and Tokyo. She was booked by brands such as Coca Cola, Portmans, Jacquie E and Brian Rochford, as well as magazines Cosmopolitan, Cleo and Dolly. In 1992, she graced the cover of Dolly seven times and in Cleo was voted among the "Top Most Influential Women of the Century" by its readers. In the 90's Alison hosted Here's Humphrey and Guess What?. In December 1991, Alison married and moved to Los Angeles in 1992 where she worked as a screenwriter and producer and secured a degree from UCLA in Early Childhood.
She returned to Sydney in 2016 where she lives with her husband, Cameron Daddo, and three children.
Queen Menopause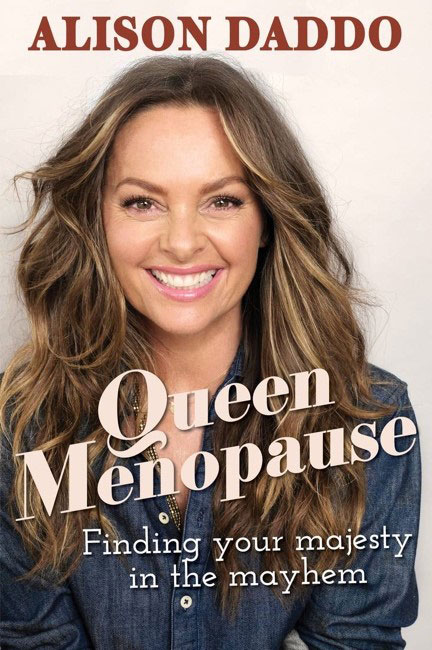 In Queen Menopause Ali Brahe Daddo explores all the feelings around menopause and especially the post-menopausal years that so many women talk about as being, 'the best years of their life'. Through sharing her own experience in a very real way, Ali hopes that women won't feel so alone in what can be a very lonely time. Alongside stories from some very well-known Australian women (and the men in their lives), including Georgie Parker, Anita Heiss and Rhonda Burchmore, Queen Menopause is the book Ali wishes she had when she was approaching menopause – so she could be more prepared for what was coming, embrace the process and feel supported. You will too when you read this book.
LISTEN TO THE INTERVIEW WITH ALISON BRAHE
---
Want more inspiration?