There's nothing better than getting out with the kids and enjoying a coffee in peace. When a new kid-friendly option pops up on the North Shore, you can bet we're keen to try it out! The new Archie's Cafe Co in St Ives needs to be on your go-to list. Here's what our reviewer Felicity Frankish has to say.
---
Born out of love for creating the ultimate cafe experience with creative dishes that resonate with brunch classics, the minute you step foot inside Archie's Cafe Co, you know you're in for a treat.
There's not many places you'll find on the North Shore that are so friendly and inviting. It's hard to walk past this place without at least peaking in and planning your next visit!
With my older girls at school and preschool, I had a day with just my three-year-old son, Elliot, so we went to meet a friend and see whether or not this cafe lived up to the hype.
Getting to Archie's Cafe Co.
Getting to Archie's Cafe Co is nice and easy. It's simply located at St Ives Shopping Village on the top level, opposite the post office. You can park in the underground parking and take the lift straight up. Walk out, around the corner and voila! You will find Archie's. Trust us, with the amazing interiors, you won't miss it.
Check out the interior!
Naturally, we weren't the only ones keen to check out this new opening in St Ives, and the place was absolutely bustling. We did have to wait for a table, but it only took a few minutes before we were shown to a table.
The kids climbed straight into the booth, and started playing straight away with their race cars (can't leave the house without them!), which gave us some time to browse the menu.
Before we even get started on the food, you have the check out the cafe itself.
The bright colours, gorgeous flowers and fun balloons create a very eye-popping space that you can't help but take in and smile.
You feel relaxed from the minute you enter, thanks to the immediate vibe it lets off. Plus, you know to expect some delicious food coming your way!
What's on the menu at Archie's?
It's rare (read, impossible) for me to head to a cafe and not enjoy a coffee, so I ordered one straight away, while also getting the kids some babycinos.
The first thing I can say is that the service is fast. They took our order as soon as our menus were down and the drinks were there shortly after. If you have young kids with you, you understand that quick service is important!
The babycinos were the perfect distraction during the wait for food.
There are lots of tasty dishes to choose from on the menu. I went for the Smoked Salmon Scrumpets, while my friend opted for Archie's Shakshuka.
I wasn't entirely sure what to expect from my meal, but the presentation was incedible! It looked too good to eat! (Don't worry, I still did!). All the flavours were there, it was hard to put down the knife and fork – despite being full to the brim.
Kids' meals
Elliot, naturally, opted for the chicken nuggets and chips and was pretty happy with his choice. 
Our friend Taya, went for the sweet option with the delicious kids' pancakes – and they were enough to 'wow'!
Kids can also choose from Eggs on Toast and a Kid's Milkshake to wash it all down.
Final thoughts on Archie's…
Delicious food, stunning presentation, good vibe, excellent coffee, kids' playground for after the meal… this cafe definitely lives up to the hype.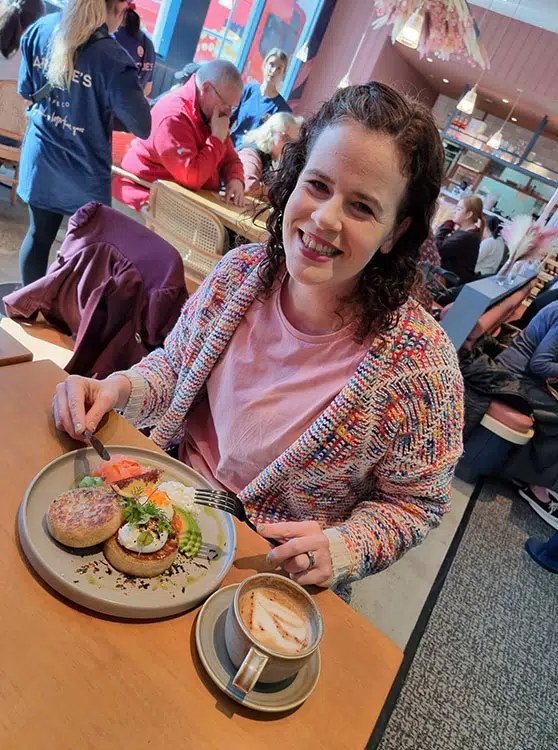 I can see it remaining a popular spot for locals, drawing them in with the gorgeous interior and keeping them there with the delicious food.
Essential Details: Archie's Cafe Co. St Ives
Where: St Ives Shopping Village, Level 2,

166 Mona Vale Rd, St Ives NSW 2075

Parking:

Free 3-hour underground parking at St Ives Shopping Village

Website: www.archies.cafe
---
Outdoor fun around the North Shore