Planning a getaway to Orange and looking for things to do with the kids while you're there? You're in luck! Orange has lots of fun to offer families. From kid-friendly dining, an adventure playground and aquatic centre, there's also lots of beautiful mountains, lakes, caves and nearby villages to explore.
---
If you've not yet booked your accommodation, be sure to take a look at the fabulous options in our Orange Accommodation Guide for some stunning houses in the countryside or cottages in the town centre.
---
Parks & Playgrounds in Orange
Orange Adventure Playground
The Orange Adventure Playground is a fun-loving oasis for all kids, including those with special needs. There's plenty of options for climbing, swinging, sliding and running with shaded seating for supervising parents. This community built playground includes many delightful themed constructions including a farm tractor, rock wall, tree house and a rocket ship. There are also barbecues, picnic shelters and a bicycle road-safety course.
The picturesque Orange Botanic Gardens are right next door too, for some extending walks and bird watching.
Address:

Yellow Box Way,

Orange
Orange Botanic Gardens
Right beside the Adventure Playground, you'll find the beautiful Orange Botanic Gardens. Set across 17 hectares, these beautiful gardens feature an impressive native and exotic plant collection. Enjoy a family picnic, relaxing stroll, bird watching or simply relax and soak up the wonderful scenery and district views.
Address:

 

1 Yellow Box Way, Orange
Open: 7.30am – dusk. Free entry
Cook Park
Kids (and big kids!) will love a visit to Cook Park, 4.5 hectares of parkland in the heart of Orange. Built alongside Summer Street, the park embodies the seasonal colours of Orange. Cook Park was laid out in a traditional Victorian design with straight paths and rows of trees, and much of the original design is still in place. You'll find beautiful trees, a pond and some play equipment, plus a rotunda where bands can be heard.
Address: 24 Summer St, Orange

Attractions
Orange Regional Museum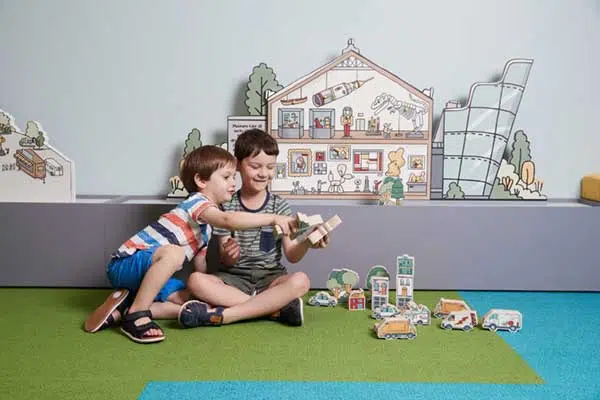 The Orange Regional Museum is perfect for kids! You'll discover exhibitions on a variety of themes including, settlement of the region, mining, the built environment, agriculture, migration and significant events and individuals from the local area. They also hold plenty of fun activities for kids during the school holidays.
Address: 151 Byng Street,

Orange

Opening Hours: 

9am-4pm daily
Orange Aquatic Centre
Kids can swim all year round at the indoor Orange Aquatic Centre. Its features a heated outdoor 50 metre pool,  indoor 25 metre pool (heated to a balmy 28 degrees all year around), heated children's leisure pool with water features and diving pool with two diving boards and 10am tower. Fun to visit any time of year!
Address: Corner of Hill & Warrendine Streets,

Orange

Entry: $7.15 adult | $5.30 child | $2.35 under 5 years
Orange Farmers Market
On the second Saturday of the month, head to the Orange Farmers Markets for lots of gourmet delights and tastings. Get there early as the good stuff does sell out! Entry is a gold coin donation to Rotary Club.
When: 2nd Saturday of the month, 8.30am-12pm
Address:

Northcourt,

237/255 Peisley St,

Orange
Natural Attractions
Mount Canobolas
Drive out to Mount Canobolas for sweeping views of the Central West and beautiful walks. Along the way, you'll pass cafes, vineyards and fruit picking places too. Mount Canobolas is 1,395 metres high and you might see snow in winter! This is a 'must visit' with the kids!
The Federal Falls Walk is great for kids who enjoy bushwalking. It mostly easy but can be challenging in sections. The reward is a beautiful waterfall. It's 4km, and takes 1-2 hours.
Lake Canobolas
Visiting Lake Canobolas is a must-do with kids when in Orange. Situated near the foot of Mount Canobolas lies Lake Canobolas, a beautiful, tranquil lake which supports a range of activities with the changing of the seasons – like cycling, sailing, canoeing, walking, swimming, triathlons and dragon boating. Kids will love the Apex Adventure Playground on the eastern bank, and you can also grab a bite of lunch from the Lakehouse kiosk.
It takes about 30 minutes to stroll around the lake. On a hot day you can swim in the lake (but there are a few weeds!).
Address: 87 Lake Canobolas Road,

Nashdale
Borenore Caves
A truly memorable thing to do with kids in Orange, is a visit to the Borenore Karst Conservation Reserve. After a picnic or barbecue lunch, explore the reserve's walking tracks and ancient caves. If you're heading out to Heifer Station for wine tasting, be sure to stop by the Borenore Caves (Borenore Karst Conservation Reserve) along the way. 
Arch Cave – this is the closest and only a short walk.
Verandah Cave – Take the easy walk from Borenore picnic area to Verandah Cave, where you can explore its limestone outcrops and pools of water in Borenore Karst Reserve. 7km return.
Tunnel Cave – You'll pass this on the way to Verandah Cave
Warning: Pack a torch (even during the day!) as it can be very dark and there are some deep holes.
Eating Out in Orange
The Union Bank
When it's time to eat in Orange, you'll want somewhere that's child-friendly, Established in 1857, The Union Bank is almost as old as Orange itself! The Union Bank has a long history of delighting wine and food connoisseurs alike, and showcases everything great about Orange. It's in a beautiful restored building with gorgeous outdoor courtyard, with a range of wines and restaurant meals offered.  is the perfect relaxed place for eating and drinking. Walk in's only so get in early to get yourself a seat in the sun.
Address: 

84 Byng Street, Orange
The Ophir Hotel
The Ophir Hotel is a relaxed, family-friendly pub, bar and restaurant in Orange that is completely set up for families. You will find a range of kid-friendly amenities, including a giant playground for kids to burn some energy while they wait for their food. Inside, you will find books, toys and colouring-in kits to keep little hands busy. There's also a parents' room and plenty of pram access. There's even a delicious kids menu full of great choices they will love.
Address: 8

4 Glenroi Ave, Orange 
The Greenhouse of Orange
Looking for family-friendly dining in Orange? The Greenhouse of Orange is located on the rooftop of the Orange Ex-Services' Club, in the heart of Orange, and it's a modern dining option with a large play area for kids. Tick! It's open daily for lunch and dinner, and breakfast on Sunday! Or just enjoy a coffee or cocktail. There's a Pizza Bar, Street Food Kitchen.
Address:

231-243 Anson St, Orange
The Agrestic Grocer
An old orchard shed renovated as a cafe and local produce shop. Great rustic setting but don't expect quiet! Can get busy so book if you can or take a punt (KF). They also have live music some nights, with delicious food with ingredients sourced locally.
Address: 426 Molong Road (Mitchell Highway) Orange
Factory Espresso
Possibly the best coffee in Orange! You can eat in as well. Gets great reviews! Kids will love the cute hot chocolates in bear glasses. Bookings not required.
Address: 135 Kite Street, Orange
YoYo

b

a F

rozen Yoghurt Bar
If you love frozen yoghurt, then you'll love this Frozen Yoghurt Bar! Perfect for a healthy(ish) morning or afternoon treat. There's usually six flavours to choose from, and you can pick your own toppings.
Address: 190 Anson St, Orange
More cafes, bars & restaurants around Orange… 
Lolli Redini – if you have time to enjoy a night without the kids, or have older kids who might be up for a bit of fine dining, Lolli Redini is the e

legant locale for seasonal, thoughtfully sourced Italian & French cuisine, plus wine & cocktails.

Anything Grows – nursery and cafe, cute courtyard to sit in if it's opened again). If not, grab a takeaway and wander to Cook Park across the road.
Racine Bakery – a little hole-in-the-wall takeaway place that makes the best croissants and sourdough
Byng St Cafe, Coffee by Omar and Factory Espresso are great cafes!
Ferment Wine Bar
Mr Lim's for relaxed, yum food, karaoke mic gets passed around at 9pm on a Friday & Saturday night
Charred
Spilt Milk – really good gelato with seasonal produce. If the kids deserve a treat, the honeycomb gelato here is out of this world!
Fiorinis (near Nashdale) – BYO rustic Italian place run by a great Italian couple
Wine Tasting around Orange
Heifer Station
Heifer Station Winery is the the most child-friendly wine tasting in the Orange region, as it features a petting zoo and farm and lots of open space for the kids to explore! Heifer Station Vineyard is located on the volcanic basalt slopes of Mt. Canobolas.
Heifer Station vineyard enjoys a near-perfect balance of elevation and sunshine, perfect for growing Chardonnay, Pinot Noir, Pinot Gris, Merlot and Shiraz. Be sure to book your one-hour tasting in advance (and be sure to order the incredible cheese platter too!).
Address: 1034 The Escort Way, Borenore

,

 

NSW 2800
Ferment
Housed in a carefully preserved heritage building (with a nice warm fire!), Ferment the Orange Wine Centre showcases wines from Orange and the Central Ranges of NSW from wineries that don't have their own cellar door. Guests are invited to experience a wide range of local wines through cellar door wine tastings. Do a wine tasting, or have a glass! Cheese platters available too.
Address:

87 Hill Street, Orange

Open: Monday to Saturday: 11 pm – 9pm (wine tastings close 5pm, bar and sales open until 9pm)
Angullong Vineyard Cellar Door
Angullong is a family owned wine company from the premium high elevation, cool climate wine region of Orange. Angullong's bluestone cellars, located in the picturesque village of Millthorpe, was built in the late 1800s as stables to the adjoining hotel. Their wine tastings are intimate and relaxed, with a wide range of lovely wines.
Address: Cnr Park & Victoria Streets, Millthorpe
Cellar Door Open: 7 days, 11am-5pm
Visit Millthorpe
Escape to the delights of Millthorpe, a beautiful heritage-listed village located in the Orange Wine Region. Millthorpe is a step back to the 1900s with a contemporary edge. Cobbled, bluestone-lined streets border relatively unchanged 19th century buildings, many now housing fine dining restaurants, arts and antiques, a museum, boutique shops, hotels, wine tasting and or boutique accommodation.
Playground
There's a huge playground, oval and skate park just on the edge of Millthorpe (as it's such a small village, it's just a 5 minute leisurely stroll from the centre). Hours of outdoor fun, guaranteed, for toddlers through to teens!
Old Mill Cafe
Brunch or lunch at the Old Mill Cafe, where you'll discover a delicious range of cakes and treats. Their signature lunch dish is a Beef & Shiraz Pie! Light meals with light pricing. Their outside garden is lovely in nice weather. Bookings almost essential on weekends unless you want to wait as it gets very busy.
Address: 12 Pym Street, Millthorpe
Millthorpe Chocolate Cafe
Love Chocolates? Then you'll love the Millthorpe Chocolate Cafe at the old Railway Station. Sit down and enjoy a cup of REAL hot chocolate (or coffee, if you prefer), pastries, cakes, ice cream or hand-made chocolates from the finest Belgian Chocolate. Or go all out with a High Tea!
Address: 

1 Station Place, 

Millthorpe

Open: Thursday – Sunday, 8.30am-5pm
Millthorpe Hotel
Want a relaxed meal in a pub? Millthorpe Hotel is located in the heritage town of Millthorpe and provides an establishment where you can relax, enjoy a great meal and have a drink. Head to The Railway Hotel (Thu-Sun) next to the Millthorpe railway station – you need to book Fri/Sat nights as it's popular with the locals for steaks and burgers. Kid friendly!
Address: 20 Elliot Street, M

illthorpe
Tonic
If you're looking for a fine dining experience (and have someone to look after the kids), Tonic is a must-dine! It's both an icon and an asset to the quaint village of Millthorpe. Renowned Chef Tony Worland and his family established Tonic in 2003 with a view to provide a level of fine dining experienced only in our major cities. The vast menu centres around an array of fresh local produce, paired with a list of local award winning wines. Whether it is for a special occasion, or Saturday dinner, Tonic prides itself on delivering a level of service that will have you savouring every mouthful. Bookings essential.
Address: 

Corner of Pym and Victoria Street, Millthorpe

Open: Thursday, Friday & Saturday for Dinner |

Saturday & Sunday for Lunch
---
More family-friendly travel within NSW