Ever wondered what it would be like to wear shoes that are barely there? The days of restrictive footwear are over thanks to the innovative creations at iGUANEYE shoes. We get the verdict from three North Shore Mums who tried out their Freshoes range.
---
Did you know? The human foot is made up of 26 bones, 30 joints and more than 100 muscles, tendons and ligaments, all of which work together to provide support, balance and mobility. It will come as no surprise then that common footwear simply isn't healthy for your feet. Oliver Taco came across a tradition of the early Amazonians who dipped their feet in liquid rubber to protect them and move faster on the unsafe forest floor… and that's how iGUANEYE came into being.
There are so many benefits that come with flexible, lighter, minimalist footwear. It's about offering that balance between protecting the foot with the shoe, while allowing for natural foot motion and structure.
If you're ready to free up your feet and see what it's like to wear something that's 'barely there', then read on to check out the reviews from some of our North Shore Mums who had the chance to trial their Freshoes collection.
Felicity, North Shore Mums Editor & mum to three kids
Freshoes: Hot Pink with Ash Grey insole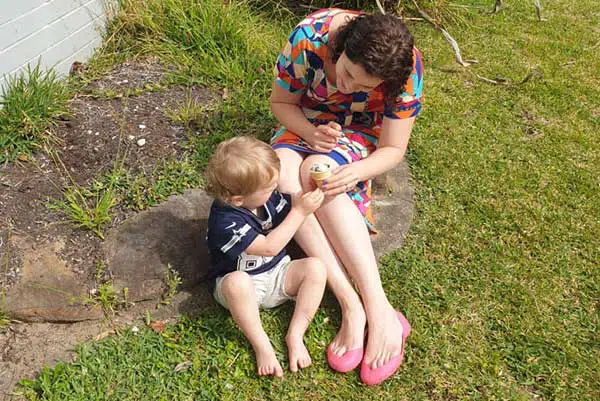 Style and Comfort
Ever since kids came along (they're currently 6, 4 & 2), comfort has been my number one priority. Chasing them around at parks almost every single day, I'm more concerned about keeping up than I am with how I look (puffed and unfit, naturally). While the Freshoes weren't my usual style, I was more than willing to give them a go for all the benefits they promised – and I'm so glad I did. They definitely felt strange to walk around in at first. My big toe wasn't sure what to think! But then they got a trial run chasing after my 4 year old who has just learned to ride without training wheels. That was enough to sell me. It was so comfortable running along that gravel and almost felt like I was barefoot (except for the most-welcomed cushioning).
Versatility
I do love some bright attire and hot pink shoes delivered on that. The perfect pop to brighten my day (and outfit!). I also have many loud dresses in my wardrobe that paired perfectly with the Freshoes. I found myself wearing them whenever I was out with the kids – school drop off and pick up, park dates, and so on. Whether I was having an activewear day (let's be honest, we've all had a few of these in lockdown), or felt like throwing on a dress, the shoes perfectly complemented the outfit.
Sizing
I always get a little apprehensive about buying shoes online. I'm a size 40/41 (so on the bigger side) and always like to try before I buy. The instructional video and size guide on their site was all I needed to help me decide. I knew to size down to the 40 and I wouldn't have a problem – and they fit perfectly.
Laura, Learning Support Officer & Mum to two boys
Freshoes: Light grey with Amber Orange insole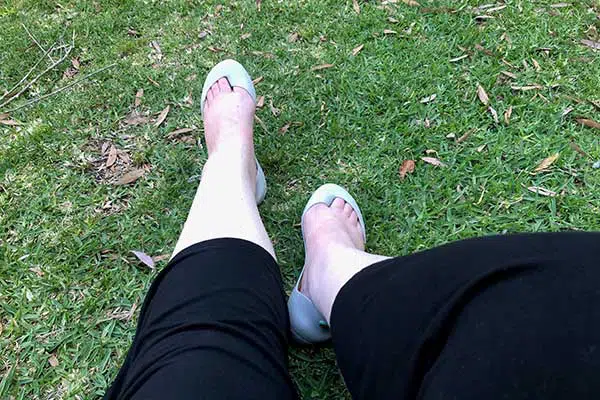 Style and Comfort
When I first received the Freshoes, I was a little bit sceptical. There seemed to be very little "shoe" to wear! The Freshoe is referred to as a minimalist shoe and boy do they mean it! How on Earth were these going to stay on my feet? So, I tried them on and after walking around the house for a while, I was pleasantly surprised not only at how they looked on, but just how comfortable they were to wear. My feet are quite broad, so finding a shoe that I can put on and wear (and not have to stretch or wear in) was definitely a big thumbs up. I also noticed how "cool" they were thanks to the six ventilation holes around the shoe. No more sweaty feet!
Versatility
As an avid wearer of flats and thongs, and someone who is mostly on her feet all day, I tend to favour comfort over fashion. But with the Freshoes I got both! I found myself slipping them on more and more. They were great to wear in the garden because I could easily wipe them down, super comfy for a quick trip to the shops, and they looked great with a maxi dress that I wore to a recent picnic.
Sizing
As mentioned, these are a minimalist shoe. So, it is super important to get your sizing right. I was initially leaning towards a 38 as I am usually between a 37 and 38. The website made the sizing process very easy with an instructional video, and even a printable size guide to get your perfect fit. So, I decided to go down a size and I'm so glad I did! They were a tad snug in the beginning but now they fit perfectly.
If you're sick of thongs and looking for a fab and comfy shoe, I highly recommend the Iguaneye range. Will definitely be buying them in all the colours!
Alison, Executive Assistant & mum to toddler boy
Freshoes: Charcoal Grey with Turquoise Blue insole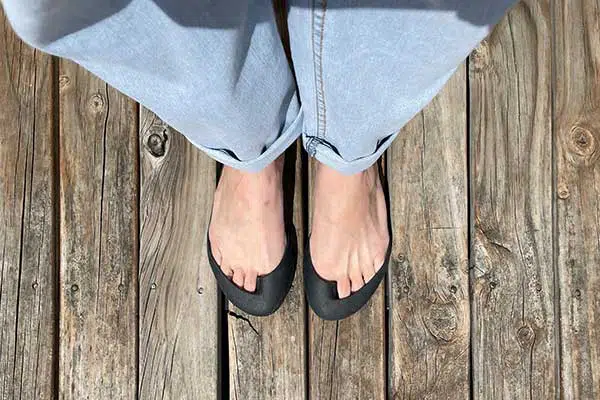 Style and Comfort
When I received my Freshoes my first thought was they are definitely unique! When I tried them on I found them unusual, but it was so similar to wearing thongs so that after a bit of getting used to, it didn't feel strange at all. The shoes were comfortable and practical to get around in. The huge bonus was that they didn't rub or cause blisters like other new shoes often do.
Versatility
I found the shoes very versatile.  They are easy to slip on to wear down to the park with little ones, to swimming lessons and the shops. I even got a few comments at the shops about the shoes and happily passed on the details.
Sizing
The sizing process on the website easy to follow.  I was in between sizes so sized down rather than up. I think this was the right choice as over time the shoes seemed to meld to my foot.
Overall the shoes are functional, durable and supportive. They are a fabulous alternative to your regular day to day shoes and a wonderful ice-breaker down at the park!
Try their other styles…
The iGUANEYE shoes come in three different styles for women:
Freshoes, $99.95 (reviewed above!)
Jungle Light, $99.95:

The Jungle Light's EVA foam is incredibly light and waterproof, with a soft, ergonomic and comfortable fit. A piece of Ultraflex Elastomer holds the big toe and heel of the foot.

Jungle Lux, $129.95: the Lux

sole is a thick cushion of cork with a soft leather coating. The soles of the Jungle Lux and Light are inter-changeable, giving you two shoes in one!
All these styles also come in a range for Men. Check them out here.
Sustainable footwear
Each iGUANEYE shoe is made in a factory in Porto, a small city in the north of Portugal. The cork soles in the Freshoe and Jungle LUX have a great story behind them. The trees are not cut down or damaged when the cork is harvested, and they can be harvested every 9 years for the lifetime of the tree (roughly 270 years!). These forests are a unique habitat in the Iberian Peninsula and the refuge of various endangered species. Cork is also easily recyclable. 
Get 15% off your iGUANEYE shoes!
Want to test out your own pair of iGUANEYE shoes? North Shore Mums can enjoy 15% off!
Promotional Code: NSM15
Valid until Tuesday 30 November
Essential Details: iGUANEYE
---
Want more ideas about how to make life easier?