CONTACT DETAILS
DESCRIPTION
Mobile wildlife education programs are fun, interactive and educational, and can captivate the attention of any audience.
Related Listings
Featured
Our classes teach kids yoga through fun and games. Read more…
Featured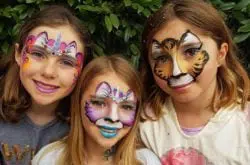 Fantasy Art specialises in professional face painting and entertainment.  Whether you are planning a large corporate event, dressing up for a festival/holiday or organising a child's birthday party, we can help to create a magical… Read more…
North Shore Mums is your go-to for advice, support and inspiration for parenting, mumlife, and kids' events on Sydney's North Shore.
You'll find ideas for family-friendly places to eat, play, work, shop and everything in between, from Balmoral to Berowra.
Run by a team of local mums, we're here to help you navigate parenthood, from pregnancy right through to the tween years and beyond.
Packed full of practical info, our website features articles written by local mums, an up-to-the-minute events guide, a local business directory, a job board, as well as exclusive offers and competitions.
Suite 1A
Level 2/802 Pacific Highway,
Gordon NSW 2072