Whether you're loaded up with bags from a shopping day, weighed down from a full day at work or have your hands full with fussy eaters, huddle in, because one North Shore Mum wants to share her secret to a delicious, fuss-free healthy local restaurant that will make your day: YAYOI Japanese Teishoku Restaurant.
---
I've never been one of those people who make the great local finds – a second-hand shop that has awesome designer finds, a florist with flowers that smell like rainbows or a restaurant that is an oasis of deliciousness with a pleasant atmosphere, that's one street away from a busy urban hub.
But that all changed this evening. I found the place – a sanctuary of calm that is one street away from the fast-paced action of Chatswood, a restaurant with food as delicious as it was healthy. A place that welcomed adults and children alike and had a menu to cater to both. YAYOI Japanese Teishoku Restaurant.
Dining, J
apanese-Style
Based on dining which was traditionally offered at Zen temples, Teishoku (pronounced Tay-show-ku) is a type of Japanese set meal, meaning all your dishes are served together as a set and are balanced to complement each other. They usually include:
A main
Miso Soup
Rice
Side Dishes
The concept is widespread in Japan, and there are no hard and fast rules when eating Teishoku, though your palette will probably love you if you go with the "triangle eating" method (that is, eating from all plates evenly).
Who's Coming to Dinner? The Guest List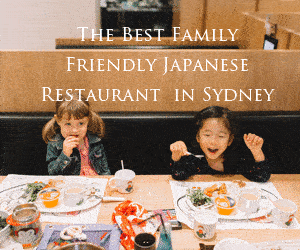 This evening's dinner table had an 8-year-old fussy eater, a two-year-old wild card and me, a person who loves food, whether it comes from a hatted restaurant or a local burger joint! And the good news? We all loved it. From the moment we walked in, we felt welcomed and comfortable. While the kids were enamoured with the touch screen ordering device, the staff had laid out colouring sheets and coloured pencils to occupy them as well. They also handed me a menu and wow, is that menu full of great options! It looked like a great mix of food for everyone (eg Wagyu Sukiyaki or Unagi Hitsumabushi).
Time to Taste! What We Tried
I had the Shoga-Yaki Pork Teishoku (pork with ginger), Mr 8 had the Kid's Set Meal and Ms 2 had Udon Noodles. I've got to be honest, I was nervous. When Mr 8 was presented with his beautiful looking spread of fried chicken, fried prawn cutlet, rice, salad and dessert I figured we'd have our usual eating struggle. I even had some great lines in my pocket ready to go like "this is what all the best Pokémon trainers eat" but I didn't need them. He ate it all and went back for more, even co-opting his sister's udon noodles when she took too long to finish it, though she did steal his jelly.
My meal was delicious. The flavours were full and yet delicately balanced. The miso soup was full of umami goodness and the ginger on the pork was perfect – just enough to taste it, not enough to overpower the rest of it. The dressing on the salad was that perfect Japanese blend of creamy and tangy while the pickled spinach was surprisingly cold and served as a wonderful refresher between the rice/pork and miso.
The restaurant itself is tastefully decorated. The tables are massive – there is no mess of crowded plates and elbows, there is enough room for all dishes, drinks, colouring sheets and still some to spare. The giant booths were away from the single eating booths in such a thoughtful way – people who came in for a quiet meal alone or with a dining partner were far enough away from the booths to not be bothered by the family noise. Although I'll be returning with my family, I should mention that if you want a place to eat by yourself without feeling awkward about it, this is the place. They have booths specifically set up for people who really do enjoy having a peaceful meal for one.
There is plenty of room for prams (they also provide highchairs upon request) and the wait staff are just the right amount of attentive – service when you need it but no hovering. It's a little inconvenient that there isn't a bathroom on premises, but a clean and spacious bathroom (with family facilities) is easily accessible in the building next door.
The Bill
The prices are very reasonable too! All children under 8 years old receive complimentary udon on weekdays from 11:30am – 3:00pm. Most adult mains are around $18, but if you want to splash out the most expensive meal on the Teishoku menu, you'll only find yourself $32 out of pocket but it's worth every penny.
I can't stress enough what you get for the cost. It's not just delicious food, it's a subtle education in healthy eating for your little ones. Everything from the colouring sheets through to the way the food is served is about presenting healthy food in an appealing way.
I think most kids these days have a great appreciation for sushi. This is the next step for those kids. If they are already big fans of Japanese cuisine, then this is the perfect place to give the family a variety of delicousness to choose from.
This restaurant is a perfect find, though I doubt it will stay a secret long so check it out while you can still get a table!
---
Essential Info
Address: 38 Albert Avenue, Chatswood, NSW 2067
Phone: (02) 9419 4993
Email: [email protected]
Trading Hours: Monday – Friday 11:30am to 9pm,

Saturday – Sunday 11am to 9pm

Website: Yayoi Chatswood
---
Disclaimer: Our reviewer was provided with a free meal for her family in return for her honest review. All thoughts and opinions expressed are her own and not influenced by the company or its affiliates in any way.