I like finding great parks that have something for everyone and keep my children amused for as long as possible, says NSM Jane Air. The first time I came across Blenheim Park in North Ryde I fell truly in love with it.
Having family members who live on all sides of Sydney, we are always looking for that perfect 'halfway point'. And with everyone's children's ages ranging from six months to 10 years, it's important that we're all happy with where the park is and what it offers.
So finding Blenheim Park was the perfect answer. This is no ordinary park! It has everything from barbecues to the best playground equipment. It is centrally located, whether you are coming from the Upper North Shore, Lower North Shore, Eastern suburbs, or anywhere really, as it is just off the M2, making it great for families coming from opposite sides of the city. It's also very easy to get to and has ample parking.
The park itself is set on 3.4 hectares and, prior to 2000, was used as a golf driving range and BMX track. The park as we know it today took five years to complete and, with its indigenous/native planting and relaxed bush-style setting, opened to the public in 2005.
It has lovely open areas as well as pockets of grassed space where you can picnic in privacy. There are also two undercover picnic shelters with wooden seating big enough for a family of up to 10 or so, which are right next to the barbecue area for convenience. You can cook your own meat or pull up a rug on the grass and enjoy a leisurely picnic lunch.
The spacious grounds offer a cycle/scooter track that is great for the older kids to ride around by themselves or for the littler ones if you want to scoot around with them. There are two different playground areas and another separate sandpit area. One of the playgrounds with medium-height play equipment is generally quieter and better suited to the younger or less adventurous child. The other playground is great for kids of all ages and abilities. The main playground area hosts a flying fox, round set of five swings, a super-fast slide, climbing nets, more swings, and benches for the parents to sit and watch … and listen to the squeals of delight!
The sandpit has an appealing blue boat in it for the children to play in. Connecting one sandpit to the other, there are stepping stones and a balance beam walkway, which allows various levels of challenge for the different ages. It is the perfect place for the toddler through to the older child to explore, create and enjoy the best of what nature (and some clever designers) has to offer.
There are toilets within close proximity and, interestingly, a remote-control car track if you happen to have one handy. An enclosed off-leash area for dogs is nearby, so if you really want to you can bring the whole family.
If it's sounding like this place could be overwhelmed with people, do not fear. This place could never be overcrowded as there is so much space and with a well-thought-out layout, it feels like you are having your own private party (well almost). I consider this little gem to be a suburban oasis that once experienced may very well entice you back time and time again!
Oh, and as an added bonus I have seen mobile coffee and ice-cream trucks come and go throughout the day on weekends, so if you really need that coffee or extra treat for the kids … like I said, something for everyone!
Facilities
Grassed picnic areas
Picnic shelters
Barbecue
Toilet/accessible toilet
Playgrounds
Sandpit
Children's cycle path
Remote control car track (electric cars only)
Enclosed 24/7 dog off leash area
Playground features
Different age-appropriate play areas
Adventure cycle track
Constructed dry creek bed play area
Seesaws
Flying fox
Swings
Slides
Sandpit with boat
Toddler spring rockers
Climbing nets
Combination equipment
Open grassed 'kick about' space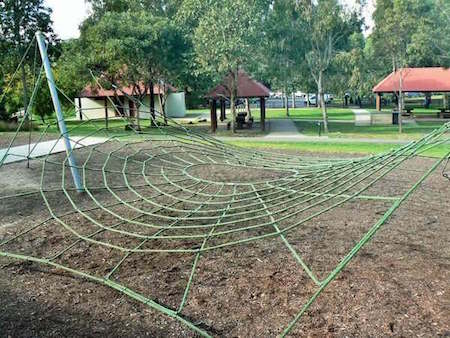 Have you been to Blenheim Park with the kids? What did you love the most about it? Please let us know in the comments section below.