Looking to enrol your child at preschool? Discover how to choose the right preschool for your family, by asking the right questions. Choosing a preschool can be exciting, but also daunting! Apples & Honey Preschool share their insights into what to ask about when finding the perfect preschool for your child. 
---
Choosing the right preschool for your child is a big task. Here are some questions to consider, with some information that might help you find the right place.
Does the preschool's hours suit your family? Is it close to home? Is there parking to make drop-off safe and easy?
What is the class size? What's the child-to-staff ratio? Is there a school readiness program in place?
Are the fees suitable for your budget? What is the educational philosophy of the school?
Are meals provided and are they nutritious? Is enough time spent outside being physically active? What is the outdoor area like?
What's the preschool's educational philosophy?
It's important to look for a discovery-based preschool program where children can make choices about their learning. As part of this, consider the level of openness between the preschool and families – are families encouraged to stay a while when dropping off or picking up a child? And, is there feedback on a child's development and daily routine?
What are the preschool fees?
Look for a preschool you are matched with financially, but remember to look at what's included (such as meals, that can save you on grocery bills and precious time, too) and check on hidden costs. Many preschools and daycare centres charge for public holidays although children don't attend, so look for a place like Apples & Honey Preschool that offers:
Affordable costs per day (the cost is $126 per day Monday to Thursday and $105 on Fridays)
Includes meals (morning tea, lunch and afternoon tea)
With childcare subsidy available to qualifying parents
And does not charge for public holidays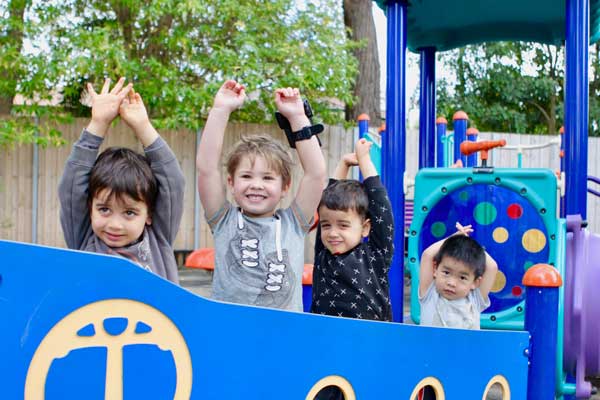 What is the education and experience of the staff at the preschool?
Obviously your child's preschool teacher should be experienced and highly qualified, but it's always worth asking about an educator's training, and experience implementing curriculum, guided by the National Early Learning Years Framework. But outside of their background, staff members should be committed, nurturing, and dedicated to the children and to the centre.
How will my child develop gross and fine motor skills?
Physical activity is important for the development of your child's gross motor skills and enhances their health and wellbeing overall.
Through intentional learning and play, children are guided by their natural interests and curiosities, while being supported by educators who encourage children to make meaningful connections to the real world – not by learning through repetition and isolated recognition of numbers and letters. In this way, literacy and numeracy skills are integrated into daily experiences.
A good preschool like Apples & Honey will offer a range of activities to enhance your child's gross motor skills, such as  tennis, dance, yoga and general sport, plus fine motor activities, such as cutting paper strips, scribbling in wet paint and stringing beads. These all assist in developing the hand skills that children will need when they start school.
And speaking of school, a 'readiness'  component that encompasses literacy, numeracy, science, art, music and language while also focusing on social and emotional development is imperative.
What will my child's day be like?
Look for a structured day at preschool that includes informal and formal (structured group time) experiences and interactions, utilising both indoor and outdoor environments.
A well-regarded centre will offer a range of ways for children to learn, discover and explore. Here are a few of the offerings at Apples & Honey:
Yoga and meditation
Music and dance
Daily cooking
Excursions and Incursions
Outdoor play
Puzzles / board games
Group time
Transition activities
Spontaneous learning activities
Sport (provided by Ready Steady Go Kids)
What kind of meals will my kids be eating?
Remember, eating and mealtime is often about more than food. Ask about the centre's pre-meal routine, such as going to the bathroom and washing hands. Will your child be required to use appropriate table manners? And when it comes to the menu itself, look for a rotating nutritious meal plan.
At Apples & Honey Preschool the dishes are veggie-packed and nutritious, including pizza, white bean mornay, falafel, lentils for lunches, and for morning tea and afternoon tea, the focus is on wholegrains, dairy, fruit and raw vegetables. Prior to and during meal times, children are encouraged to wash their hands, socialise and help clean up and scrape their plates.
---
Apples & Honey Preschool is located in Chatswood. For more information or to arrange a tour, head to the Apples & Honey Preschool website.