We've spent the last few days pouring through the hundreds of entries into our First Day of School competition… there were cute pics & crazy pics, and everything in between, so it wasn't an easy job. 
But the ten winners have been chosen! So scroll on down and take a look at our favourite photos from 2019. They've each won a Family Pass (2 adults & 2 kids) to Taronga Zoo, valued at $148. Congrats! Perhaps they can be the first to see the new tiger cubs?
1. Belle & India, Avalon
'My babies. Heading off for the first day of their last year of school. The photo is a perfect metaphor for the crazy ride I have traveled with them and their older brother, for many years as a single mum, and now with a 'fly-in-fly-out' partner. My kids are so great. So brilliant, kind, funny and loving, I couldn't have dreamed of being a mother to a nicer three. I'm sad to see this journey is ending now, when I just feel like I am hitting my straps and finding a groove with it! It's a hard road, mums, I know. But treasure every moment because it goes so fast!' – Jacqui Turner.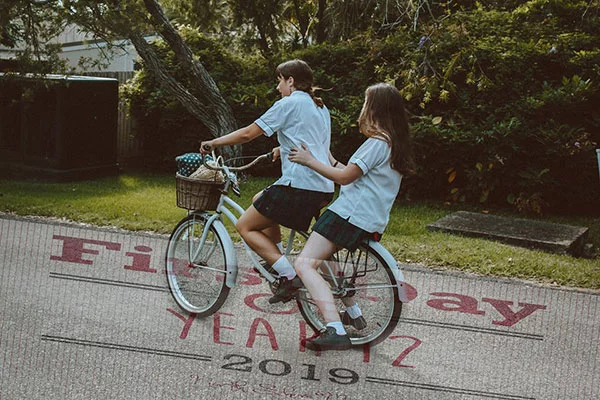 2. Will, Wahroonga
'This is Will on his first day of Year 2. At the end of the day, he reported back to say "after school care was awesome!"'. – Sam
3. Tom, Sasha & Flynn, North Sydney
'The kids are so excited to see the meerkats and new tiger cubs at Taronga Zoo!' – Kristy
4. Peter Blair, Beecroft Public School
'After 8 years of full-time working and part-time studying, my husband has finally finished and was able to get a full time position at Beecroft Public. He is overjoyed to start his first day at his Year 3 class!' – Martina
5. Zirwa, Marsfield
'Happy Baby and Crying Mum on the 1st day of pre-school' – Muzna
6. Deepthi, Asquith
'Deepthi 's words on the morning of her BIG DAY- "I am so excited! I can't wait! No more photos please, let's go mum!"' – Sowmya
7. Rylan, Hornsby Heights
'Rylan absolutely loved his first day of kindergarten he was so excited to go back the next day he said it was so much fun mum!'- Morgan
8. Ava, 9 months
'Big smiles from Ava, while mummy was crying inside… our very last "first day of childcare" for our third daughter' – Hayley

9. Ivy & Hamish, Forestville
'Hamish and Ivy loved their first day at preschool! They made so many new friends and can't wait to go back.' – Abby
10. Chace & Jasper
'They often talk in one word sentences after school and when I ask how school was, their usual answer is "good"' – Stacey