While international travel is currently off the cards, you can still get your cultural fix. Luckily, we can see far off places of the world at the touch of a buttons on our screens. From museums to animals and famous landmarks, here is a list of virtual tours of places around the world that you can enjoy from the comfort of your couch.
---
Virtual Tours of Museums
Australian Natural Surfing Museum, Australia
Through the colourful and exciting permanent displays of an extraordinary collection of surf craft, important surfing artefacts and memorabilia, the museum commemorates Australia's fantastic surfing heritage and rich beach culture. It also charts the history of surfing and Australia's contributions. See Australian Natural Surfing Museum here.
The Vatican Museum
The Sistine Chapel, St. Peter's Basilica, and Raphael's Room, are just some of the sites you can see on this beautiful virtual tour. See The Vatican Museum here.
The Louvre, France
The Louvre is not only one of the world's largest art museums, but it's also one of Paris's most iconic historic monuments. Visit the museum's exhibition rooms and galleries and contemplate the façades of the Louvre. See The Louvre here.
Dali Theatre-Museum, Spain
You are invited to take an interactive virtual tour around some of the museum's rooms and see some works and objects exhibited there by means of panoramic pictures. See the Dali Theatre-Museum here.
The British Museum, UK
The British Museum's remarkable collection spans over two million years of human history and culture. Over 6 million visitors every year experience the collection at this national museum, including world-famous objects such as the Rosetta Stone, the Parthenon sculptures, and Egyptian mummies. See The British Museum here.
National Gallery of Art, US
Visit the Gallery virtually through video tours of current exhibitions, in-depth looks at highlights of the collection, online learning opportunities, audio and video recordings of lectures by artists and curators, and more. See National Gallery of Art here.
The Smithsonian National Museum, US
Space Center Houston, US
NASA's free mobile app lets space-enthusiasts virtually step into mission control. See NASA here.
United States Air Force, US
The virtual tour allows visitors to take a virtual, 360-degree, self-guided tour of the entire museum. Icons indicate hotspots where the visitor can get additional information such as videos, audio and links to online resources. See United States Air Force here.
Google Arts & Culture
Want more? Google Arts & Culture is providing access to more than 2,500 museums around the world. Google has also provided access to 360 views of National Parks around the world, so you can bring the outdoors in. See them here.
---
Animals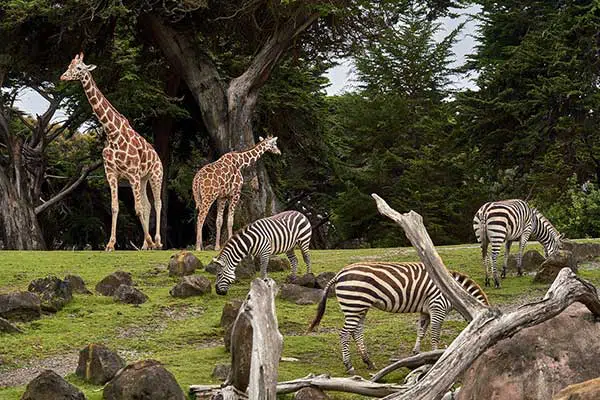 Taronga Zoo, Sydney
For first time in Taronga's 103-year-history, Taronga Zoo Sydney and Taronga Western Plains Zoo Dubbo have gone virtual with the launch of Taronga TV. Entertain yourself and your family with these up-close and personal encounters with penguins, seals and Komodo dragons. Find out more.
Zoos Victoria, Australia

A few live stream cameras have been set up from Melbourne Zoo and Werribee Open Range Zoo, so you can enjoy the zoo from anywhere. Can't see them? That's because their animals live in areas that are much bigger than what a camera can capture and they have the choice to wander wherever they please. Check out Zoos Victoria here.
Lone Pine Koala Sanctuary, Australia
Check out their various webcams streaming footage of our amazing Aussie wildlife, from koalas and reptiles to dingoes and platypus. See Lone Pine Koala Sanctuary here.
San Diego Zoo, US
Head to their website and scroll through all the different animals you can check out. They have live stream cameras in a large number of enclosures, including pandas, polar bears, tigers and more. Check out San Diego Zoo here.
Cincinnati Zoo, US
Jump on Facebook to watch Cincinnati Zoo's 'Home Safari' shows, every weekday at 3pm ET (5am AEST, but don't worry, you can watch it later!). Each episode feature a new animal with educational activities for the kids to do afterwards. See Cincinnati Zoo here.
Monterey Bay Aquarium, US
Whether you are a fan of the calming jellyfish bopping in the water, or like to seek adventure with the sharks, Monterey Bay Aquarium now has 10 live cameras for you to chop and change between. See Monterey Bay Aquarium here.
Georgia Aquarium, US
Another fabulous place that has gone online, so you can stream from the comfort of your couch. Check out the sea lions, piranhas, whales, penguins, otters and more. See Georgia Aquarium here.
Smithsonian's National Zoo, US
The National Zoo is temporarily closed, but the animal webcams remain online. It's important to note that volunteers will not be operating them, so animals may not be visible at all times. See Smithsonian's National Zoo here.
Explore
Looking to mix things up a bit? Explore.org is the world's largest live camera network, with so many different streams to choose from. From Shark Lagoons to Donkey Barns, they even have free nature lesson plans for educations. See Explore.org here.
Wild Earth
Take a trip on the wild side with Wild Earth's Safari Drives. They have launched a new initiative called Kids at Home, where they are dedicating the first 45 minutes of their sunset safaris to answering questions from kids.  See Wild Earth here.
---
Virtual Tours of Famous Landmarks
Blarney Castle, Ireland
Using 360-degree photos you can tour Blarney Castle (and of course the famous rock, sorry no kissing allowed) from the comfort of your couch. See Blarney Castle here.
Mars
Want to get away from Earth altogether (don't blame you)? Jet off to mars with footage from NASA's Curiosity rover. See Mars here.
Great Wall of China
As China's most famous attraction, the Great Wall boasts a history of over 2,000 years and stretches more than 3,000 miles across several provinces of northern China, making it one of the most impressive ancient structures on the planet. See Great Wall of China here.
Taj Mahal, India
Their online virtual tour enables visitors to interactively explore the UNESCO World Heritage Site. Visitors may tour 22 different areas of the monument and gardens through 360-degree panoramas, maps, narrated mini-movies, music and text. See Taj Mahal here.
The Pyramids, Egypt
This virtual field trip to the pyramids is a stunning virtual tour of the ancient tombs and temples of Egypt. See The Pyramids here.
Petra, Jordon
The city of Petra, capital of the Nabatean Arabs, is one of the most famous archaeological sites in the world. See Petra here.
Angkor Wat, Cambodia
The underlying visual architecture of the Virtual Angkor project allows you to see 360-degree panoramas that enable you to look around the city as if you were standing in a particular spot at a particular time. See Angkor Wat here.
Machu Picchu, South America
Save yourself the hike and simply jump online. Your visit has a particularly in-depth tour with 360-degree views from various popular vantage points, so you'll feel as though you're there in real life. See Machu Picchu here.
Acropolis Monuments, Greece
Explore the archaeological site via an interactive tour online of the most prominent monuments, including the Parthenon, the Erechtheion and the Temple of Athena Nike. See Acropolis Monuments here.
---
Want more ideas of things to do with the kids at home?