Looking for things to do with your baby so you can fill those long days, and actually enjoy your maternity leave? Becoming a mum for the first time is undoubtedly the most life-changing event anyone can experience. As well as trying to work out how to look after your baby, it's a huge personal adjustment going from the career world to becoming a stay-at-home mum on maternity leave. Here are some of our best ideas on how to make the most of that time. 
---
In those first few months of maternity leave, many mums find themselves with their precious new baby to look after, and long days to fill. Just because you have a baby, you don't need to be stuck at home… and on those challenging days when your baby just won't settle, a change of scene can work wonders for them and you. There are lots of fun things you can do with your baby to ensure you're both happy and entertained.
1. Join a Mother's Group
Joining a Mother's Group is probably one of the best things you can do when you become a mum for the first time, as it's a really good way to meet other mums in your area with babies the same age. When you leave hospital with your baby, you'll most probably be guided to your nearest Early Childhood Health Centre for follow up care. Although all centres do things slightly differently, you'll probably attend a weekly meeting until about 12 weeks of age. You'll all sit around the room with your newborn babies, whilst a midwife runs the session – giving tips about looking after your baby and also encouraging questions from mums about the challenges that other mums are facing. When the sessions finish at the ECHC, many groups continue to meet up informally in parks and cafes. If you really click with one or a few mums, you might even turn out to be life-long friends!
If you're looking to meet local mums with new babies, join our new North Shore Mums: Bumps & Bubs Facebook group!
Click here to see a list of indoor venues that have lots of space for prams and are suited to big groups.
2. Go for a walk with the pram
A brisk walk with the pram is a win-win. You get a bit of exercise and fresh air (fabulous to lift your mood!), whilst your baby can have a sleep or enjoy looking at the trees. Either walk out your front door and pound the pavement in your local neighbourhood or explore a new area and try one of these fabulous pram-friendly walks around the North Shore.
3. Enrol them in a baby class
If you want to do a class with your baby, Gymbaroo, Baby Sensory and Music classes are all fun options at this age. As well as a lovely opportunity to connect and learn about your baby, they also provide another way of meeting local mums in your neighbourhood!
Gymbaroo – The 45-minute classes are full of music, tummy time, movement and massage – and they're really good for parents to learn about the growth and development of their child, and give you lots of ideas of things you can do with your children at home. Suitable from 6 weeks. Classes in Mosman, Lane Cove & Greenwich, Willoughby, St Ives, Pennant Hills, Seaforth, Warriewood, Castle Hill and Ryde.
Sensory Play at Icon Gymsports – Sensory play is a total sensory experience for babies. A stimulating class created by an early childhood professional. Designed to engage babies and inspire movement. They're currently happening on Wednesday mornings at Icon in Hornsby. Find out more. 
Baby Sensory – Baby Sensory includes a wealth of rich sensory experiences that will delight both you and your baby. Activities include every possible sensory experience from sign language, fibre optic light shows and amazing bouncy light balls to rainbows, bubbles, bells and a whole lot more! Suitable from birth to 13 months of age. Classes in 

Lane Cove, B

algowlah, Narrabeen, Ponds, Ryde and Carlingford.
Music – There are lots of music classes for babies all over the North Shore! Expect lots of singing, dancing, playing with percussion and lots of fun! See the North Shore Mums Directory to find a music class near you. Classes from 6 weeks old.
Click here to view Baby Classes in our Directory.
4. Take your baby swimming
Getting your baby used to water from a young age is a great idea. Taking them for a swirl in the local indoor pool can be done any day, regardless of what the weather is doing outside. Weekdays during the school term are generally the quietest time to go – weekends and school holidays are always much busier!
There are Pools & Aquatic Centres in Milsons Point, Willoughby, Lane Cove, Pymble and Hornsby – plus further afield in Manly, Frenchs Forest, Ryde and the fabulous Sydney Olympic Aquatic Centre in Homebush.
Most swim schools run baby swimming lessons from about the age of 6 months. These classes focus of water familiarisation and babies having fun – there's lots of singing and splashing to be enjoyed! Go to the North Shore Mums Directory to see a list of North Shore swim schools.
5. Go to the park with your bub!
Whilst little babies aren't quite at 'playground' age, there are lots of gorgeous shady parks on the North Shore where you can relax with your baby and meet up with friends. Buy a nice big picnic rug, and leave it permanently in your boot so it's ready for an impromptu sunny day!
Here are some of our favourite picnic spots by the water.
6. Meet a friend for coffee… or lunch
Seriously, make the most of the days when your baby isn't mobile or throwing tantrums, and meet your friends with babies for a coffee or lunch. Honestly, it's so much easier to eat out when they are tiny than when they hit toddlerhood! Do it while you can.
7. Get active and start exercising
Join a gym with a creche: Yes, you CAN go to the gym when you have a baby! Lots of gyms on the North Shore have crèches where you can leave baby from about 6 weeks old (though you may prefer to wait until their 2 or 4 month immunisations). The carers will ensure your baby is happy or sleeping… and worse case, if they can't settle them, you are not far away! Exercising makes you feel awesome, plus you can even indulge in an uninterrupted shower afterwards. Bliss! Most gyms will offer free trials, so you can see how you (and bub) enjoy it before committing.
Join an Outdoor Mums & Bubs class: If you're not a gym kinda gal, you can do a mums and bubs class where you actually exercise with your baby. Otherwise, you can opt for outdoor personal training where someone looks after the babies and children while you exercise nearby. You might think it's 'too hard', but really… these sessions are set up specifically for mums and babies, so they are very accommodating. Click here to see lots of Outdoor Training options on the North Shore.
Enrol in post-natal classes: Regaining your core strength after pregnancy is really important too. There are many physio-designed post-natal classes on the North Shore that are specifically designed to help your body recover after birth. Click here to see lots of Post-Natal Exercise and Pilates classes on the North Shore.
8. Join a baby playgroup
There are heaps of playgroups on the North Shore, and some that are specifically for babies under 12 months. Baby Playgroups give babies the reassurance of being with their parent or carers as they learn to interact, share and relate to other babies and adults in a safe environment. This builds confidence, develops social skills and promotes self esteem. Baby Playgroups are also a great way to meet other parents who are going through the same joys, frustrations and sleepless nights as you. Click here to find out more about Baby Playgroups. 
9. Cruise the shopping mall with the pram
When it's wet outside but you're desperate to escape the house, a trip to the local shopping centre is bliss! Enjoy the fact that you can mooch around the shops while your baby is still happy to sit in the pram, as it gets a lot harder once they start to toddle and want to run away.
All shopping centres are fitted out with decent Parents Rooms, complete with feeding cubicles, nappy change areas, toilets (that fit a pram), microwaves and some even have play areas for older siblings. You'll just need to get to know how to navigate your way around via lifts rather than the escalators.
Fabulous shopping centres on the North Shore include Chatswood Chase, Chatswood Westfield, Hornsby Westfield and Macquarie Shopping Centre. Otherwise you might want to try Home HQ Artarmon or Belrose Supercentre if you're in the market for furniture for homewares.
10. Go to the cinema to watch a movie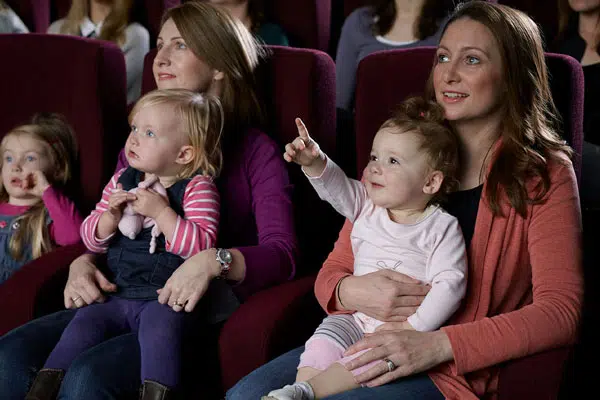 Yes, it can be done! When babies are newborns, they're likely to sleep in the capsule and wake for a feed. Sit on the end of a row, and be prepared to leave if they start crying.
Otherwise, you can attend a screening that is specifically for mums with babies. The lights are dimmed and the volume is softened, so you can still enjoy the movie whilst looking after your baby. Hoyts (in Chatswood Westfield, Chatswood Mandarin and Warringah Mall) have Mums and Bubs sessions, whilst Event Cinemas (in Hornsby and Macquarie Centre) have Bring Your Baby sessions on Thursdays (during term time).
Roseville Cinemas have 'crying rooms' at the back of both cinemas – so you can attend any movie, and know that a crying baby won't disturb the other patrons. These are glassed in areas with six seats. There are volume, air conditioner and light dimmer controls in the rooms. You can't pre-book, so it's a good idea to get there at least 15 minutes early.
---
More on babies and motherhood