It's been under construction for the past five years, but finally the NorthConnex Tunnel is opening at midnight tonight, with traffic flowing through from the early hours of Saturday 31 October 2020.
NorthConnex is a nine kilometre twin tunnel linking the M1 Pacific Motorway at Wahroonga to the Hills M2 Motorway at West Pennant Hills in Sydney's north.
Benefits to local communities
Julian Leeser MP says, 'All trucks and buses that are not coming to our community will be obliged to take the tunnel and to stop clogging up Pennant Hills Road. NorthConnex will restore Pennant Hills Road to our community, cutting down travel time for all of us. It is the missing link in the National Transport Network improving freight access, connectivity and reliability across Greater Sydney. NorthConnex has been designed to the highest safety standards and as a solution to bypass one of NSW's most congested routes, Pennant Hills Road.'
Easing congestion by removing around 5000 trucks daily from Pennant Hills Road. This will help improve safety, local air quality and reduce traffic noise.
Motorists will be able to travel from Newcastle to Melbourne without a single set of traffic lights, reducing travel times for motorists and delivering state and national freight efficiencies.
The motorway will provide opportunities to improve public transport travel times and services around Pennant Hills Road.
NorthConnex design
The NorthConnex twin tunnels are around nine kilometres in length with two large 3.5 metre lanes with an additional break down lane in case of an incident or emergency.
The tunnel generally follows the alignment of Pennant Hills Road but without the sharp corners and hills. This makes the journey faster, safer, more reliable and more efficient, reducing operational and maintenance costs for motorists.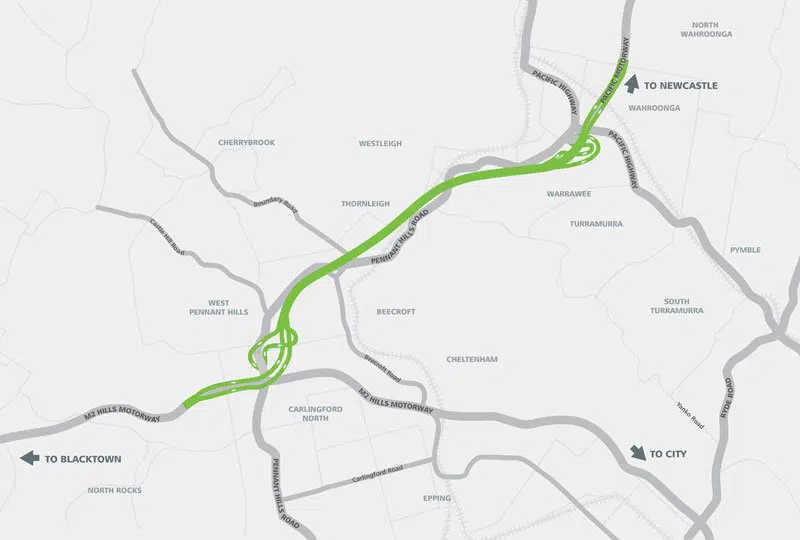 What's the toll for NorthConnex?
If you drive a car or motorcycle (Class A) it will cost $7.99 to use the tunnel each way.
For Class B vehicles, it's $23.97. This typically is trucks & other heavy vehicles, but can also include any towed vehicles such as a trailer, caravan or boat, and items placed on the roof of the vehicle or vehicles with elevated roofs.
It is an electronically controlled toll road which will connect with your existing toll account.
Toll Relief will apply. Drivers who spend an average of $26 a week over a year are entitled to free registration. Drivers who spend an average of $16 a week over a year are entitled to half price registration.
NorthConnex is a $3 billion project which includes $577.3 million from the NSW Government, $412.3 million from the Australian Government, and $2 billion from Transurban and its private sector partners.
---
More local news