Visiting one of Sydney's North Shore neighbourhoods with spectacular Christmas light displays is often a highlight of the festive season. Christmas lights are back, and we're excited to share the best streets for North Shore Christmas light displays in 2021… 
---
How will visiting Christmas lights be different in 2021?
Always ensure you have the latest information by checking what you can and can't do under the rules, as listed on the NSW Health website.
If all members of the household who are aged 16 years or over 

are fully vaccinated

, there is no limit to the number of fully vaccinated visitors to your home.

If you are over the age of 16 years and are 

not fully vaccinated

 you cannot visit another person's place of residence, except in limited circumstances. 
When do Christmas lights start?
North Shore Christmas lights tend to start the first weekend of December and usually light up every night (weather permitting) from dusk… although the magic doesn't truly emerge until it's dark and the full effect can be seen against the dark night sky.
---
Lower North Shore Christmas lights



Want to find some dazzling Christmas lights around Sydney's lower North Shore? Here are some of the best spots to find them!
The Avenues, Willoughby
First, Second, Third and Fourth Avenue are ideal for festive Christmas walk around this time of year. There are also about four houses on Sydney Street, although Number 17 is often the brightest! The residents in this street seem to truly enjoy any celebratory occasion, as their homes are often the best ones for Halloween decorations in October!
Mosman
Prince Albert Avenue
Prince Albert Avenue is impressive enough during the day with the stunning mansions… but at night during the festive season, the incredible homes are lit up with twinkling lights! There's a wonderful atmosphere, with the whole street getting into the Christmas spirit. It's easy to park your car within a few minutes walk of the action (depending what time you get there) and explore on foot. As you wander from home to home, you'll be more and more dazzled by the extravagant creations as you go!
2 Magic Grove, Mosman (just down from Prince Albert Street)
Just down from Prince Albert Street, don't miss a visit to 2 Magic Grove in Mosman. Their huge Santa and inflatable display is on from 7.30am in the morning, and the lights come on at 7.00pm.
If you love the display, consider make a donation to Sydney Children's Hospitals Foundation.
"2 Magic Grove, Mosman is again lit up for the festive season in support of the Children's Hospital network Randwick and Westmead. Inflatables are on display all day and lights are on from 7pm. Big Santa is on display under 15knots. Come along with the family and enjoy the fun and support a great cause." – Caroline Manly
Lane Cove 
53 Garling Street: Lane Cove has a number of houses in the area that light up for Christmas time. Add this one to your list for some festive cheer.
Kinsellas Drive, Lane Cove North: this fabulous street won the Best Christmas Lights Street in 2019 and is geared up for 2021 with lights turning on from 12 December!
Upper North Shore Christmas lights
Lindfield 
22 Bradfield Road: this house is definitely worth a visit: great lights and fantastic music to go with it using Light-O-Rama software and computer equipment broadcasting music to FM 91.1. Awesome!
Berowra (Richards Close)
The Christmas lights on the houses on Richards Close in Berowra are absolutely spectacular. Be sure to park your car in a nearby street so you can get out and walk, to fully soak up all the incredible houses. There's also a brand new playground in the cul-de-sac which is worth a quick play while you're there!
Asquith
Lockwood Lights (28 Lockwood Street, Asquith)
Drive past the end of Lockwood St, and you surely won't miss this Light show. Try and find a parking spot close by, or bring your portable radio for this different approach to the traditional static Christmas Lighting Display.
Tuning into 98.4FM, you will be amazed as you witness the lights in synchronisation to the music you are hearing. One of the most important aspects of the show is that they are collecting donations for the Daniel Morcombe Foundation. This amazing foundation proudly educates children in schools on how to keep themselves Safe from Strangers. As the Magic of Christmas to us is driven through the eyes of kids, we felt this to be a truly worthwhile cause to support.
Hornsby Heights
Sydney Road, Hornsby Heights
Sydney Road in Hornsby Heights is possibly the most mind-blowing area for Christmas Lights on the Upper North Shore, and it's back for 2021! In a street of more than fifty houses, almost all are decked with twinkling, flashing, running lights and displays from traditional nativity scenes to all-singing, all-dancing Santa and elves for an unbeatable shot of Christmas cheer! The surrounding streets (such as Brett Avenue, Margaret Avenue, Plateau Close and Ulolo Avenue) also get into the spirit, making this a destination that provides lots of Christmas Cheer.
Park your car further up Sydney Road, and walk down the rows of glittering homes. It's safer for all the pedestrians and it means you can properly soak up the atmosphere. To keep it safe for everyone, please ensure you don't gather in crowds, keep walking and observe social distancing rules.
18 Ryan Ave, Hornsby Heights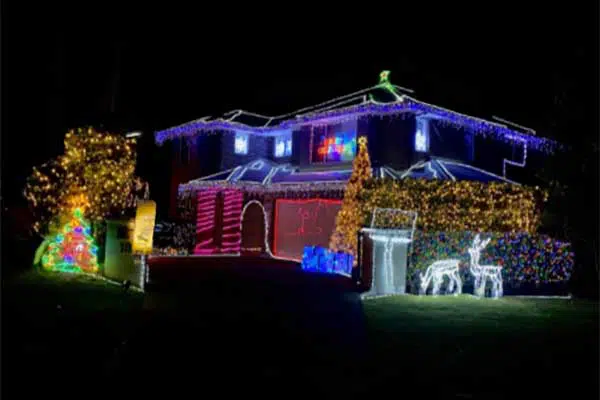 More than 15,000 Christmas lights are now up and running at 18 Ryan Ave, Hornsby Heights!  Take a picture in front of the 4m high Christmas tree and watch the laser show. After losing a loved family member to cancer, they are raising money for Cancer Research this year.
Hornsby
Hall Street, Hornsby
This fabulous display is in Hornsby (less than 10 minutes from Sydney Road in one direction, or Goodlands Ave & Oakleigh Avenue Thornleigh in the other – in case you are making a trip of it!), It is beautifully lit up, but be prepared to lift the kids up to see over the hedges, as there is lots going on in the yard as well. It's worth taking a drive along this street as there are a number of other houses with their lights on.
Thornleigh
Goodlands Ave: This amazing home on Goodlands Ave is well worth the drive. There are so many different lights for you to feast your eyes on from the reindeer hanging out on the ground to the angels flying on the front of the house. Santa features front and centre in his sleigh, which the kids just loved. There are a few other houses lit up in this street (not quite to this level) and just one street away is Oakleigh Ave, which is a must-see.
Oakleigh Ave: Just around the corner from Goodlands Ave you will find this gem. The entire house is lit up, which so much going on in the front yard for little (and big) eyes to enjoy. The best part it, you can wander through the display and get some great up close photos of snowmen and some of the other amazing features. As you walk past the balcony, you can even stop and listen to Santa sharing a story! It's so magical.
North Ryde
Chauvel Street & Cutler Parade: Santa would find it hard to miss the North Shore Christmas lights in North Ryde, as many houses in Chauvel Street and Cutler Parade in North Ryde put on amazing Christmas light displays. The best way to see them is on foot, so park in the surrounding streets and soak up the atmosphere with all the locals. The display gets bigger and better every year, with more and more houses getting in on the act, and visitors coming in from everywhere to gawk! More details.
Castle Hill
Sofia's Battle: Over 20,000 lights will be shining brightly at 136 Excelsior Ave, Castle Hill this year in order to raise awareness and donations for 22q Foundation Australia and New Zealand, as well as HeartKids NSW. This stunning display is certainly worth a least a drive-by in the car this year. Find out more on Facebook.
Northern Beaches Christmas lights
Davidson
Borgnis Street
After closing in 2020, we're delighted to hear that Borgnis Street in Davidson is back for 2021. It's one of the best streets on Sydney's North to see Christmas lights! Lights will be switched on from Saturday 4 December, 6.30pm-10.30pm. Each year the residents of Borgnis street deck out their homes in a multitude of Christmas lights in spectacular displays all for the purpose of bringing some of the Christmas cheer and fun to the many visitors to the street.
Starting from the display at the Davidson local rural fire brigade thru to the top of the street at number 1, you will be amazed at the many displays you will encounter on your walk/drive. The street also has a serious side to their displays; they raise money for BEAR COTTAGE, a children hospice in Manly where seriously ill children and their families can go for some respite from their treatments. If during your visit you do like what you see, and would like to leave a small donation for Bear Cottage, there are a number of buckets placed at some of the displays and the lovely Rotary personal will also be manning various collection points on the street. More details.
Belrose
CSCOOL Lights (36 Childs Circuit, Belrose)
Want something a little different to see this year? Head on over for an ever-changing light display. The entire front yard is lit up by thousands of individually controlled, computer-animated lights, all sequenced to the accompanying music. Tune in your car radio to 99.5FM to get the full experience or simply push the green button under the new archways to have the garden speakers switch on. These lights are not just a display, they are a full show. With numerous songs, you will be guaranteed to be mesmerised beyond belief, not knowing where to look and what's coming next. Donations are also being collected for the Alannah & Madeline Foundation. Your donation will 100% go towards helping children who need it most. Children who are victims of Domestic Violence. Wishing Well is out the front for whatever you can spare.
---
A message from our Christmas sponsor, FoodSt
The Christmas Lights night is always a late one – get a step ahead with dinner delivered, homemade by the cooks at FoodSt. Keep it on theme too with their festive Entertaining Menu so you can spend less time in the kitchen and more time enjoying the moment with a feast of treats that includes arancini, mini quiches, smoked trout, marinated prawns and cheesecake, to name a few… Check out the Christmas menu here.
---
Do you have updated information on Christmas lights? Please send us a message with the details! 
Want more Christmas inspiration? Visit our dedicated Christmas section!