Visiting one of Sydney's North Shore neighbourhoods with spectacular Christmas light displays is often a highlight of the festive season. Of course, things are a little bit different this year. With COVID-19 restrictions in place, not all the usual lights we love to visit are going ahead. But there are plenty that are, plus a few new additions too! We're excited to share the best streets for North Shore Christmas light displays in 2020… 
---
How will visiting Christmas lights be different in 2020?
Although community transmission is low in NSW, it's still important to be aware of the normal hygiene and social distancing guidelines. And of course, if you feel unwell, stay home!
Covid restrictions eased on 1 December 2020, with up to 50 people allowed to visit a residence. So be mindful of big crowds! If large groups congregate on lawns while viewing lights, the residents could face a hefty fine. If there are lots of people outside a house, keep walking and come back when things have eased.
When do Christmas lights start?
North Shore Christmas lights tend to start the first weekend of December and usually light up every night (weather permitting) from dusk… although the magic doesn't truly emerge until it's dark and the full effect can be seen against the dark night sky.
What Christmas lights are going ahead in 2020?
What lights have been cancelled?
---
Top Picks: North Shore and Sydney Christmas lights that will be turned on



Not much is certain in these times, but you can be sure the lights below will be shining bright this year.
The Avenues, Willoughby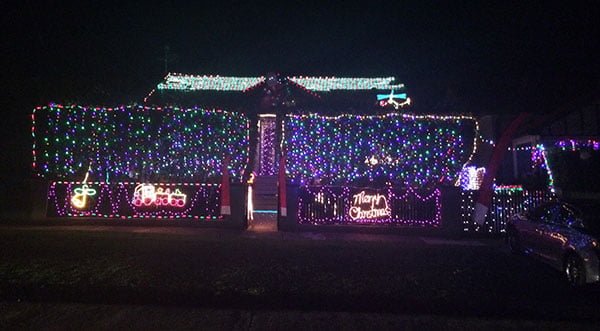 First, Second, Third and Fourth Avenue are ideal for festive Christmas walk around this time of year. There are also about four houses on Sydney Street, although Number 17 is often the brightest! The residents in this street seem to truly enjoy any celebratory occasion, as their homes are often the best ones for Halloween decorations in October!
There are also loads of Willoughby Council Christmas events on this year, so you could combine an evening out at the symphony, a trip to a local Christmas market or some last-minute shopping with a cruise around the streets after hours.
Sydney Road, Hornsby Heights
Sydney Road in Hornsby Heights is possibly the most mind-blowing area for Christmas Lights on the Upper North Shore, and it's back for 2020! The lights will go up the first weekend of December (Saturday 5 December).
In a street of more than fifty houses, almost all are decked with twinkling, flashing, running lights and displays from traditional nativity scenes to all-singing, all-dancing Santa and elves for an unbeatable shot of Christmas cheer! The surrounding streets (such as Brett Avenue, Margaret Avenue, Plateau Close and Ulolo Avenue) also get into the spirit, making this a destination that provides lots of Christmas Cheer.
Park your car further up Sydney Road, and walk down the rows of glittering homes. It's safer for all the pedestrians and it means you can properly soak up the atmosphere.
To keep it safe for everyone, please ensure you don't gather in crowds, keep walking and observe social distancing rules.
Lockwood Lights (28 Lockwood Street, Asquith)
Drive past the end of Lockwood St, and you surely won't miss this Light show. Try and find a parking spot close by, or bring your portable radio for this different approach to the traditional static Christmas Lighting Display.
Tuning into 98.4FM, you will be amazed as you witness the lights in synchronization to the music you are hearing. Keep your eyes out for the 3 new Lego Men on the side fence, as well as the Lightbulbs that love to have a sing-a-long. There are the Reindeer Stables, and house edge outlines, and of course the main feature of the show is the 5m MEGATREE with it's 4000 lights ready to create amazing patterns and images.
With a show length of approx an hour from start to finish, you may want to visit on multiple occasions to see the entire playlist.
One of the most important aspects of the show is that they are collecting donations for the Daniel Morcombe Foundation. This amazing foundation proudly educates children in schools on how to keep themselves Safe from Strangers. As the Magic of Christmas to us is driven through the eyes of kids, we felt this to be a truly worthwhile cause to support.
Show times go from 7:30pm – 11pm Sun-Thurs and 7:30pm to Midnight Fri-Sat.
Goodlands Ave Thornleigh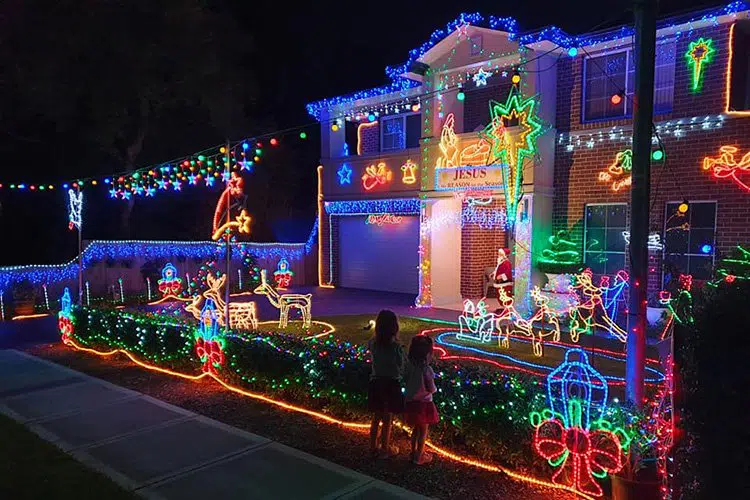 This amazing home on Goodlands Ave is well worth the drive. There are so many different lights for you to feast your eyes on from the reindeer hanging out on the ground to the angels flying on the front of the house. Santa features front and centre in his sleigh, which the kids just loved. There are a few other houses lit up in this street (not quite to this level) and just one street away is Oakleigh Ave, which is a must-see.
Oakleigh Ave Thornleigh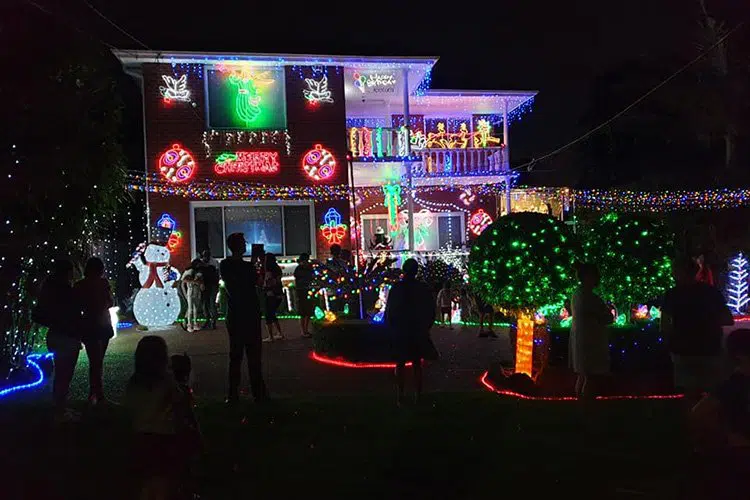 Just around the corner from Goodlands Ave you will find this gem. The entire house is lit up, which so much going on in the front yard for little (and big) eyes to enjoy. The best part it, you can wander through the display and get some great up close photos of snowmen and some of the other amazing features. As you walk past the balcony, you can even stop and listen to Santa sharing a story! It's so magical.
Hall Street, Hornsby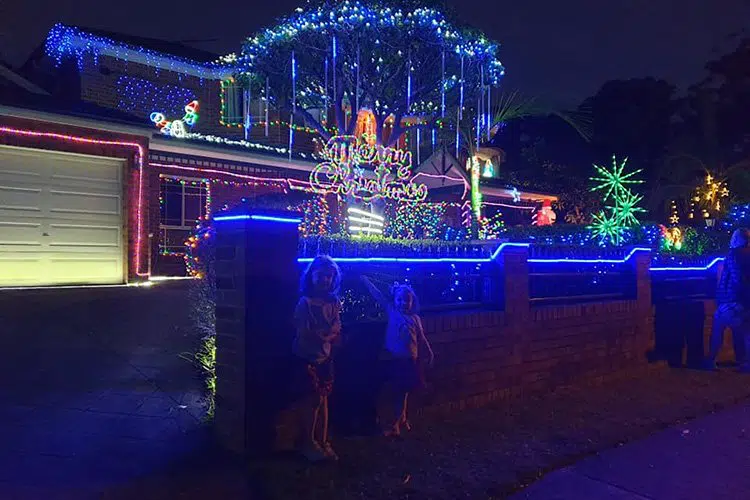 This fabulous display is in Hornsby (less than 10 minutes from Sydney Rd in one direction, or Goodlands Ave & Oakleigh Ave Thornleigh in the other – in case you are making a trip of it!), It is beautifully lit up, but be prepared to lift the kids up to see over the hedges, as there is lots going on in the yard as well. It's worth taking a drive along this street as there are a number of other houses with their lights on.
CSCOOL Lights (36 Childs Circuit, Belrose)
Want something a little different to see this year? Head on over for an ever changing light display. The entire front yard is lit up by thousands of individually controlled, computer animated lights, all sequenced to the accompanying music. Tune in your car radio to 99.5FM to get the full experience or simply push the green button under the new archways to have the garden speakers switch on.
These lights are not just a display, they are a full show. With numerous songs, you will be guaranteed to be mesmerised beyond belief, not knowing where to look and what's coming next.
Song titles are not just for the small kids, but for the bigger "kids" too. Total show goes for just under an hour, so come once, or come many times to experience the entire thing.
Features include 4 "Singing Lightbulbs", Archway, Stars and Spinners, Mini Trees, Icicles, House outlines, Lights sequenced to the music, Santa's workshop banner, and the massive 5 metre, 3600 light MEGATREE. If you also look closely, you just might see Santa make an appearance in the window…
Donations are also being collected for the Alannah & Madeline Foundation. Your donation will 100% go towards helping children who need it most. Children who are victims of Domestic Violence. Wishing Well is out the front for whatever you can spare.
It's on every night until Christmas, from 8-10pm.
Prince Albert Avenue, Mosman
Prince Albert Avenue is impressive enough during the day with the stunning mansions… but at night during the festive season, the incredible homes are lit up with twinkling lights! There's a wonderful atmosphere, with the whole street getting into the Christmas spirit. It's easy to park your car within a few minutes walk of the action (depending what time you get there) and explore on foot. As you wander from home to home, you'll be more and more dazzled by the extravagant creations as you go!
2 Magic Grove, Mosman (just down from Prince Albert Street)
Just down from Prince Albert Street, don't miss a visit to 2 Magic Grove in Mosman. Their huge Santa and inflatable display is on from 7.30am in the morning, and the lights come on at 7.30pm. If you love the display, consider make a donation to Sydney Children's Hospitals Foundation.
Chauvel Street & Cutler Parade, North Ryde
Santa would find it hard to miss the North Shore Christmas lights in North Ryde, as many houses in Chauvel Street and Cutler Parade in North Ryde put on amazing Christmas light displays. The best way to see them is on foot, so park in the surrounding streets and soak up the atmosphere with all the locals. The display gets bigger and better every year, with more and more houses getting in on the act, and visitors coming in from everywhere to gawk!
Some Chauvel street residents will be going ahead with lights but in a more conservative fashion. Visitors are requested to not touch the residents displays and abide by social distancing requirements. – Petricia
Sofia's Battle, Castle Hill
Over 20,000 lights will be shining brightly at 136 Excelsior Ave, Castle Hill this year in order to raise awareness and donations for 22q Foundation Australia and New Zealand, as well as HeartKids NSW. This stunning display is certainly worth a least a driveby in the car this year. Find out more on Facebook.
Christmas lights that have been cancelled
51 Rangers Road, Cremorne
This truly magical house in Cremorne is one of the best houses for North Shore Christmas lights, but it isn't lighting up in 2020. Follow on Facebook.
Lane Cove
Unfortunately the Lane Cove Christmas Lights competition isn't going ahead in 2020, but there still might be some incredible homes around Lane Cove that are lighting up anyway!
Borgnis Street, Davidson
Borgnis Street usually is one of the best spots to see lots of amazingly lit up houses, but sadly they won't be going ahead in 2020 due to Covid restrictions.
Unfortunately Borgnis Street Christmas Lights have been dimmed for 2020 due to the current Covid restrictions. The residents have sadly come to the decision that they can not provide a Covid safe environment at this time and have decided to NOT switch the lights on this year.

We wish all our visitors/followers a very Merry Christmas and hope to see you all back visiting the street in 2021 when we will be back bigger and brighter.

If you do still wish to support our chosen charity Bear Cottage over the coming Christmas break, then a donation on our behalf to Bear Cottage is appreciated.
10 Cambage Court, Davidson
Unfortunately the spectacular house at 10 Cambage Court won't be doing Christmas lights in 2020:
Due to Covid 19 we have had to make the extremely sad decision to cancel this years display. Based on current Covid 19 restrictions as at November 12 2020 you can only have 20 guests at a private residence at any one time. Unfortunately it is not viable to run because of the number of attendees we have and nature of our display being interactive where you can walk around to see the backyard and window displays. In addition given the display owner works in a highly impacted industry (Events) it is also not viable to volunteer this year to install and operate the display on a voluntary basis. We are hopeful to be able to run the display again in December 2021! Thank you for your support!
---
Do you have updated information on Christmas lights? Please send us a message with the details! 
Want more Christmas inspiration? Visit our dedicated Christmas section!