Visiting one of Sydney's North Shore neighbourhood with spectacular Christmas light displays is a family activity that should feature highly on your 'to do' list. It's guaranteed to get in the festive mood! Every year, there are many street on Sydney's North Shore that really go to town with spectacular displays, and our guide shows you the best places to visit.
North Shore Christmas lights tend to start the first weekend of December and usually light up every night (weather permitting) from dusk… although the magic doesn't truly emerge until it's dark and the full effect can be seen against the dark night sky.
So hop in the car with the kids and explore one of these incredible areas. For safety reasons, please park your car in a nearby street, and get out and walk to explore the houses with lights. Excited children and distracted drivers do not make a great combination! Put safety first, not convenience.
Great streets for North Shore and Sydney Christmas lights:
---
Top Picks: North Shore and Sydney Christmas lights

Prince Albert Avenue, Mosman
Prince Albert Avenue is impressive enough during the day with the stunning mansions… but at night during the festive season, the incredible homes are lit up with twinkling lights! There's a wonderful atmosphere, with the whole street getting into the Christmas spirit. It's easy to park your car within a few minutes walk of the action (depending what time you get there) and explore on foot. As you wander from home to home, you'll be more and more dazzled by the extravagant creations as you go!
51 Rangers Road, Cremorne
Don't miss this truly magical house in Cremorne, one of the best houses for North Shore Christmas lights. You can visit Santa Claus' House of Illumination and Christmas Nativity located at 51 Rangers Rd, Cremorne (corner Spofforth Street). Follow on Facebook.
Lane Cove
Head to Lane Cove this Christmas to see dozens of homes around Lane Cove, Longueville, Riverview and Greenwich decorate their homes with spectacular lights.
In previous years, the council has run a Light Up Lane Cove promotion, but they're not doing it in 2019. To ensure the magic continues, In The Cove are running their own competition called Lane Cove Christmas Lights Competition to find the most incredible home.
The Avenues, Willoughby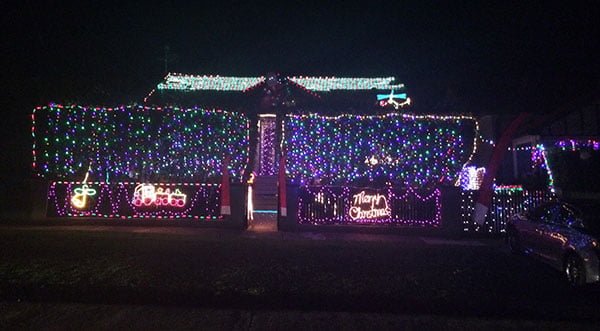 First, Second, Third and Fourth Avenue are ideal for festive Christmas walk around this time of year. There are also about four houses on Sydney Street, although Number 17 is often the brightest! The residents in this street seem to truly enjoy any celebratory occasion, as their homes are often the best ones for Halloween decorations in October!
There are also loads of Willoughby Council Christmas events on this year, so you could combine an evening out at the symphony, a trip to a local Christmas market or some last-minute shopping with a cruise around the streets after hours.
Sydney Road, Hornsby Heights
Christmas Lights Hornsby Heights

Whoa… hold up Santa! Have you checked out the lights on Sydney Road in Hornsby Heights? Dozens of houses are pimped up to the maximum! Be sure to add this area to your Christmas Lights 'must see' list. It's amazing! http://bit.ly/29GFxuL

Posted by North Shore Mums on Thursday, 22 December 2016
Sydney Road in Hornsby Heights is possibly the most mind-blowing area for Christmas Lights on the Upper North Shore.
In a street of more than fifty houses, almost all are decked with twinkling, flashing, running lights and displays from traditional nativity scenes to all-singing, all-dancing Santa and elves for an unbeatable shot of Christmas cheer! The surrounding streets (such as Brett Avenue, Margaret Avenue, Plateau Close and Ulolo Avenue) also get into the spirit, making this a destination that provides lots of Christmas Cheer.
Park your car further up Sydney Road, and walk down the rows of glittering homes. It's safer for all the pedestrians and it means you can properly soak up the atmosphere.
Borgnis Street, Davidson
Borgnis Street in Davidson is a star attraction for North Shore Christmas lights, though if you walk or drive around the surrounding streets, you will see some amazing standalone houses, too. The event is so big that they have 2-3 ice-cream vans and a sausage sizzle there every night!
This street also collects money for Bear Cottage, a children's hospice in Manly where seriously ill children and their families can go for some respite from their treatments. So show your appreciation for the efforts of the families on this street and place a donation in one of the collection buckets or to a volunteer Rotary personnel.
The 2019 season starts on Saturday 7 December, and runs nightly from 7pm until 10.30pm. Follow on Facebook.
10 Cambage Court, Davidson
This is quite possibly Sydney's sparkliest standalone home. With over 100,000 lights, it's a feast for all your festive senses. Don't just do a drive by… you're invited to park your car and explore the front and back garden and window displays. Entry is free, though donations are very much welcomed! All money raised over the 5-week period are split between three very important charities – Red Nose, The Humpty Dumpty Foundation and Cure Brain Cancer Foundation. More details.
2019 Dates & Times
Friday 29 November – Thursday 12 December, 8-10:30pm
Friday 13 – Thursday 26 December, 7:30-11pm
Friday 27 December – Monday 30 December, 8-10pm
Chauvel Street & Cutler Parade, North Ryde
Santa would find it hard to miss the North Shore Christmas lights in North Ryde, as many houses in Chauvel Street and Cutler Parade in North Ryde put on amazing Christmas light displays. The best way to see them is on foot, so park in the surrounding streets and soak up the atmosphere with all the locals. The display gets bigger and better every year, with more and more houses getting in on the act, and visitors coming in from everywhere to gawk!
NSM Stephenie says: 'There's a street in North Ryde that has Christmas lights and it's spectacular! There is even an ice-cream van so you can have dessert and enjoy the lights!'
---
Want more Christmas inspiration? Visit our dedicated Christmas section!