It's the easiest way to feed the kids while keeping yourself sane…breakfast or brunch out a local spot with delicious meals and hot coffee all made for you! North Shore Mums is bringing you the second installment of our local breakfast picks, so schedule a weekend and spot by to be spoiled at one of these North Shore spots.
---
1. Dachshund Coffee, Hunters Hill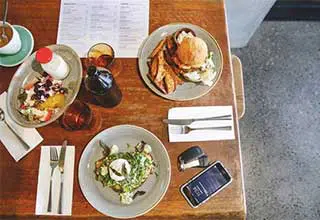 This cafe is for every member of the family, and as you might have guessed from the name, that means your furry babies too! Even the menu has canine-inspired dishes on it like the Spanish dog with chorizo, avocado, a poached egg and corn chips. Other good choices are the house-made, oozing jaffles, bacon and egg 'tradie' rolls or the turbocharged toast.
Try the….Sourdough topped with smashed avocado, vine ripened tomatoes, quinoa tabbouleh, goat's feta, crispy sage plus a poached egg.
---
2. The Sawmill, West Pymble

It's famous for its incredible, perfectly spiced pizzas, but The Sawmill at West Pymble delivers up a to-die-for breakfast too! There's a match for everybody's tastes, from chia seed puddings and granola for the more health-conscious, to a shared breakfast platter of eggs (made your way) bacon, hash browns, mushrooms, Italian sausage, haloumi, vine ripened tomatoes, granola and fruit plus avocado and sourdough. The sweeter options will also tempt those with a sweet tooth!
Try the….House made pancakes with apple and blueberry compote, maple syrup and salted caramel gelato
---
3. Shores, Hornsby 
Famously family-friendly, the light and bright interiors at Shores are the perect way to spend a relaxing morning, or sit outside
and watch the bus foot traffic pass by. In the heart of Westfield's courtyard, Shores offers up a delicious menu full of breakfast options, including indulgent truffle infused free-range eggs, or poached eggs on a salad of quinoa, mixed greens, fermented vegetables, charred eggplant and zucchini, shaved almonds, avocado and chia dressing.
Try the…French toast, with a Quebec style milk bun, caramelized banana, lime mascarpone and hazelnut spread.
---
4. Flower Child Cafe, Chatswood
This pretty cafe is set inside a shopping centre but you'd never know from its gorgeous green interior. Even the simple fruit salad has an elegant twist, served with freeze-dried raspberries and compressed pineapple. The granola comes with a dark cherry jam and a coconut jelly, only emphasising the fact that it's the extra details and tiny twists that really make these dishes sing.
Try the….Belgium waffles, coco pop anglaise, raspberry jelly, fresh and freeze dried banana, candied nuts, served with vanilla ice cream & Canadian maple syrup.
---
5. The Incinerator Cafe, Willoughby
You'll find this gorgeous cafe downstairs at the Willoughby Incinerator, a 1930s building with a vaulted ceiling in the heartl of Bicentennial Reserve. Inside, theres art for sale, so enjoy the exhibits while you eat or opt for takeaway and eat your meal in the surrounding parklands. Our picks from the menu are mainly the classics such as the seasonal fruit salad with roasted granola and sweetened yoghurt or the buttermilk pikelets, but the Incinerator smoked trout with a salad of grains, seeds, and a soft egg is delicious. The kids menu is a good one, including bacon sandwiches and kids banana pikelets.
Try the...Green kale and halloumi fritters, served with fried egg and sunflower seed hummus
---
6. Cool Mac, Kirribilli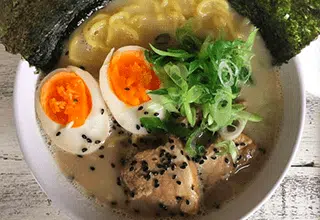 Cool Mac gives your breakfast an Asian twist, dishing up Japanese fusion meals that might include seaweed sheets, steaming bowls of ramen or Eggplant Benedict with roasted eggplant, crisp pancetta, eggs and miso hollandaise. Traditionalists will find something too, such as the vegetarian tartare with mushroom, tomato, cucumber, avocado and basil on toast, and babies get Tiny Teddies with their Babycinos.
Try the…AMAZING Rodriguez Ospina coffee from Colombia, with notes of vanilla, malt, apple, and juicy black grape.

---
What's YOUR favourite spot for brunch on the North Shore? Have you tried any of our picks?